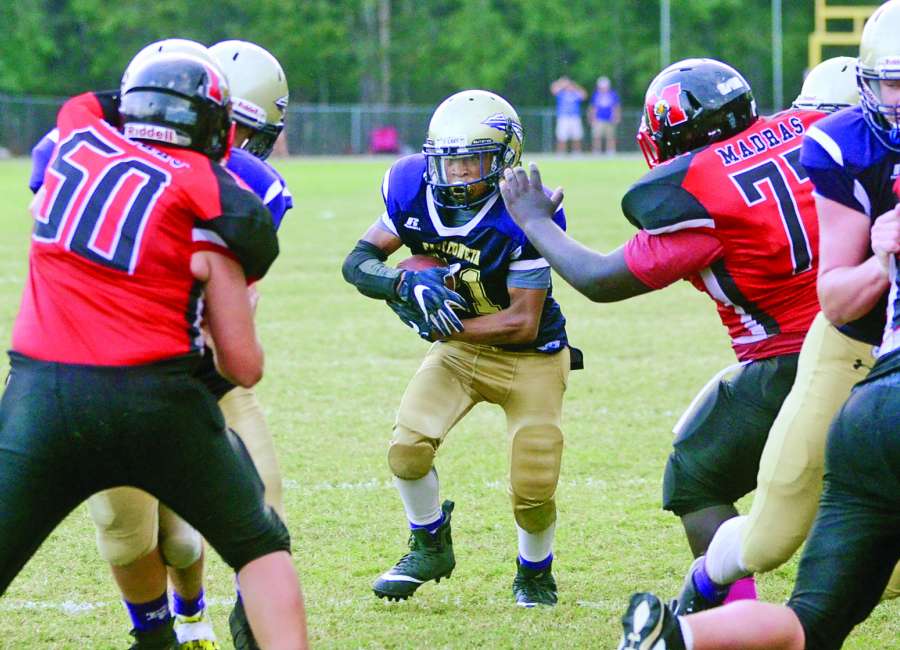 By CHRIS GOLTERMANN
CowetaScore.com
East Coweta Middle's football team found itself in uncharted territory heading into the fourth quarter of its semifinal playoff game against Madras.
But at home at McKnight Field, the top-seeded Indians managed to pull out a thrilling 22-21 comeback victory over the defending champion Eagles thanks to a Jamarious Price's two-point conversion run that gave them their only lead with 4:08 to play in the game.
A semifinal round that was delayed by last week's storms saw both of the CCMSAL's top seeds survive upset bids on home fields.
Evans, which earned the No. 2 spot after a three-way tiebreaker for second with Smokey Road and Madras, held off No. 6 Lee 20-16 at home, with the Wolves looking for its second straight upset after knocking off No. 3 Smokey Road in the first round.
The Cougars came up with an interception late in the game to seal the victory. Complete details from Tuesday's games were unavailable at presstime on Wednesday.
East Coweta (7-0) will act as host for this year's CCMSAL Championship Game, set for Tuesday, Oct. 23. The top-seeded finalist is allowed to select the high school of its choice as host site, but ECHS' Garland Shoemake Stadium may be unavailable due to work this week on resurfacing the new track.
Otherwise, the title game is likely to be played at McKnight Field at ECMS, where the Indians remained unbeaten.
East Coweta defeated Evans 20-8 at home on Sep. 6, during week two of the regular season.
On Tuesday, Madras had every intention of being the first to hand East Coweta a loss in hopes of avenging a 42-20 loss in a return to McKnight Field.
East Coweta had held a lead and momentum during all six of its regular season games. But the defending CCMSAL champion Eagles weren't ready to give up their title without a fight, scoring 14 unanswered points over the first four minutes of the game with help from the first of two early fumbles by the Indians.
East Coweta, however, held Madras on a third straight trip inside its 20-yard line while already trailing 14-0 in a potential turning point.  
The Eagles quickly jumped ahead on the first of two scores from quarterback James Paige, who scored on an 18-yard run off Madras' first possession off the opening kickoff.
When East Coweta coughed up the first of two turnovers in the first half on its initial possession on a fumble recovery by Damarcus Smith, the Eagles converted it into a quick 3-play march resulting in Clayton Cowart's 1-yard run with 4:24 still left on the first quarter clock.
But after recovering a second straight East Coweta fumble on a heads up recovery from defender Dean Wisenbaker, the Eagles came up empty-handed on Paige's quarterback keeper after Madras opted to go for it on fourth down when a defensive pass interference call put the ball on the 4-yard-line.
After a scoreless third quarter kept teams knotted at 14-14,  Paige turned a 3rd-and-long situation into a 55-yard touchdown with 5:18 to play that gave the Eagles a final 21-14 advantage.
East Coweta, however, had an immediate answer after fielding a short kickoff at its own 40-yard line. A quick three-play drive began with alternating runs from Price and Ethan Fryer got the ball on Madras' side of the field.
From the Eagles' 43, East Coweta quarterback Ethan Mize was flushed from the pocket to his left, but found enough time to throw across his body to a leaping Mason Holmes alone inside the Madras 30 before carrying it the rest of the way.
The Indians went for the go-ahead two pointer that had Price just able to get the ball over the plain despite the efforts of Madras defenders including Carson Coghlan and Smith.
The Eagles' came up empty on their final two possessions, with a fourth-down pass from near midfield falling incomplete around the East Coweta 20 following a Madras timeout.
The Indians left 2.5 seconds on the clock for a final snap by the Eagles, which had defenders Gage Whitfield, Aaron Fenimore and Brandon Johnson closing in on Paige for a game-ending sack.
East Coweta fought back to tie the score by halftime, needing to make a goal-line stand prior to touchdown runs of 75 and 5 yards by Price, the first of which immediately atoned from an earlier lost fumble.
After then holding Madras again on downs near midfield, the Indians sent the game into halftime tied 14-14 on Price's five-yard run with just 27 seconds left in the second quarter, followed by a two-point conversion run by Fryer.
Madras finished with three sacks on hits by Tyon Williams, Dubose and Zenar Coggins. Alex Brewer and William McFarlane led the Eagles in tackles.
CCMSAL Semifinals
No. 1 Indians 22,
No. 4 Eagles 21
Madras 14 0 0 7 — 21
East Coweta 0 14 0 8 — 22
1st Quarter
M — James Paige 18-yard run (Nick Troemel kick)
M — Clayton Cowart 1-yard run (Nick Troemel kick), 4:24
2nd Quarter
EC — Jamarious Price 75-yard run (pass failed), 5:08
EC — Jamarious Price 5-yard run (Ethan Fryer run), 0:27
4th Quarter
M — James Paige 55-yard run (Nick Troemel kick), 5:18
EC — Mason Holmes 43-yard pass from Caleb Mize (Price run), 4:08