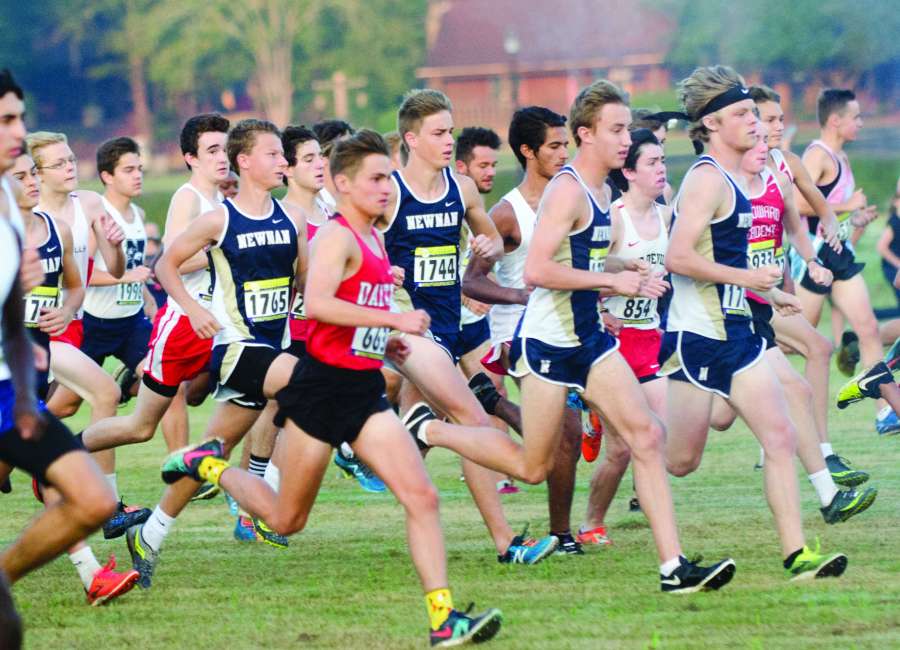 By CHRIS GOLTERMANN
CowetaScore.com
The Alexander/Asics Invitational not only opened the October schedule for four Coweta County cross-country programs but the start of the stretch run to the 2018 season.
With both Saturday's Coweta Cup and respective region meets looming, the course at FoxHall farms in Douglasville gave athletes a chance at a self-check while just passing the halfway point of the fall.
Despite the carryover of sweltering summer-like conditions, season-best times became the norm on a mostly flat 3.1 mile course that circled some of FoxHall's sprawling countryside.
While still a distance from the sounds of trap shoot gunfire, East Coweta junior Kyle Harkabus may have been wearing a bullseye as much as the clock in the boys championship run.
For the first time all season, Harkabus wasn't the first to cross the line as Cambridge senior Jack Filan was able to maintain an early lead this time en route to a top mark of 15:11.
Filan, who at 6-2 also played basketball at Cambridge, pumped his fist over the final few steps having been the first to hold on against the Indians standout. He took fourth to Harkabus earlier this year at the Wingfoot Classic and will be as much a favorite in this year's Class 6A championship as East Coweta's top runner will be in hopes of earning his first Class 7A individual title.
Harkabus didn't seemed fazed while on a mission hit his peak at the state meet on Nov. 3 in Carrollton.
Both lead runners still managed to best previous PR times. An impressive mark of 15:15 for Harkabus was two seconds faster than his season debut on a lightning fast course at the Bob Blastow Early Bird Classic and more than 20 faster than more recent efforts at the Big Peach Mustang Invitational and the Wingfoot event.
Saturday's annual Coweta Cup, which will be held at Lee Middle School and hosted by ECHS, will be as much a solo run with both the individual girls varsity and team titles expected to be highly contested.
The meet begins with the boys championship at 8 a.m., followed by the girls at 8:30. JV boys and girls runs follow at 9 a.m. and 9:30, respectively.
A middle school race open to all sixth, seventh and eighth graders closed the schedule at 11 a.m. Entry fee is only $5 or $6 with online registration. (https://www.facebook.com/events/236940083833432)
The Asics field included East Coweta, Newnan, Northgate and Trinity but with fewer head-to-head matchups than Saturday's Cup meet.
The Indians and Cougars got a chance, however, to run together in the Championship meet in what should still be an intense battle with Northgate's boys for the county crown.
East Coweta and Newnan placed eighth and ninth, respectively among 33 schools with a combined six of 10 scorers including Harkabus crossing with sub-17 minute times.
The Indians had the top-three local finishers with brothers Braden and Logan Ray separated by just four seconds at 16:40 and 16:44 in 33rd and 37th position, respectively.  The team's top six placers earned season-best times.
Newnan, however, finished its scoring earlier between Bo Palmer's 50th place finish in 16:54 and Russell Smith's time of 17:26 as the 92nd runner to cross.
Add the Vikings' second-place finish in the Class 5A-7A boys meet and Saturday's Coweta Cup could be in for a close finish among team scores.
The Cougars top seven varsity finishers all crossed with season-best times.
The effort from Northgate's boys had its five scorers crossing under 18 minutes between Davis McIntire's mark of 17:14 in 12th place and Billy Guilot's time of 17:56 in 30th.
All three turned in season-best times with 16th-place finisher Sam Wessels (17:26) among the Vikings' five scorers.
Trinity boys split up between the Championship and Class 1A-4A runs. Junior Adam Granade and sophomore Michael Freeman were near the top-third of the field with near identical times of 17:30 and 17:31, with Granade's effort a season-best.
The rest of the Lions ran in the 1A-4A division and had all five scorers earning season-best times.
Trinity had four varsity girls compete in the 1A-4A race led by senior Sami Bourque's 16th-place effort in 22:24.
Newnan's girls raced in the Championship division, placing 17th of 24 schools. The Lady Cougars, led by senior Rachel Woods' finish of 21:51 in 87th position, had four of five scorers post sub 22-minute marks, with three more runners crossing at either 21:55 or 21:56.
Of Newnan's 19 girls entries, 15 earned season-best marks including all five varsity scorers.
Landmark Christian also competed in the Championship division, placing 14th while led by Erin Fegans' fourth-place time of 18:52.
East Coweta's top varsity girls lineup joined Northgate's in the 5A-7A race. The Lady Indians were ninth behind sophomore Shannon Ferry's top time of 20:43, which was nearly a minute faster than her previous effort at the Wingfoot Classic on Sep. 22. It was also just seven seconds off the pace from her season opening effort at the Bob Blastow Early Bird.
Ferry, along with Harkabus, will attempt to successfully defend last year's individual county crown where she held off former teammate Miya Dean by one second.
Northgate's girls placed 12th overall, paced by sophomore Mia Griswold's mark of 22:45.