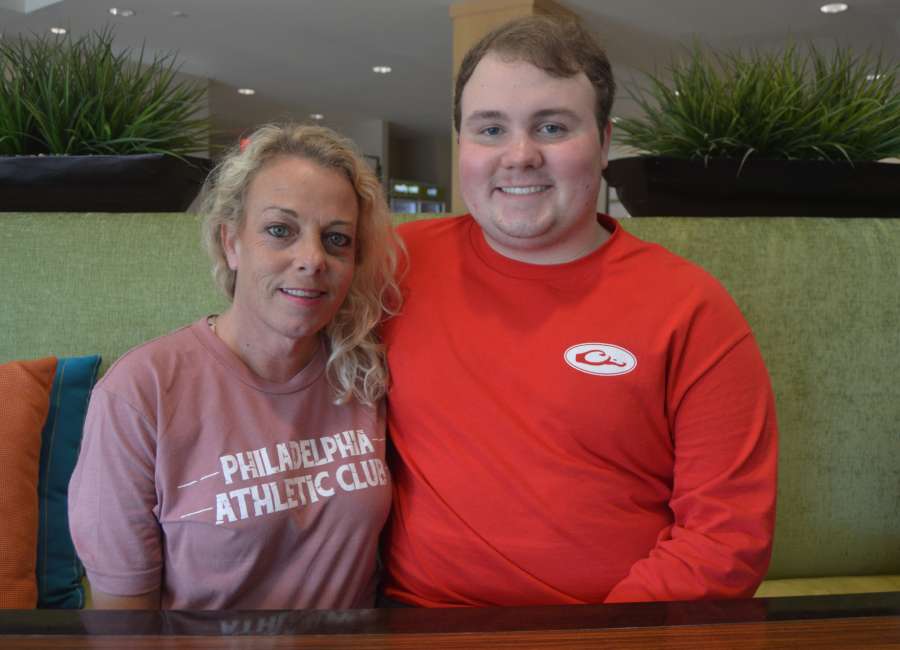 Stacey Dempsey might not be alive today had her son not had the courage and foresight to make one very crucial phone call.

Twenty-year-old Austin Dempsey still remembers that day in 2014 like it was yesterday.   
"I was 16 at the time and came home from school. The atmosphere in the house was tense emotionally and physically," he said.
Austin learned that although his mother had been given a clean bill of health months before, Stacey's cervical cancer had quickly returned and metastasized to other organs.
"The doctor asked me what I was doing there," Stacey said. "The cancer was still there. I would need to have my appendix out and start chemotherapy. I cried all the way home."
It was a completely different diagnosis from the one Stacey was given a few months before.
After suffering multiple urinary tract infections, Stacey visited her general practitioner who noticed blood in her urine. A pap smear was done that came back with "unusual" results. "The doctor said only 1 in 1,000 women have results like this," Stacey said.
The news wasn't good – Stacey had cervical cancer.  
She had surgery that included the removal of a portion of her reproductive organs – including one ovary.
Stacey said her surgeon told her all of the cancer had been removed. But two weeks later, the same physician referred her to another doctor in Jackson, Miss.
That physician gave Stacey the bad news.
Austin was devastated, but then became determined to get his mom the best care possible for her type of cancer.
"I told her we were not going to deal with any more doctors in Mississippi. We're going to the closest Cancer Treatment Centers of America," Austin said. "I looked up their number and made the call."
Austin said he was on the phone with representatives with CTCA in Newnan for more than four hours.
"Most of the time I was bombarded with questions about insurance because they had just started taking out-of-state insurance," he said. "The rest of the time I was begging them to save my mother's life."
One month later, in October 2014, the mother-and-son duo got the call they'd been waiting – and hoping for.
"CTCA said, 'Pack your bags. You'll be on a flight tomorrow,'" Austin said. "I was so excited, but I knew we still had a long journey ahead of us."
While Stacey's husband and daughter stayed behind in Mississippi, she and her son flew to Atlanta and were escorted to the Cancer Treatment Centers of America in Newnan for a two-week stay.
Stacey said she endured numerous tests and scans during that time. Austin was always by her side or nearby.
"I told them I didn't want to lose my mom. I was begging the doctors to save my mom's life," he said.
At the end of the two weeks, her physician, Dr. Ioana Bonta, gave Stacey a definitive diagnosis.
"She told me I had cervical cancer stage 1B," Stacey said. "They were confident it would be treatable with surgery."
She had two surgeries within six weeks. According to Stacey, a surgeon removed the rest of her reproductive organs and 19 lymph nodes.
After the last operation, Stacey said her physician told her she was cancer-free.
Every six months, the mother and son fly from Mississippi to Georgia to the Cancer Treatment Centers of America in Newnan for Stacey's checkup. She will continue the routine until she is cancer-free for at least five years.  
"I don't know where we would be today if we hadn't come to CTCA. She wouldn't be here today," Austin said looking at his mom.  
But Stacey gives her son most of the credit for her second chance at life.
"It's remarkable. I'm so grateful. I don't know any 16-year-old that could or would do all that for his mom," she said. "I remember him telling the CTCA people he didn't want to lose his mom. He's been with me on this journey every step of the way. He's precious and I love him very much."
"I'm a 'mama's boy,'" Austin admitted with a smile on his face. "But it took a lot of prayers, faith and reassurance from family and friends that everything was going to be okay.
"I love her. I'm glad CTCA came in and has been with us on this journey. It's been a long one, but worth it in the end," he added.
Stacey's journey has also sparked a passion within Austin.
He is currently enrolled at Meridian Community College and plans on attending medical school in Jackson, Miss.
"I want to be an oncologist," he said. "I would love to move to Newnan one day and work for CTCA."