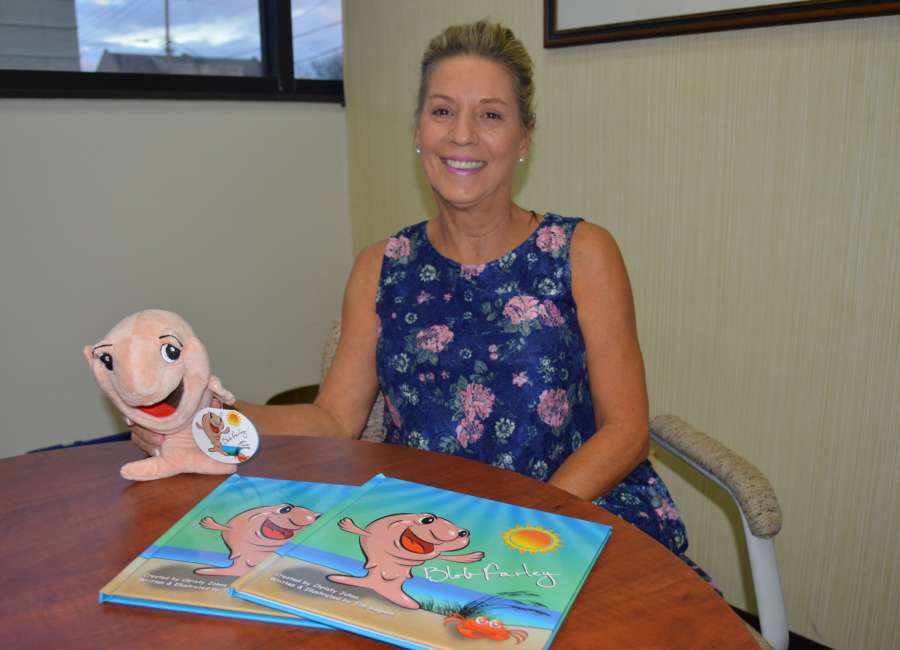 In real life, a blobfish is a bottom-dwelling, slimy creature that's not particularly pleasant to look at – and definitely not "king" of the sea.

In Christy John's new children's book, however, the animal is transformed into a fun-loving, happy-go-lucky sea creature that becomes the "hero" to all creatures in the ocean – and humans on land.
Johns' book is titled "Blob Farley." It's the Newnan resident's first published manuscript, which she dedicated to her 4-year-old grandson, Kip Kaiden Johns.
She said she picked the slimy sea creature to anchor her story for a reason.
"I saw the blobfish was voted one of the ugliest animals, and that made me sad," Johns explained. "I'm an animal-lover. I thought, 'I'm going to bring some joy out of this.' So I came up with the idea of a happy, heroic blobfish."
Blob Farley's story begins under the sea, and chronicles his rise to the top of the ocean, plus introducing readers to friends he meets along the way.
Some, like Simon the shark, were big and scary. Others, such as Tina the sea turtle, didn't look like him at all. But the blobfish, determined to make it to land, swallowed his fear and reached out to them.
Johns said Blob Farley's adventure teaches children: "To have a friend, you need to be a friend."
"In real life, a blobfish would never see a shark because they live at the bottom of the sea. So my favorite part is when Blob Farley meets Simon and they become friends," Johns said. "Fear is a very scary thing for people. It holds people back. But if you can face your fears, you can move forward to the next adventure."
Johns said the book also has an anti-bullying message that's meant for children and adults alike.  
"A lot of people don't know how to be a friend," she said. "They just want people to emotionally or verbally abuse or control. They try to intimidate and make others feel like they're not 'worthy' enough.
"It breaks my heart to think about children left to sit alone at a lunchroom table," Johns continued. "The book is a positive way of telling children and adults to be kind to human beings and animals alike, and to respect the world around them."
Bullying is something Johns witnessed firsthand when she opened the Head Over Heels gymnastics and dance center in Peachtree City in 1994. It was one of five facilities Johns opened across the nation, she said.
She said some of her students had been turned away by other gyms because of their weight or special needs. Johns said she welcomed them all.
"Some of my best students were considered 'overweight,' but I taught them to stand tall and have confidence in themselves," she said. "And to see a handicapped child do a cartwheel for the first time and the joy in their eyes was just heartwarming."
Johns eventually left the gymnastic and dance industry.
She said she made her way to the Florida coast and fell in love with the sea.
The Newnan resident bought a condo along the panhandle. It's where "Blob Farley" came to life.
Johns said it took her five years to write the story, plus design the characters. She brought in illustrator Tim Gagnon to help bring "Blob Farley" and his friends to life with larger-than-life expressive faces, bold, bright colors and a fun, deep-sea backdrop.
In addition to illustrating, Gagnon added a coloring section for kids in the back of the book.
"The book just pops and Blob Farley looks so happy. He brings a smile to my face everytime I look at him," Johns said.
Johns said it still took time to find a publisher and a financial backer.
She said she financed most of the book herself.
The first "Blob Farley" books rolled off the presses earlier this year.
"It all happened so quick. The publisher picked us up and Tim (Gagnon) said, 'Are you ready for this?' I thought, 'No way,'" Johns remembered. "The book came out in March, and it's taken off since then."
Johns immediately hit the road with her new book, driving 5,000 miles around the region to promote "Blob Farley."
"I met so many fabulous people along the way," she said. "I went to dolphin research centers, aquariums and the beach. I passed out 3,000 coolers on the beach to get the word out about the book. I had the time of my life."
Johns is so passionate about Blob Farley, she outfitted her entire SUV with decals of his face and other sea creatures. She calls it the "Blobmobile." In addition, she owns a food truck in Florida that sells "blobsicles."
Johns also has merchandise of "Blob Farley" and his friends, including plush toys, T-shirts, jewelry and even slime.
"I was in St. Petersburg and I left the slime in the car during a really hot day. I met some people who were interested to see what I had, and one guy opened the slime and it exploded. He was covered to head to toe," she said. "Fortunately, he laughed about it … it was funny."
Johns has also hosted book signings around the Southeast region.
She said word is spreading about "Blob Farley."
According to Johns, she's been asked to hold storytime in some of Coweta's schools. In November, the children's book will be showcased in the Miami International Book Show, she added.  
Johns said she hopes one day "Blob Farley" will be turned into a movie. She also would like to donate a portion of her book sales to a community cause.
"I'm still in shock at how fast everything is moving now. It took five years to be printed, and now Blob Farley's popularity is growing. When I look at him, it makes me so proud. I never thought in a million years this would happen. My faith is what kept me going and knowing it was going to all happen on God's timing, not mine."
Johns said she is currently preparing for her next book tour in the Lake Tahoe area and into California.