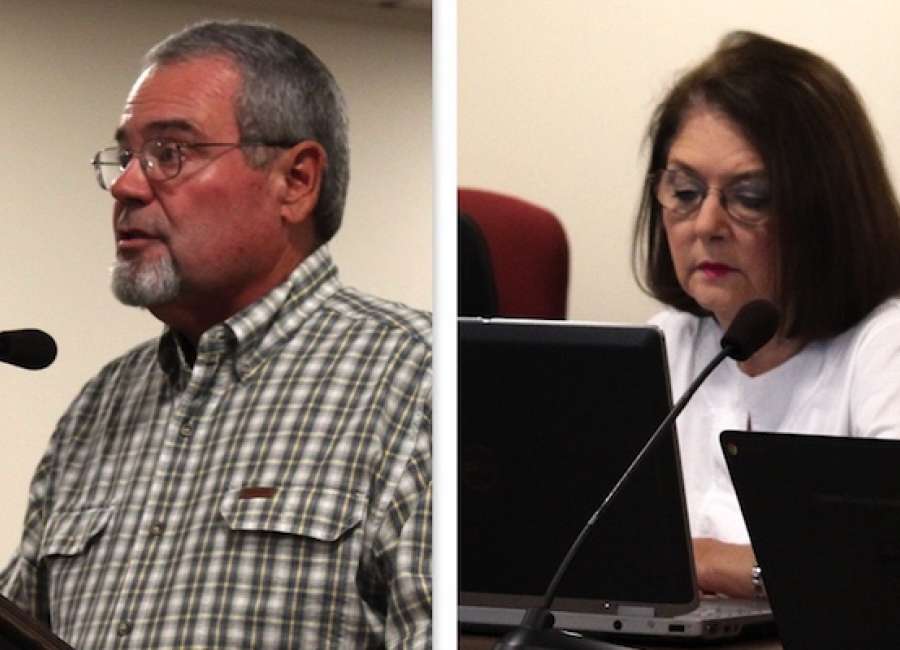 After months of publicly advocating for lower taxes, Linda Menk cast the sole vote against a measure that would provide more than $1.8 million in tax relief for seniors.

On Tuesday night, the Coweta County Board of Education voted 6-1 – with Menk opposed – to submit to the local legislative delegation a new school property tax exemption, adjusted for inflation, for Cowetans ages 65 and older. "Local legislation" must be approved in the Georgia General Assembly to move forward with the changes to the exemption. 
Unanimous vote usually required
Historically, the local delegation has required a unanimous vote to move forward with local legislation. If local legislation is approved, the proposal can be placed on a ballot in 2019 for Coweta voters to decide whether to increase the current exemptions. The legislative session begins in January.
During board discussion, Menk said the adjustments "aren't aggressive enough."
Since May, board members have been studying three options for increasing senior tax exemptions prepared by the Coweta Tax Assessors Office. From Sept. 12 - Oct. 3, the school board solicited public input through an email link on a web page dedicated to informing residents about senior tax exemptions, including the updated schedule scenarios.
Also included on the web page, which was linked from the school system's website, was contact information for Jeff Binion, Bob Eaton and Donald Smith, each of whom had spoken to the board and Superintendent Steve Barker in support of updating the exemption schedule. 
Considerable public input 
More than 90 people submitted input, which was overwhelmingly in favor of increased senior exemptions.
On Tuesday, Board Chairman Larry Robertson made a motion that the board propose raising exemptions from $40,000 to $60,000 for ages 65-70; from $60,000 to $85,000 for ages 71-74; and from $80,000 to $115,000 for ages 75 and older.
Exemptions are applied to a property's "assessed value," which is set at 40 percent of fair market value. The proposal would exempt the first $150,0000 of a home's fair market value for those 65 to 70, the first $212,500 of a home's value for those ages 71-74, and the first $287,500 for those ages 75 and older. 
It's expected that the more generous exemptions would cost the school board approximately $1.8 million in property tax revenue annually. 
"I'd like to make a motion that the Coweta County BOE ask its local delegation and Coweta County to approve to place on the ballot in 2019 (these) senior exemption level increases for vote by the public," Robertson said.
After his motion was seconded by Beth Barnett, Menk opened board discussion by asking if the vote was final. Robertson reiterated he was making a motion to send the information to Coweta legislators to be placed on the ballot in 2019.
"So basically, if we vote to approve this, there is no further discussion on it or another review of other analysis that has been done and prepared by highly professional sources that would actually improve this?" Menk asked. 
"Are we saying that if we vote on this, that as far as the board is concerned, this is it? We're not going to consider any further adjustments to this? Is that what you're asking us to vote on?" Menk continued.
Local tax professionals consulted
"I'm saying if we vote on this and approve it, this will be sent to our local legislative delegation in Coweta County to be placed on the ballot in 2019," Robertson said. "This comes to us from professionals, people here in Coweta County who put together tax information. So I'm not sure what other professionals you're referring to. It comes directly from the county."
Barker reminded board members that the proposed numbers were prepared by the county using an inflationary calculator last spring for a meeting with Binion, who has spoken to the board several times – including at Tuesday's meeting – in favor of tax exemption increases.
"The county took an inflationary calculator, which was the request… if those dollars in 2002 were applied to today's dollars, what would the dollar amount in exemptions look like?" Barker said.
"It is the estimate they used when we asked them to give us what would it look like in inflationary dollars today, which was the request before the board originally," he added. "And so that's the document, just to clarify, that's the document that you were working from."
"That's correct," Robertson said.
Menk asked if the proposed scenario is the board's only option.
"If this is what the board would vote on… what if our delegation of representatives comes back and says you can do better than that?" she asked. "Are we saying to the citizens that we're not going to consider anything other than what we voted on?"
Robertson said he couldn't react to a theoretical scenario.
"You're saying what if the delegation comes back and says you can do better than that," he said. "I'm making a motion that we present this to our local delegation and the county for approval. If they come back and they disapprove of it, then we go back to the drawing board."
Binion said he was pleased with the board's vote.
"We've worked very hard to bring the issue before the public and the board members," he said. "It's going to be a significant help to the seniors. The board did a thorough job looking into it, and we appreciate their support."