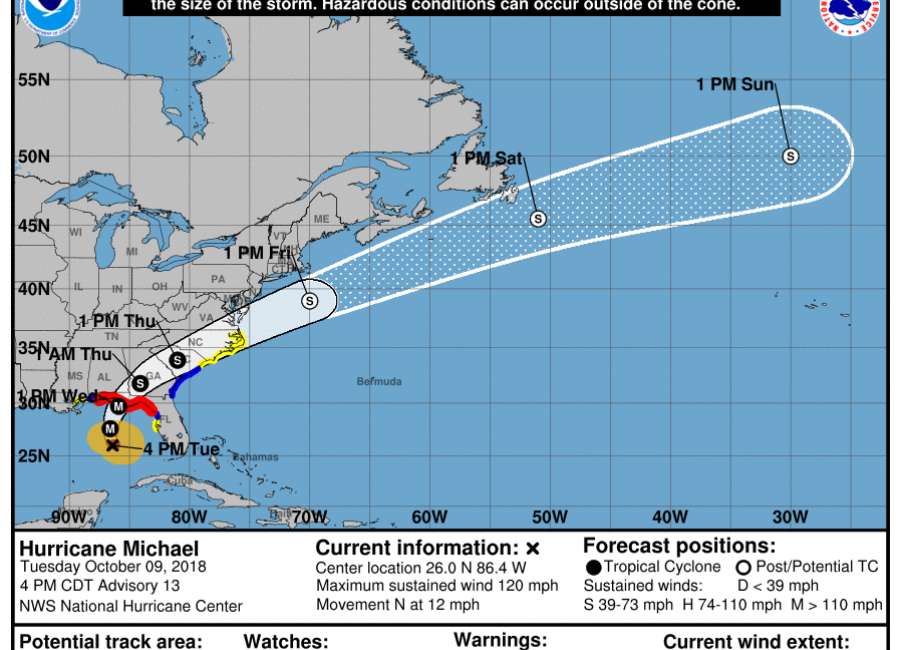 (As of 4:30 p.m. Tuesday)
Cowetans can breathe a sigh of relief as the center of Hurricane Michael is expected to stay south of the county, according to the National Weather Service.
Michael is predicted to make landfall early Wednesday afternoon as a category 3 storm  with sustained winds of 125 miles-per-hour along the Alabama and Florida panhandle, meteorologists said Tuesday afternoon.
The storm will lose strength as it moves over land and become a tropical storm or tropical depression when it advances into south Georgia.
NWS Meteorologist Kyle Thiem said Coweta County will experience some rain ahead of the storm, but the bulk of the weather system will pass by the area Wednesday night into early Thursday morning.  
"Currently, Coweta County is on the 'clean side' of the storm, so the area won't be impacted as much as south Georgia," Thiem said. "Coweta (County) may see 1-3 inches of rain with wind gusts of 25 - 30 miles-per-hour."
"It looks like we'll have minimal impact here. The majority of the strength of storm will be Macon and below," said Jay Jones, director of the Coweta County Emergency Management Agency and 911 Center. "We're monitoring the storm. Coweta County was not listed in the state of emergency that Gov. Deal put into place Tuesday morning, and I don't anticipate a large scale mobilization for this storm."
Ninety-two counties were listed in Deal's State of Emergency – all in southern Georgia.
As of Tuesday evening, Coweta County was also not listed in the Tropical Storm Watch issued by the National Weather Service.
Another weather front moving in from the midwest will push the remnants of Hurricane Michael quickly through the state, Thiem said.  
"This storm is a stark comparison to the previous ones we've seen, like Hurricanes Harvey and Florence. Those storms hung around a long time, but this one will move quickly. It should move into Georgia between 6 p.m. - 8, and be gone by mid-morning on Thursday."
"It seems like we dodged another bullet," Jones said. "But now is a good time for people to make a plan and have a weather preparedness kit."
Here are a few numbers to keep on hand should you have a storm related emergency:
All emergencies, including weather related: 911.
Power outages:
Newnan Utilities:  770-683-5516
Coweta – Fayette EMC:  770-502-0226
Georgia Power: 888-891-0938