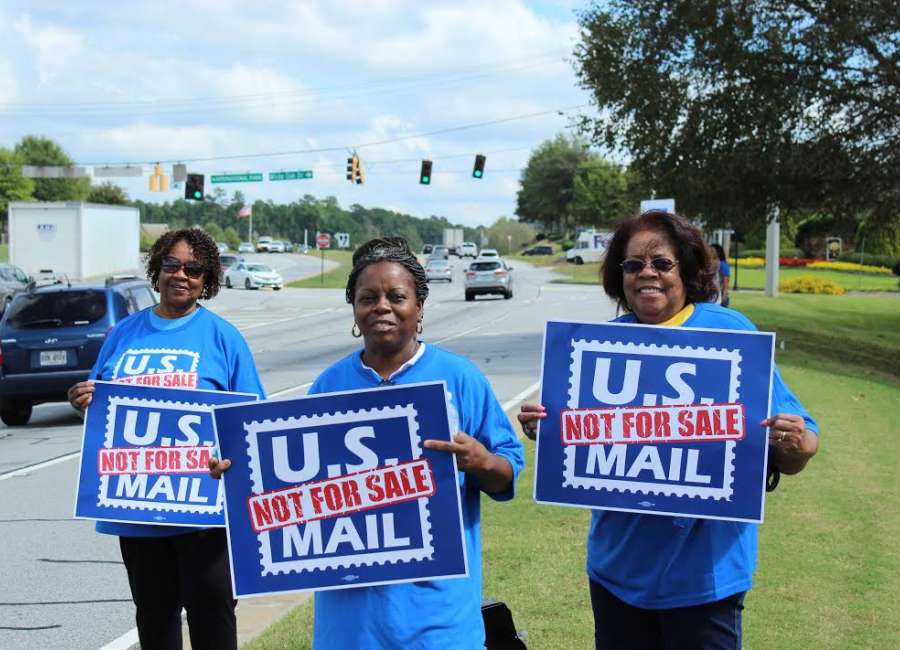 By JEFFREY CULLEN-DEAN

jeffrey@newnan.com
U.S. Postal Service workers rallied and carried signs reading "U.S. Mail Not for Sale" outside of Congressman Drew Ferguson's office on Oct. 8 to oppose the Trump Administration's proposal to privatize the US mail system.
Gerald Pacci, letter carrier congressional liaison for District 3, said the sale was proposed so the USPS won't be a burden on the federal government. The USPS does not receive federal tax dollars to fund its operations.
"Operational-wise it's no cost to the American public," said Beau Cadien, branch president of the National Association of Letter Carriers 546. "We operate on the sales of stamps and services."
The USPS is required by the Postal Accountability and Enhancement Act of 2006 to pre-fund $5 billion per year for retiree healthcare – 75 years into the future. 
"It is the only federal agency or corporation that has to do that," Pacci said.
Bipartisan resolutions to prevent privatization have been proposed in both the U.S. Senate and House of Representatives. Senate Resolution 633 has 41 co-sponsors and House resolution 993 has 219 co-sponsors. 
"Congressman Ferguson is not on the list," Pacci said.
If the USPS is sold, Pacci speculates that the service would go from six-day delivery to three-day delivery, "we'd go from good paying middle-class jobs to minimum wage-paying jobs."
Cadien said if the USPS is privatized, people who don't live in highly populated, dense areas could see surcharges added to their delivery costs or a lack of obligation to deliver to their homes.
The Trump Administration commissioned a task force to look into privatizing the post office a few months ago, according to Pacci. The president received the report in July but isn't expected to release the findings until after the midterm elections.
"Hopefully we can send a message to Congressman Ferguson and the Senate as a whole. U.S. Mail is not for sale, and privatization is not the answer," said Eric Sloan, president of the National Association of Letter Carriers branch 73.
Postal unions held rallies across the country on Monday.
According to the Pew Research Center, the USPS is the most favorably viewed government agency with an 84 percent approval rating. Through the USPS a letter can be sent anywhere in the US for 50 cents.
"You can't beat the price of postage," Pacci said. 
"It's not about us, the postal service workers, but the country as a whole getting an affordable service," Sloan said.