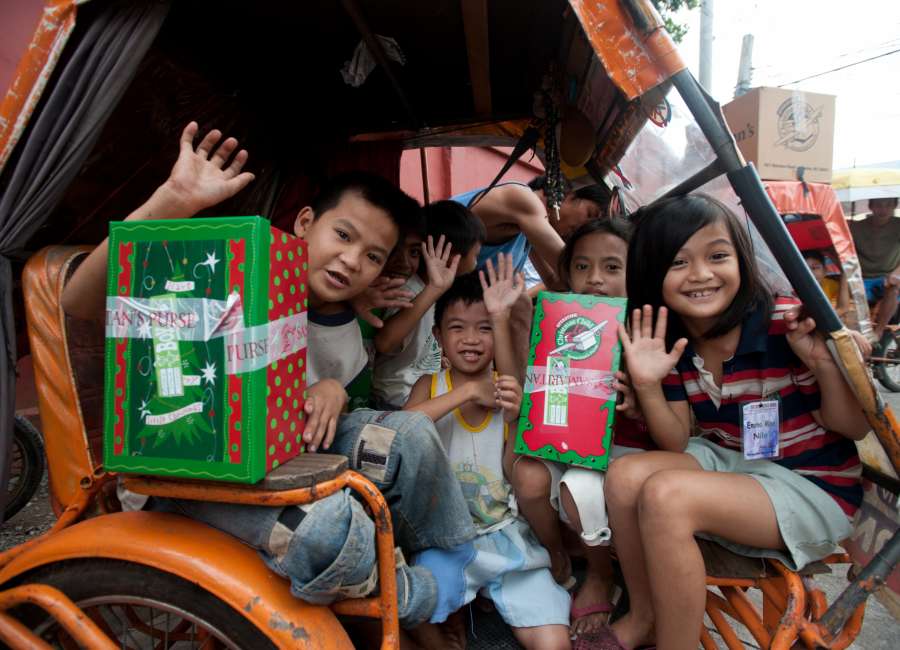 Operation Christmas Child volunteers continue their efforts to transport boxes of holiday joy from Coweta County around the world.

Operation Christmas Child is a ministry of Samaritan's Purse, the ministry headed by Franklin Graham in Boone, N.C. The concept has volunteers filling shoeboxes with toys, school supplies and hygiene items that are delivered – through local churches – to children in more than 160 countries.
Leesa Bates, who is heading the local collection effort, said the goal for local boxes is 20,000 for this year. Last year, about 19,000 boxes were processed locally.
Collection week is the week of Nov. 12-19. Local collection sites will be at the multipurpose building at Unity Baptist Church and at Mills Chapel Baptist Church.
"I've been in charge now for about seven years, but I've been working with it for over 20 years," Bates said.
"I love kids. Everything I do is for the kids," Bates said. "They're our future."
Bates reflected on the opportunity to touch a child's life through sending a box. 
"I really can't afford to go to a third-world country and help, but I can give of my time," she said.
Nearly 500,000 volunteers worldwide – with more than 150,000 of those in the United States – are involved in collecting, shipping and distributing shoebox gifts. Among them is Coweta resident Doug Ray.
"The sole purpose of Operation Christmas Child is to reach out to children in Jesus' name and to communicate God's love for them," Ray said. "While children are thrilled to receive the gifts in the shoeboxes, we know the most important gift a child can receive is eternal life through Jesus Christ."
Any shoebox-sized box can be used. Many people use plastic boxes with lids that size. Instructions on how to pack a box are at https://www.samaritanspurse.or...
There have always been restrictions on what could be put in boxes – nothing liquid, no war-related toys.
This year, because of customs regulations, toothpaste and candy are now off the list. In past years, many people who prepared boxes filled the empty spaces with hard candy.
"They're not doing the candy anymore," Bates said.
People who prepare boxes are asked to donate $9 to cover the cost of sending the boxes overseas. "The box is the most important thing," Bates said.
Hours for Unity, located at 311 Smokey Road, will be 9 a.m. to noon on Nov. 12, 13, 14 and 17; from 2-5 p.m. on Nov. 15, 16 and 18; and 9 a.m.-5 p.m. on the final day, Nov. 19.
Hours at Mills Chapel, located at 85 Country Club Road, will be Nov. 12, 13, 14 and 15, 9 a.m. to 1:30 p.m.; Nov. 16, 11 a.m. to 6 p.m.; Nov. 17, 9 a.m. to 2 p.m.; Nov. 18, 9-11:30 a.m.; and Nov. 19, 9 a.m.-2:30 p.m. There also will be volunteers at Mills Chapel on Nov. 12 from 5:30-7 p.m. and Nov. 14 from 6-7:30 p.m.
Since 1993, more than 157 million Operation Christmas Child gift-filled shoeboxes have been distributed to children in more than 160 countries and territories.
In 2018, Operation Christmas Child hopes to collect enough shoebox gifts to reach another 11 million children in countries like Peru, the Philippines, Rwanda and Ukraine. More than 11 million shoebox gifts were collected worldwide in 2017, with more than 8.8 million collected in the United States.
Shoeboxes are collected in the United States, Canada, the United Kingdom, Australia, Germany, Switzerland, Austria, Finland, Spain, New Zealand and Japan.