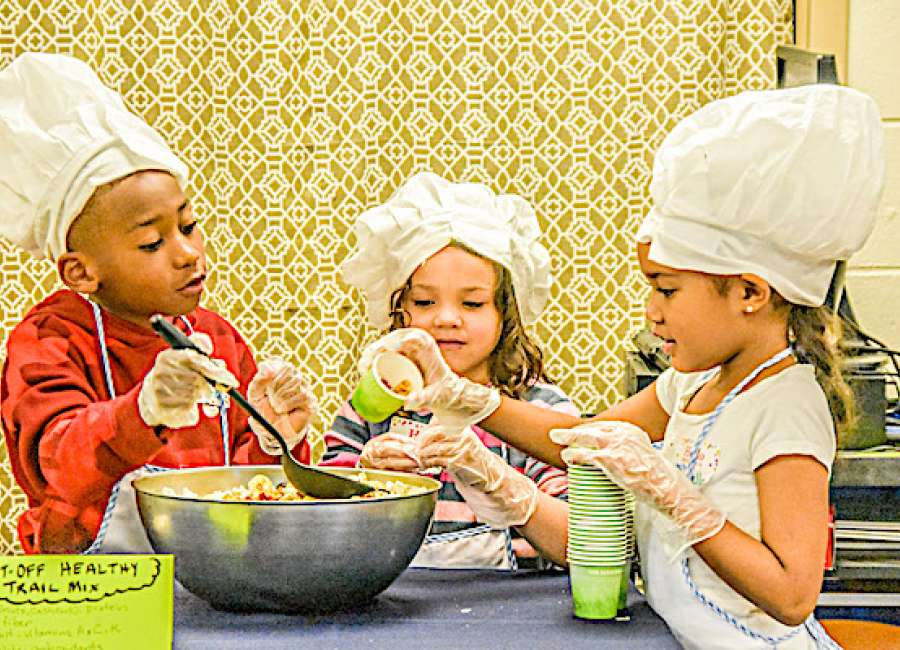 Elementary students sewed, played instruments, recorded podcasts, filmed in a green room and operated a 3D printer at Ruth Hill's new Launch Pad Library open house.

Local business and community leaders followed student tour guides through learning portals, where other students demonstrated how they use the resources and activities that are part of each. The process of reimagining the library to best serve Ruth Hill students is just beginning, according to Anne Graner, the school's media specialist.
"We believe that the old type of library is not helping our kids," Graner said. "We think it's much better for them to be in an environment where they can explore what they're curious about. So we have totally redone the library."
Traditional bookcases have been removed, with fiction, nonfiction, biographies and career books now organized by topic. The six learning portals are Travel the World & Beyond; Learn from the Past; Stay Fit & Healthy; Investigate Nature; Express Yourself; and Discover a Solution. Resources and activities contained within each are sponsored by portal experience partners, or PEPs, from the community.
Students fill out applications to do specific work in the portals that interest them, and their project proposals must benefit others. For instance, some fifth-graders are using the sewing machine in the Discover A Solution portal to make lap pads to help autism students remain calm, while others are creating Magformers objects to help students who have trouble focusing in class.
Students as young as third grade are learning to use the school's 3D printer, and their plan is to design items to print and sell to raise money for a local charity. While the chosen charity will reap immediate benefits, the community as a whole will benefit further down the road, according to Amanda Fields, Coweta County's director of existing industries and workforce development.
"I have manufacturers right now that need people who know how to use a 3D printer," said Fields, who said she also was impressed when she saw fifth-graders following blueprints to build projects.
"You've got a really unique opportunity to take this to another level," said Mark Whitlock, CEO of Coweta County's Central Educational Center. "It'll make what you're learning in the classroom come to life."
Whitlock praised the students for their ability to communicate well, telling them soft skills are highly coveted by employers.
"You're developing those (soft skills)," he said. "You guys are ahead of the game. 
"(Coweta County) is an incredible place to live, grow up and work," Whitlock added. "You've got multiple opportunities to learn about what's in your community and you're getting all the tools you need to be successful."