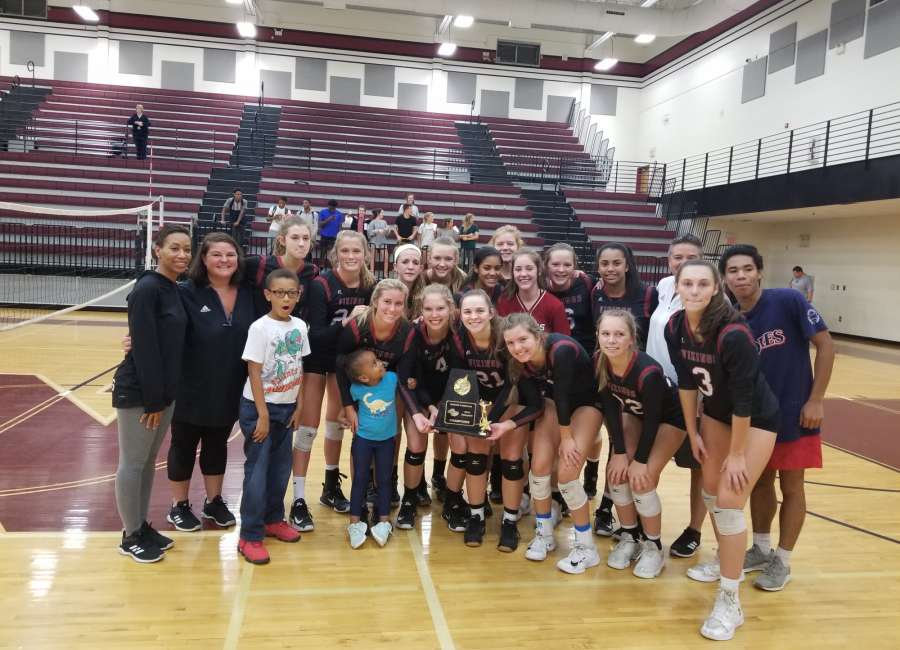 BY DOUG GORMAN
Northgate punched its ticket to the Class 6A volleyball tournament Thursday night with a victory over Douglas County in the Area 5A championship.
The tournament was played over a three-day period at Northgate with the Lady Vikings winning the title without dropping a set.
The tournament had some issues because of the rainy weather Wednesday night forcing the last matches to be postponed until Thursday night.
Northgate seemed motivated by the delay.
"We had a long time to wait because of the weather, but we were ready. I wanted to play South Paulding, they wanted to play Douglas County. I am just so happy we won." Northgate head coach Sheila Walker said.
Northgate began the tournament on Tuesday with an easy win over Langston Hughes before sweeping both New Manchester and South Paulding on Wednesday.
There was a chance Northgate was going to get a shot at meeting South Paulding again in the championship but the Lady Spartans fell to Douglas County in three sets (21-25, 25-13, 25-21).
In the championship, Northgate took control of the first set against Douglas County building an 11-0 lead.
Emily Dozier helped establish Northgate's early momentum with hard-driving serves. Three of the first four points were didn't make it back over the net giving Northgate the points.
"We made it our goal that we were going to come out hard and fast and be ready to play and that is what we did," Walker said.
Kalea Busby and Kylie Callocchio came up with back-to-back blocks during the run to help Northgate jump out to an 11-0 run.
Douglas County made a small push against Northgate in the first set, cutting the Lady Vikings' lead to 18-12.
The Lady Vikings put the exclamation point on the first set with a 7-4 run. Emily Justice's kill secured the last point of the first set.
Douglas County built an early 8-4 lead in the second set before Northgate battled its way back.
The Vikings scored six straight getting an ace from MacKenzie Ellsworth and two kills from Mary Lauren Golden.
Northgate never trailed again.
With Callocchio serving, the Lady Vikings pushed the lead to 20-14 and the closed out the match with a 5-1 run.
The victory gave Walker her fourth region title.
Northgate goes into the state tournament as the No. 1 seed out of the region, while Douglas County earned the No. 2 seed.
Both Northgate and Douglas will open the state tournament next week at home.
South Paudling gets the No 3 seed, and Tri-Cities the fourth seed. South Paudling and Tri-Cities will open on the road.