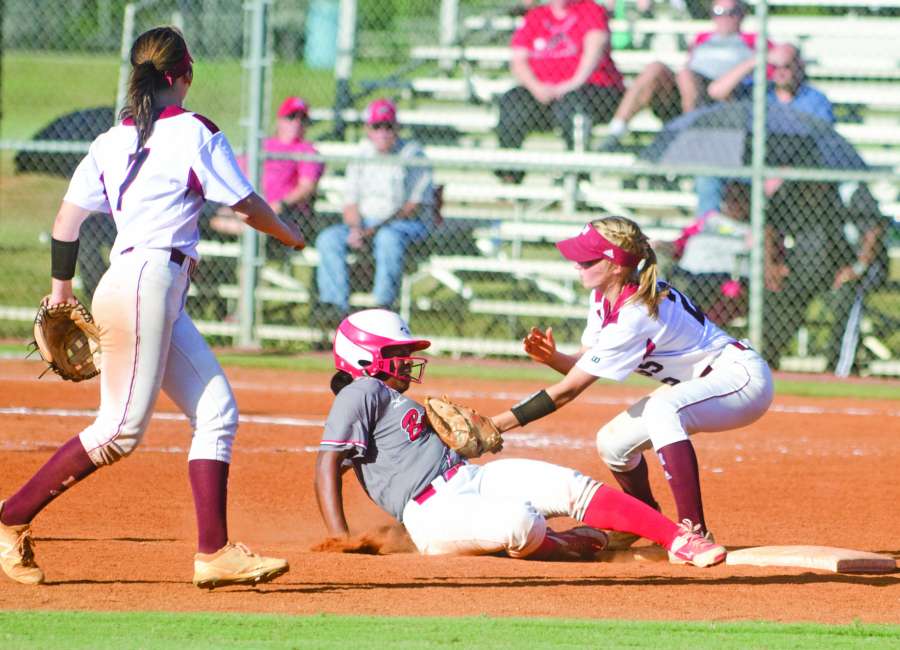 By Chris Goltermann
Cowetascore
It had been just about a month since Winder-Barrow had been involved in a tie game as late as the seventh inning.

For Northgate, the situation's become old hat, especially after battling through last week's Region 5-6A tournament to a runner-up finish.
The Lady Vikings came through in a pressure situation with a potential Game 3 looming during Tuesday's Class 6A first-round playoff series at home against Winder-Barrow, connecting for two runs in the top of the seventh while acting as the visitors and pulling out a 4-2 win that capped a sweep.
It sent Northgate, now 19-11 overall, to the Sweet 16 where the Lady Vikings will travel to Region 8 champion Dalton (22-10), while needing two wins to get back to the GHSA Elite 8 for the first time since 2013.
Dalton was knocked out of the Sweet 16 last year by Cambridge.
On Tuesday at home, Northgate jumped ahead both in Game 1 and the series with a 6-3 victory, using three-run rallies in its opening at bats to set the tone after Winder-Barrow, the No. 3 seed out of Region 8-6A, took an immediate 1-0 lead to begin the doubleheader.
Three consecutive singles from Ashley Kent, Alissa Bolinger and Natalie Heath quickly tied the game and the Lady Vikings never trailed again in the series with Game 2 becoming a trade off of individual runs for four innings to produce a 2-2 tie heading into the top of the seventh.
Northgate, which came up with two walk-off wins in last week's tournament, pounced on Winder-Barrow after a one-out error put runners on the corners.
The Lady Bulldoggs allowed the go-ahead run to score on a wild pitch before Olivia Cato successfully executed a bunt single that scored courtesy runner April Jernigan with an insurance run.
It as much helped Cato's effort in the circle among two gutsy complete-game efforts from Northgate pitchers. She allowed three hits, the last of which on a leadoff single to left in the bottom of the seventh that brought the trying run to the plate with no outs.
But Cato responded with the last of nine strikeouts before a popout and a line drive to shortstop ended the game and the series.
Cato worked around five walks in Game 2 including a pair in the fifth after both teams had alternated four runs over the first four innings. She induced a pop up to end the threat.
An inning earlier, Winder-Barrow took advantage of a two Northgate errors and a walk to push across a tying run.
Northgate had taken leads of 1-0 and 2-1, the latter on Gracie Storey's RBI among three straight hits that began with one from Cato and ended on another from Carlie Chastain.
Both lineups committed at least three errors apiece in each game of the doubleheader. It led to three unearned runs charged to Northgate Game 1 starter Madison Lummp, who also went the distance while allowing four hits and two walks to go with three strikeouts.
Northgate opened the game with a two-base error that led to Winder-Barrow's 1-0 lead after a wild pitch and a sacrifice fly.
But they quickly got it back on a first-inning rally capped off by consecutive bunts by Cato and Storey that produced runs.
After Lummp retired the side in order in the second, Northgate doubled its total with three more runs highlighted by Heath's RBI double on a hard line drive down the left-field line.
Kent, Bolinger and Heath combined to go 4-for-8 with five runs scored and 2 RBIs at the top of the Lady Vikings' order. All three players hit safely in Game 2 among seven Northgate batters that had at least one hit led by Cato's 2-for-2 performance.
Winder-Barrow pitcher Rose Johnson struck out six in each game while going the distance.