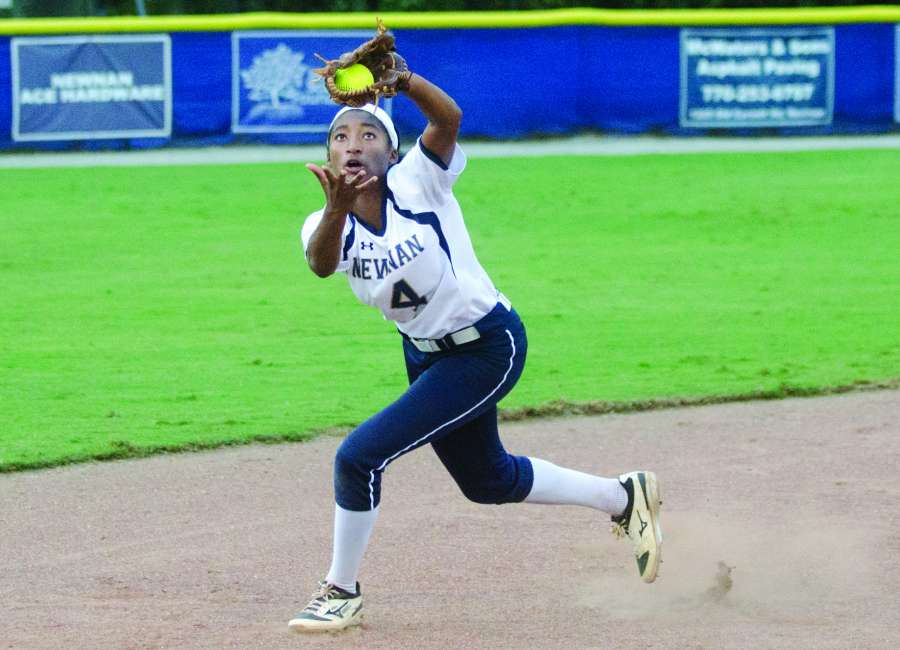 By Chris Goltermann
Cowetascore
It was tough to decide what was more frustrating for Newnan's softball team on Tuesday — Kennesaw Mountain or the downpour that kept the Lady Cougars from potentially rallying back in Game 1 of its Class 7A first-round playoff series.
Either way, wet weather created a cliffhanger for Newnan, which had a 3-1 deficit in the bottom of the sixth suspended until Wednesday at 4:30 p.m., though equally weather permitting with more rain in the forecast for 48 hours as Hurricane Michael comes ashore in the Florida panhandle.
In a driving rain, Katelyn Magnus and leadoff hitter K.K. Madrey gave Newnan life in the sixth with singles, the first on a slow roller that stopped less than three feet from home plate.
Madrey then slapped a bloop single the opposite way over Kennesaw Mountain's shortstop with the infield drawn in looking for a bunt.
It capped off a somewhat frustrating first afternoon of postseason softball for Newnan, this year's Region 2-7A runner-up.
The Lady Cougars (14-6) out-hit Kennesaw Mountain (15-10), the No. 3 seed out of Region 3-7A, by an 8-4 margin before being postponed, but never seemed to catch a needed break.
GHSA bylaws allow a game delayed by weather to be resumed at the stoppage point once it becomes a legal game.
Kennesaw Mountain took an immediate 1-0 lead in the top of the first and then jumped back ahead with two runs in the sixth. A one-out grounder in between first and second caused enough confusion between infielders to allow a Lady Mustangs runner to reach.
After she moved up to second on a groundout, leadoff hitter Hannah Forehand lined a double over the extended reach of Newnan's left-fielder.
The Lady Cougars' tough luck continued when starting pitcher Ansley Houston knocked down a ball hit back to the circle but couldn't get a grip on the rebound as it trickled toward the third-base line to put runners on the corners.
Mixed signals in the infield then had Newnan unable to avoid a successful double-steal that had the Kennesaw's lead runner taking advantage of a throw down to second. The relay back to home came just late of catcher Alex Williams' tag to push the KMHS lead to 3-1.
If there was a positive out of the delay it came from giving both pitchers a night's rest. Both Newnan and Kennesaw Mountain have relied heavily on one pitcher throughout this season.
Lady Mustangs starter Hailey Glass just recently returned from an injury and struck-out six over five innings. But it came while allowing four walks to go with Newnan's eight hits.
Houston's pitch count was up to 92 through six innings, also walking four and allowing two earned runs on five hits.
Newnan initially tied the game in the bottom of the third after managing a single by Williams through two innings despite leaving a pair of runners stranded each at bat.
Reagen London's single moved Lady Cougars to first and second again with one out in the third. Williams followed through with her second hit of the game, a single up the middle to knot the score at 1-1.
Williams was 3-for-3 and Madrey 2-for-2 when play was halted, with senior Hailey Bloom, Houston and Danielle Curlee scheduled to bat in the heart of Newnan's order when it resumes.