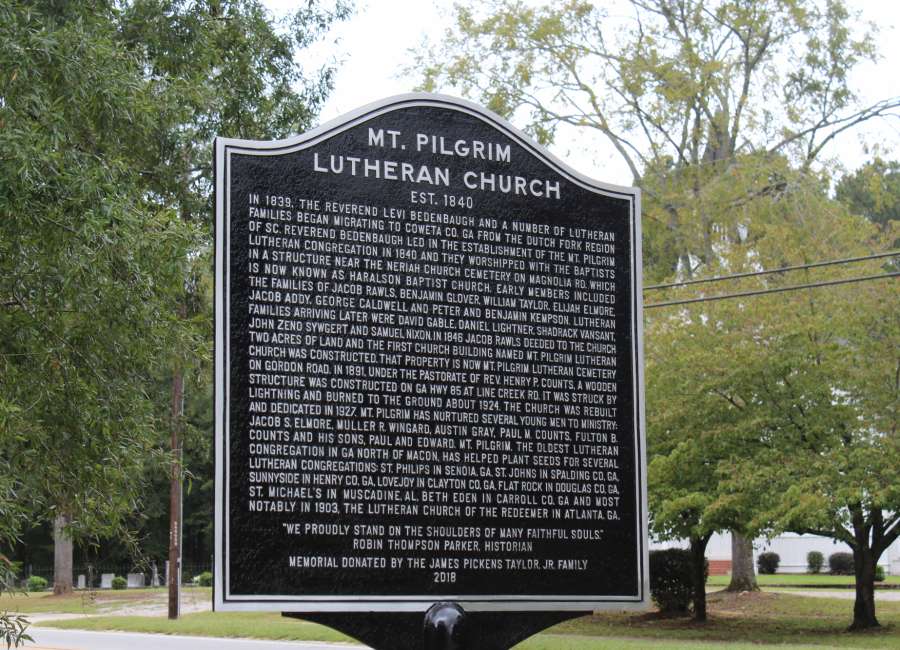 By JEFFREY CULLEN-DEAN

jeffrey@newnan.com
During their Sunday service, the congregation of Mt. Pilgrim Lutheran Church unveiled a historical marker detailing the early history of the church.
The marker includes a brief history of the church with the names of the founders and the moving of the church's location.
"On the marker are links to the past," said Jimmy Taylor, a descendant of one of the church's founders. "And the young people are the bridge to the future," he said after recruiting three young girls from the congregation to help with the unveiling.
Besides Taylor, seven other descendants of the church's founders were in attendance of the homecoming service. 
The church was founded in 1840 after a group of Lutherans relocated from South Carolina to Coweta County. The church lasted through the Civil War, World War I, The Great Depression, World War II and still stands today. "It's sort of like the little engine that could. I think I can, I think I can," said Taylor. "It survived through great moments of history."
Until 2004, Taylor was not aware of his familial connection to the church. He attended a homecoming service where he met a woman named Betty Thompson, who attends a nearby church.
"It was from her that I was touched about this church," said Taylor.
Thompson sent Taylor an envelope with newspaper clippings and handwritten notes about the history of Mt. Pilgrim Church, which is how Taylor learned that his great-grandfather was one of the church's early founders.
"I didn't know all this until I came down here," said Taylor. 
He presented the idea of the historical marker to the church to preserve the history of those who came before them.
Taylor worked with members of the church to carefully craft what would be written on the marker and conserve space so all names could be listed.
During his presentation, Taylor said, "The historical marker was the result of a simple thing of being nice to someone, and you never know what that will bring."