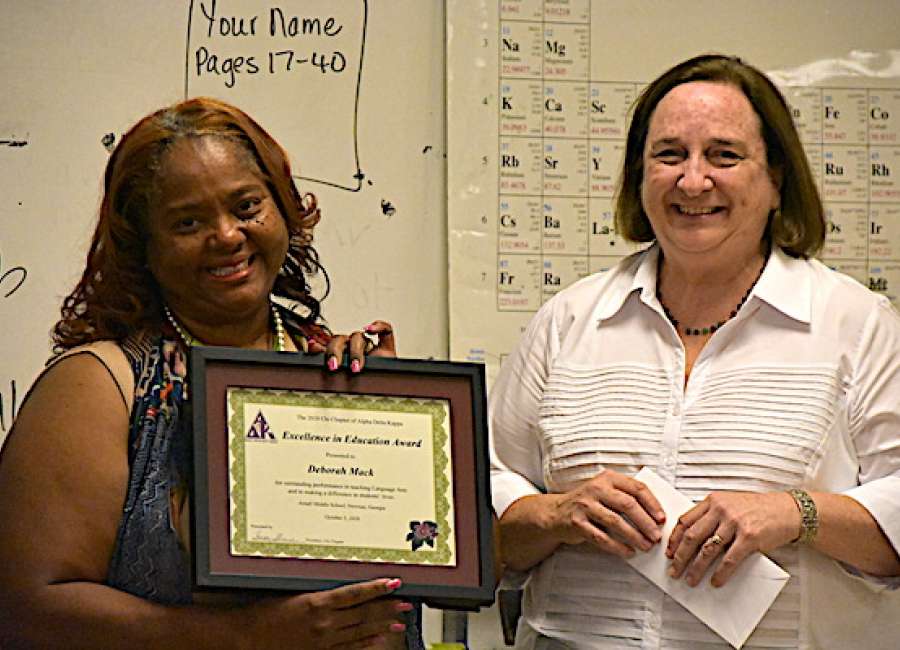 Arnall Middle School teacher Deborah "Dee" Mack – referred to as a visionary and teacher-leader by her school administrators – recently was honored for outstanding work in her profession.

Mack, who teaches eighth-grade English/language arts at Arnall, was presented with the Alpha Delta Kappa, Chi Chapter's Excellence in Education Award Oct. 10.
Mack has 39 years of experience in Coweta and DeKalb counties and has served as a coordinator for Accelerated Schools Plus. She has high expectations for her students, according to Arnall Principal Patrick Sullivan and assistant principals Lawanda James and Sean Parker.
Conversations, remediation, teaching to the learning styles of each student and a respect for the learning environment mark her rigorous classroom setting, they collectively wrote in a letter marking the award presentation.
"Because of Ms. Mack's care for her students, from year to year, reading and writing skills improve as a result of the hard work," the administrators wrote. "She wants students to experience something during the academic day that demands their thinking, which she believes then sparks their learning."
And it's not only the students but also fellow teachers who benefit from Mack's leadership, according to Arnall administrators.
"She challenges her colleagues to embrace the diversity of our students by ensuring that the curriculum is filled with enriched strategies (and) problem-solving opportunities, and promotes independence research and real-life experiences to help make the learning relative for today's learners," they wrote.
Mack, Arnall's 2011 Teacher of the Year, is only the second Coweta County educator to receive the award. Last year, Chi Chapter members awarded their first Excellence in Education Award to Ruth Hill Elementary School instructional coach Kim Crawford. 
The award was presented as part of an ongoing celebration of October as Alpha Delta Kappa Month, during which the international honorary organization for female educators – originally founded in 1947 – plans special events and projects to promote and encourage those in the teaching profession.
There are more than 30,000 Alpha Delta Kappa members and 1,200 chapters throughout the world. Membership in the local Chi Chapter has grown from 14 members when it was first established in 1957 to more than 50 today.