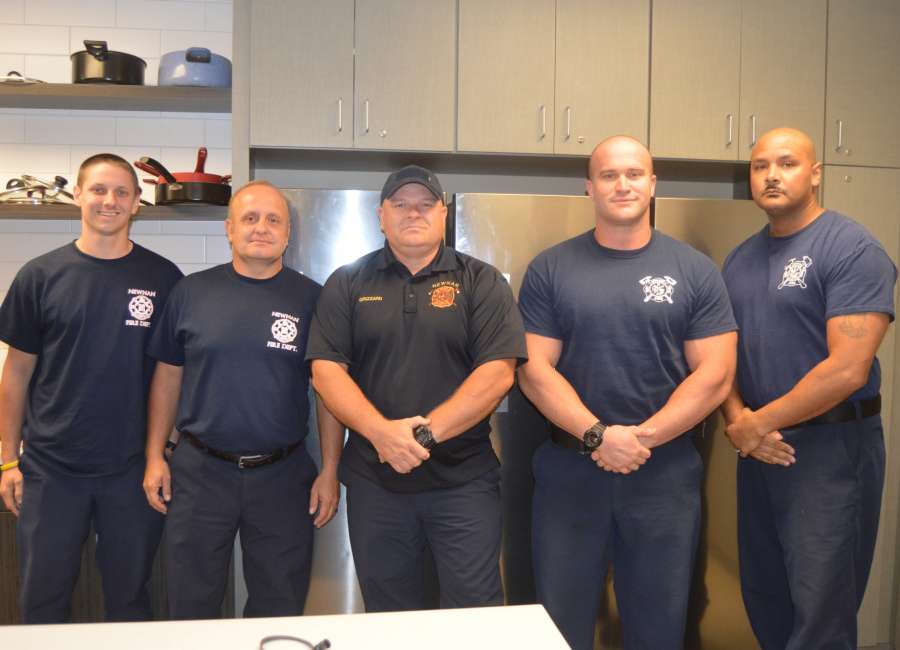 They live and fight fires together for 24 hours at a time.
So it's only natural firefighters with the Newnan Fire Department eat almost all of their meals together, too.
Although it's hard to plan and cook a nice sit-down dinner around emergency calls, the firefighters at NFD Station 1 manage to fit one in every once in awhile.
A piping hot Italian meal is high on their list of favorite meals.
"You can't go wrong with spaghetti or lasagna with a salad," NFD firefighter/EMT Damien Sorrells said.
"Firefighter Holt at Station 2 will smoke some Boston butts and bring them around to each station," firefighter/EMT Shane Grizzard said. "That's one of our favorite meals, too."
Some firefighters like getting in the kitchen and creating a special dish for their comrades.
"I like cooking fish tacos for everyone," Sorrells said.
Others just enjoy eating a hot, freshly prepared meal.
"I just eat everything they cook," Grizzard said with a laugh. "We've had people cook venison sloppy joes every now and again. That's the chief's (Stephen Brown) favorite."
Fall means preparing an extensive meal to start the day – and hopefully end it with some finger foods and football.
"Some Saturdays we'll do a big breakfast for everyone – bacon, sausage, biscuits, sausage gravy and hash browns," Grizzard said. "Then we'll skip lunch and get wings for dinner and watch the University of Georgia game."
NFD firefighter/EMT Jordan Chastain said the crew also makes sure to celebrate birthdays and special occasions with cake and desserts.
During the holidays, Sorrells said members of the community often bring the firefighters smoked turkeys, hams and side dishes as a way of saying "thank you" for their service.
Whether it's a home-cooked meal, donated goods or fast food, the firefighters at NFD Station 1 say they just enjoy spending quality time together around the dinner table.
"It's just feels good to sit down and eat your meal with everybody," Sorrells said.
Firefighter favorites
While the firefighters at the Newnan Fire Department didn't have time to share their secret recipes, they did tell us some of their favorite meals to eat while on duty.

Here are a few unique recipes to try at home.
Slow Cooker Venison Sloppy Joes
We're told this is a personal favorite of Newnan Fire Chief Stephen Brown.
Ingredients:
1/4 pound bacon
2 pounds venison stew meat
1 large yellow onion, chopped
1/2 cup brown sugar
1/4 cup wine vinegar
1 tablespoon ground cumin
1 teaspoon chili powder
2 tablespoons minced garlic
1 tablespoon prepared Dijon-style mustard
1 cup ketchup
salt and pepper to taste
Recipe:
Place bacon in a large, deep skillet. Cook over medium high heat until evenly brown.
Remove from skillet, crumble and set aside.
Brown stew meat in bacon grease for flavor.
Put onion, sugar, vinegar, cumin, chili powder, garlic, mustard, ketchup, salt and pepper in slow cooker and mix well.
Add bacon and venison and stir together.
Cook for a minimum of 8 hours on a low setting. Use a fork to separate the meat into a thick Sloppy Joe-style barbecue and serve on hamburger buns.
(Recipe Courtesy: allrecipes.com)
Beer-Battered Fish Tacos with Chipotle Crema
These Beer-Battered Fish Tacos with Chipotle Crema are perfectly balanced, with cool crema to balance out the savory fried fish.
Ingredients:
1 1/2 cups all-purpose flour
1/2 teaspoon garlic powder
1/2 teaspoon ground cumin
1/2 teaspoon salt
1/4 teaspoon freshly ground black pepper
1/4 teaspoon cayenne pepper
1 (12-ounce) can beer
Vegetable oil
1 1/4 pounds firm white fish
16 (5-inch) corn tortillas
Shredded cabbage
Fresh cilantro leaves
Chopped tomatoes
Lime wedges
Recipe:
Combine all-purpose flour, garlic powder, ground cumin, salt, freshly ground black pepper and cayenne pepper into large bowl.
Whisk in beer.
Pour oil to a depth of 2 inches in a deep saucepan or Dutch oven. Heat over medium-high heat until temperature reaches 350 degrees.
Cut fish into bite-size pieces; dip into beer batter, letting excess batter drip back into bowl.
Fry, in batches, 2 to 3 minutes or until golden brown and crispy on all sides.
Drain on paper towels. Sprinkle with additional salt, if desired.
Heat tortillas according to package directions. Divide fish among tortillas, using 2 stacked tortillas for each taco. Top with cabbage, cilantro, tomatoes and Chipotle Crema. Serve with lime wedges.
(Recipe Courtesy: myrecipes.com)
Roasted Garlic Cheesy Baked Spaghetti
Ingredients:
1 box of spaghetti pasta (or other pasta if you'd like)
1 large jar of your favorite tomato sauce or 2 regular size jars
1 16 oz. container of ricotta cheese
1 bulb of roasted garlic
1 cup of grated Parmesan Fresh Mozzarella
2 roma tomatoes sliced thin
Recipe:
Boil pasta according to box directions.
Strain pasta, then mix with sauce and ricotta.
Mash up your garlic bulb into a paste and mix with pasta. Add in half of grated parmesan cheese.
Pour mixture into a casserole dish.
Top with slices of fresh mozzarella
Top mozzarella with slices of tomatoes and the rest of the grated parmesan cheese.
Bake at 400 degrees for for 20 minutes and serve.
(Recipe Courtesy: bakednewengland.com)