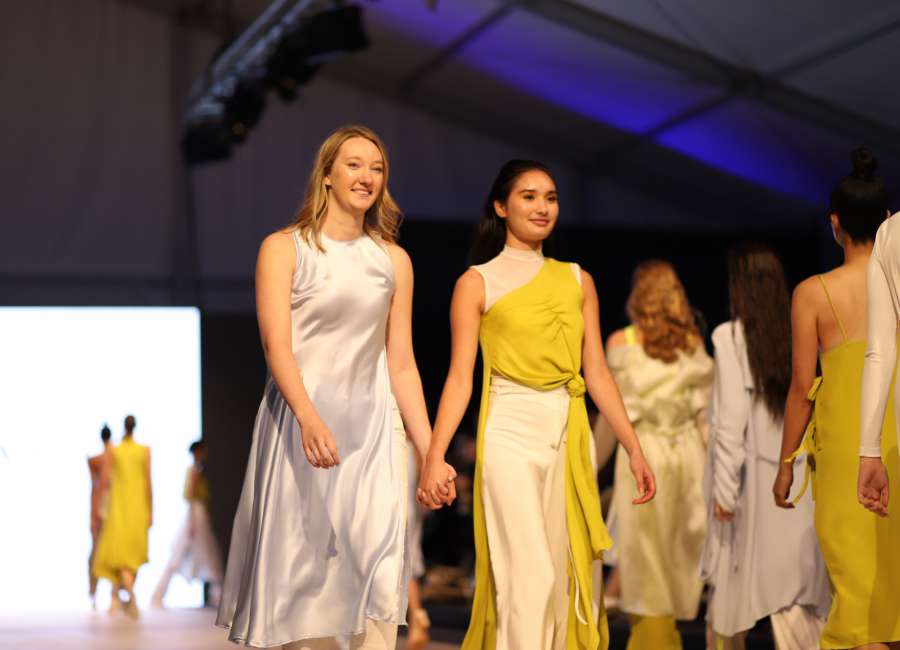 Christina Yother Designs hit the Canadian catwalk in mid-September and seemed to steal the spotlight during Vancouver Fashion week.
Designer and Sharpsburg resident Christina Yother said she was ecstatic with the reviews and response to her clothing line.
"The founder of Vancouver Fashion Week found me backstage after my show and said he really liked it," she said. "An editor from Elle magazine told me she wants to borrow some of my pieces for a fashion shoot.
"I felt proud of myself because I accomplished so much work to get there," Yother continued. "I was happy with the turnout and the comments I received. It was a fun and exciting experience."
Yother debuted her spring/summer 2019 collection with 12 unique looks, fabrics and patterns.  
"I have a lot of flowy pieces with movement, like dresses, tops and pants," she explained. "There's a lot of color. The collection is feminine, but has sporty details, like a mesh bodysuit underneath a top," Yother said in an earlier interview.  
The idea for the collection came from taking yoga classes, she added.
"I use drawstrings in my pieces because they control the fabric and create 'surrender' in the drape," Yother explained. "I sewed drawstrings in all my fabrics, from jersey to silk."
While Yother's designs were completed before she left for Canada, more work and critical decisions awaited her when she touched down in Vancouver.
"The morning of my show I chose which models I wanted to showcase my clothes. They tried them on, and I decided what order I wanted them to walk in, how I wanted them to walk and pose and what music to use in my show," she said. "Then I spoke with the hair and makeup people and  showed them how I wanted the girls to look when they hit the stage.
"It was hectic," Yother added. "I was hemming pants on some of the models 30 minutes before my show started."
Vancouver Fashion Week advertises its event worldwide, but it's up to each designer to promote their own show, Yother said.
"Vancouver Fashion Week is seven days and most people are not going to take in every show. You have to make people choose to come to your show. So I talked to a lot of people in the days leading up it, but I wasn't sure what to expect. I peeked out behind the curtain before my show started … all the seats were full and some people were standing in the back of the room."
After the models showcased her designs on the catwalk, Yother was brought out on stage to speak and answer questions from the crowd, which included local buyers, international media and bloggers.
Yother said she received a lot of positive feedback.
"A lot of people said my clothes were really wearable, had a lot of movement and were 'fresh' and 'fluid.' I tend to use a lot of silks," she explained. "People said they liked the colors I used, which was mainly chartreuse and light blue. I think my clothes were really bold and stood out.
"There was a lot of diversity at Vancouver Fashion Week. Everyone was doing something different," Yother continued. "Some people had 'sculpture-like' pieces that were pretty, but you could never actually wear them. A lot of the designers had mainly black and white pieces. People showcased swimwear, others showed bridal gowns, so there was a little bit of everything."
Yother said she networked and made a lot of connections with other designers from all over the world.
More than 30 designers showcased their clothing lines during Vancouver Fashion Week, she added.
With the show behind her and some experience under her belt, Yother continues to move forward with her dream of selling Christina Yother Designs online and in stores.
She said she's currently working with a New York-based manufacturer who will create "sample" clothing from Yother's own designs and patterns. That way interested buyers see what the final product will look like in a mass production setting and not just from Yother's sewing machine.
"Once I get those pieces produced I'm going to take them to some local shops and Atlanta-area stores," Yother said. "I'm also going to reach out to all the folks I met in Vancouver."