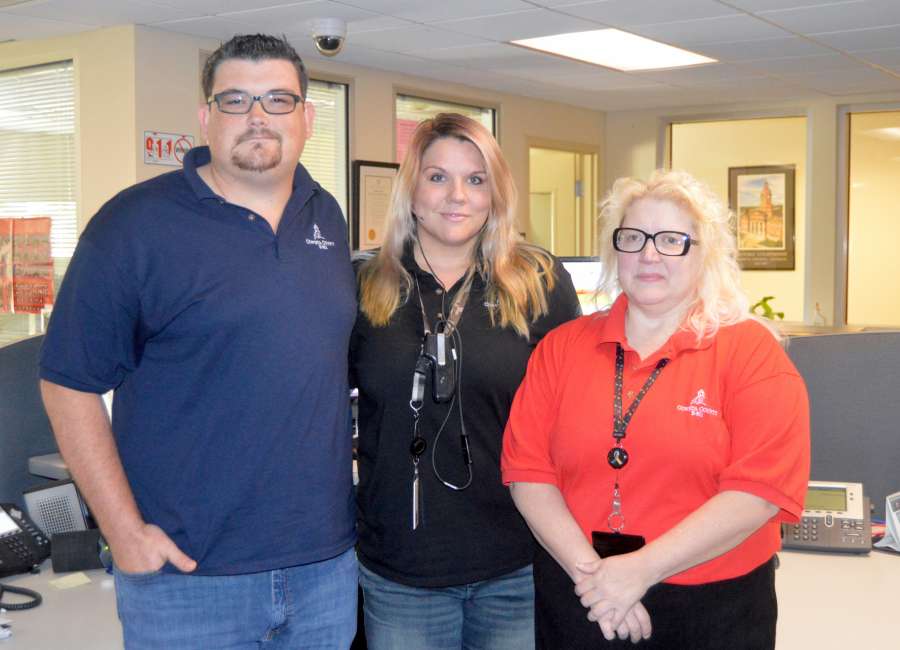 Television shows provide a glimpse of what happens during an emergency call, shining a light on 911 dispatchers.
But the wild phone calls, chaos, mayhem, plot twists and a finale rarely wrap up within the allotted hour at the Coweta County Emergency 911 Center.
Just ask Kymer Walker, Tiffany Abernathy-Meetre and Timothy Eason, three of the voices on the other end of the line during an emergency in Coweta County.
"Every day is something new," Walker said. "You just never know what you'll hear when you answer the phone."
Walker, Meetre and Eason said they're right where they want to be – helping people in times of crisis.
"I love my job. I'm good at my job and so are the people I work with," Walker said. "For people in the county, we're the best of the best."
Dispatchers can handle as many as 300 emergency calls within a 24-hour period.
"We're talking to people who are stressed during what might be the worst time of their lives. They're in crisis mode," Meetre explained. "It can go from zero to 10 very quickly. That's when your adrenaline starts surging."
Expect the unexpected
The calls can range from welfare checks to accidents, medical emergencies, domestic disturbances, shootings, suicide threats and homicides.
Walker, Meetre and Eason have heard it all.
"I had a gentleman call up and say, 'I can't take it anymore,'" Walker said. "He then told me he left paperwork on the TV and asked me to tell his family he loved them. Then I heard a 'pop.'"
Dispatchers said they must learn to stay focused on the task at hand and keep their emotions in check during every call. Only after their 12-hour shifts are over can they let themselves process what they've heard throughout the day, they say.
Eason, a newer dispatcher, said he has learned to remain calm after almost two years on the job. It was more difficult at the beginning, he said.
"It was tough taking calls about babies in distress and suicides," he said. "I had to find a way to cope with it because I wasn't used to hearing that stuff through a phone call."
Meetre, a communication officer who has been a dispatcher for almost 20 years, agreed.
"The more I do this, the calmer I get," she said. "It's a 'disconnect' that I need in order to go home and sleep at night. Some of the things we hear are really, really bad and it can take a toll on you."
"I don't panic anymore," said Walker, a senior dispatcher who has been with E-911 for eight years.
She started out in Peachtree City as a 911 operator in the 1990s before taking a break. A few years later, Walker joined Coweta County 911.
"I like dealing with the public and talking with them, even if it starts out in a crisis mode," she said.
A 'well-oiled machine'
It can be a juggling act for dispatchers inside the emergency center. The team not only answers 911 calls but dispatches first responders to the scene at the same time.
Walker said it takes operators less than 90 seconds.
"I'm asking you a million questions, but we've already got people in route heading your way. We're a well-oiled machine here," she said.
During those times, Walker likened the 911 hub to "controlled chaos" – a delicate dance between several different tasks with one goal: To help the caller on the other end of the line.
Walker said dispatchers must be counselors, mediators and even detectives for whoever they're talking to.
"We're like reporters," she said. "We start out by asking, 'Where is the emergency?' We need to get that answer first before asking the rest of the questions."
The 'unsung heroes'
Meetre, Walker and Eason say they love their jobs, but all three admitted 911 emergency dispatching can be frustrating, especially when they don't know the outcome of a call.
"A person calls you in crisis mode and you talk them through it. But once the first responders get there, that's it. There's no closure," Meetre said. "That's one of the hardest things to deal with. I'm on the phone, doing all that I can do but I can't be there in person. It's frustrating."
Emergency dispatchers are the "unsung heroes" of Coweta County, Meetree said.
"Sometimes it feels like we're overlooked and underappreciated," Meetree explained. "We're 'unseen,' so we're the only ones that can give ourselves an 'attaboy' when things go well."
Jay Jones is the director of the Coweta County Emergency 911 Center and the county's Emergency Management Agency. He sees firsthand what his team deals with on a daily basis.
"I also used to be a firefighter in the county. I knew the dispatchers and I always wanted to show support for them," Jones said. "It really is amazing to watch them when it gets busy. They are the backbone of our county."
A home away from home
Despite the frustrations, dispatchers say their job is like a home away from home.
"I spend more time with these folks than my own family. They are my second family," Eason said. "We all share in each other's happiness and in each other's tragedies."
The 911 family may soon be expanding, as a revamping of the emergency call center is underway.
"I'm really excited about what's happening now," Jones said. "We'll be adding and enhancing features to their workspaces. Hopefully, in the future, we'll have separate divisions – one for 911 call-takers and another for emergency dispatchers."
The team soon will take over all non-emergency dispatch calls for the Coweta County Sheriff's Office, Jones said.
"The county is supporting us and recognizes our needs and is working to address those needs," he said. "They're helping us with the redesign of the 911 call center and for future growth."