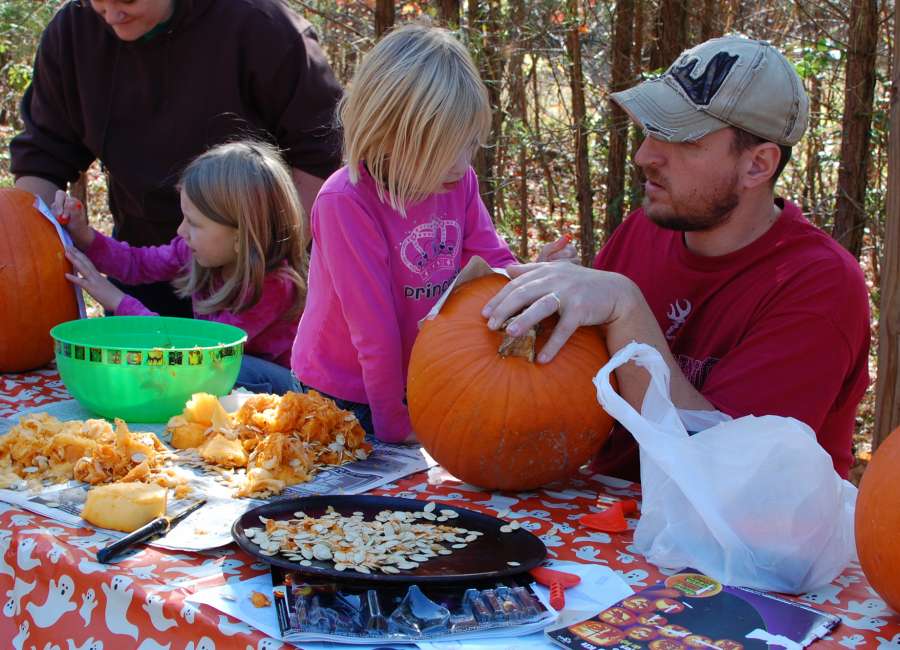 By MARTHA A. WOODHAM

Coweta County Master Gardener 
With Halloween just around the corner, it's time to take a knife to that pumpkin to create a jack-o'-lantern. But first a few pumpkin facts:
Pumpkins are a warm-season vegetable that grows throughout the United States and on all continents except Antarctica.
More than 1.5 billion pounds of pumpkin are produced each year in the United States, but Georgia is not among the top pumpkin-producing states, which are Illinois, Indiana, Ohio, Pennsylvania and California.
Pumpkins, which are technically fruit, come in more than 45 different varieties.
Every part of a pumpkin plant is edible – from pulp and seeds to skin, leaves, flowers – even the pumpkin stem.
 
In the United States, more than 80 percent of the annual crop is available in October, giving you plenty of opportunities to find that perfect pumpkin for carving.
Pumpkins often have more than 500 seeds – perfect for roasting (see box).
Now for the fun part—carving your pumpkin!
Good carving starts with the right pumpkin: Choose one that is fresh, with a sturdy stem, no bruises or blemishes, and a flat bottom so it won't roll while you work. 
Pre-carving pumpkin preservation: Don't store your pumpkin in the refrigerator or damp places because moisture causes rapid deterioration.
The best tools: Around Halloween, pumpkin carving kits are available everywhere – from dollar stores to high-end kitchen shops, but you probably have what you need in your kitchen drawer. All you need are a sharp, serrated vegetable knife with a thin blade and a soup ladle or an ice cream scoop. 
Additional tools: An X-ACTO knife or a sharp paring knife and clay-sculpting tools are best for more intricate designs.
Staying safe: The only thing you should be cutting is your pumpkin, so remember these safety tips:
•Clear off a large workspace so you have plenty of room to work on your pumpkin.
•Keep all of your tools in one place so you won't stab yourself by accidentally grabbing something.
•Cut with a back-and-forth motion, not a pushing one. The knife has a better grip on the pumpkin and makes easier cuts, which means you're less likely to cut yourself.
About the top: When you cut the pumpkin top, be sure to cut it at a 45-degree angle towards the stem, not up-and-down. Otherwise, your top will topple into the pumpkin. Some carvers prefer to cut a hole in the bottom of the pumpkin, especially if they're using an electric light instead of a candle.
Before you begin to carve: Scoop out the pumpkin innards – all of the pulp and seeds. Have two bowls, one for pulp and one for seeds. Both pulp and seeds are edible. Check online for recipes. (See directions for roasting seeds below.).
Draw before you carve: Use a pen to draw your design onto your pumpkin. Sometimes less is better – a simple design using squares, triangles, stars or circles. You can find templates for more extravagant designs online.
Keep your pumpkin looking good: Make sure you haven't left any pulp inside the pumpkin, which will cause it to rot. Some experts recommend rubbing the whole pumpkin in petroleum jelly or vegetable oil to give it a luminous glow. Or you can just spread petroleum jelly on the cut edges to seal in moisture. 
Shriveled pumpkin? Revive it with a facedown soak in cold water for up to eight hours.
Here's a good trick: Create a chimney for a burning candle. Light the candle and put the lid on. Then make a small hole where the lid has blackened.