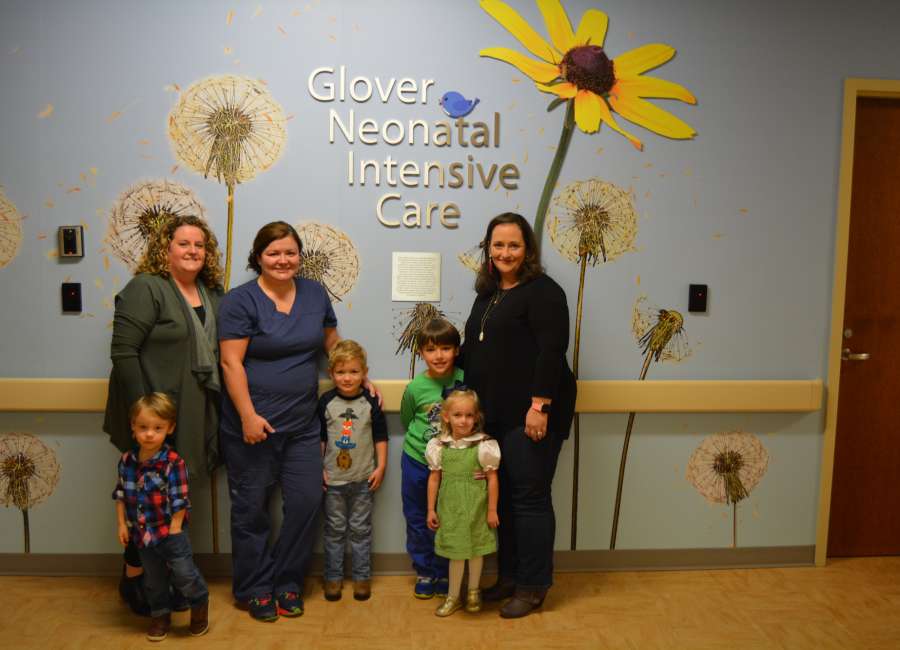 Kia Henry knew she was in trouble when she woke up in the middle of the night bleeding and having contractions.

Henry was pregnant with her second child, but only 25 weeks along.
According to Henry, doctors discovered she had a placental abruption. They delivered her daughter Paige immediately. The infant weighed a little more than 1 pound and was placed in the Neonatal Intensive Care Unit at Piedmont Newnan.
"When you have a baby in NICU, it's hard. It's hard to see your baby in there," Henry said.
According to Henry, Paige was born with a brain bleed, blood clot and hydrocephalus. While in the NICU, the infant was surrounded by tubes and hooked up to several monitors.
Surgeons performed two separate operations, placing shunts in Paige's head to drain excess fluid off her brain, Henry remembered.  
Days turned into weeks for the Henry family as they prayed baby Paige would pull through and eventually come home.
Henry stayed at Piedmont Newnan almost around the clock with Paige.
While there she learned about the hospital's NICU Parent Club and eventually met the organization's president, Carolyn Harrison.
"We support parents before, during and after a NICU stay," Harrison explained. "We meet with moms who might have 'high risk' pregnancies or are already on bedrest. We support them during the process, while their newborns are in NICU. As parents, you basically live in a bubble. It's such an extreme mental, emotional and physical process watching your child fight for their lives."
Harrison's lived through the process twice before. Both her children were born prematurely.
Her second child, Harper, was one of the first preemies who stayed in the then – new Piedmont Newnan NICU.  
"She was the first one to use the new equipment," Harrison remembered. "But I was 'lucky' in a sense. I had already been through at NICU stay as a parent with my first child, so my husband and I knew what to expect."
After Harper went home, Harrison said the hospital asked for feedback during the family's stay.
"I told them there wasn't a support system in place for parents," she said. "They asked me if I could help them do something about it – and I did."
Two years ago, Harrison created the NICU Parent Club. She wanted to include parents currently enduring a NICU stay – and families who had already gone through one.
"Once a child leaves the NICU, the family's journey doesn't stop there," she explained. "Some children are at high risk for RSV (respiratory virus) or will need many therapies, including speech, occupational and physical. The NICU Parent Club can help these families find the right therapies for their babies and find funding for it. There are so many good resources out there these parents don't even know about."
Harrison was quick to admit she has no medical experience.The club is strictly used to support and encourage families with premature babies.
"A lot of time parents think I'm going to get my baby home and they'll be fine. But that's not the case. As a parent of a premature baby, you need to be proactive," Harrison said. "We want to give those parents a sense of empowerment and teach them how to be their child's advocate. The child can't advocate for themselves. If the parents don't do it, the child will fall behind physically and mentally."
Henry said she is grateful for Harrison and the NICU Parent Club.
"They really welcomed me. They prayed with me and encouraged me. We all encourage each other," Henry said. "Whenever you go through something like this it feels like you're alone.
"Carolyn (Harrison) came to the hospital to check on us. She still comes to our house and text me," Henry continued. "The group has really been a blessing to my whole family."
Paige is now 9 months old, Henry said. While the baby came home in May, she still faces an uphill battle with her health.
"The shunts failed. She's had four surgeries on her brain so far," Henry said. "She also has vocal cord paralysis. We do physical, speech and occupational therapy. She still has a feeding tube so we see a GI specialist, She's also on oxygen part-time, so we have to see a pulmonologist, plus her regular primary care doctor .... It's non stop appointments.
"But through it all, Paige is still a very happy baby and full of life," Henry added.
The NICU Parent Club hopes to continue giving back to families like Henry in the future, Harrison said.
The group continues to make gift baskets for mothers of premature infants and participate in the annual March of Dimes walk, plus create baby blankets and incubator covers for the NICU in Piedmont Newnan and Fayette.
The NICU Parent Club is also raising money to purchase a bench that will honor all babies who pass away in each hospital.  
The NICU Parent Club meets every third Tuesday each month at Piedmont Newnan Hospital. The meetings begin at 6 p.m. The group also has two Facebook pages – one public, the other is private.
Harrison said the club also hosts family events, too.
"We try to have play dates for the kids and a 'Dad's Night.' Dad's need emotional and financial support, too," she explained.
Harrison said all parents are welcome to join the club, no matter what hospital their preemie was born in.
For more information on the NICU Parent Club, message them on Facebook or email them at nicuparentclub@gmail.com