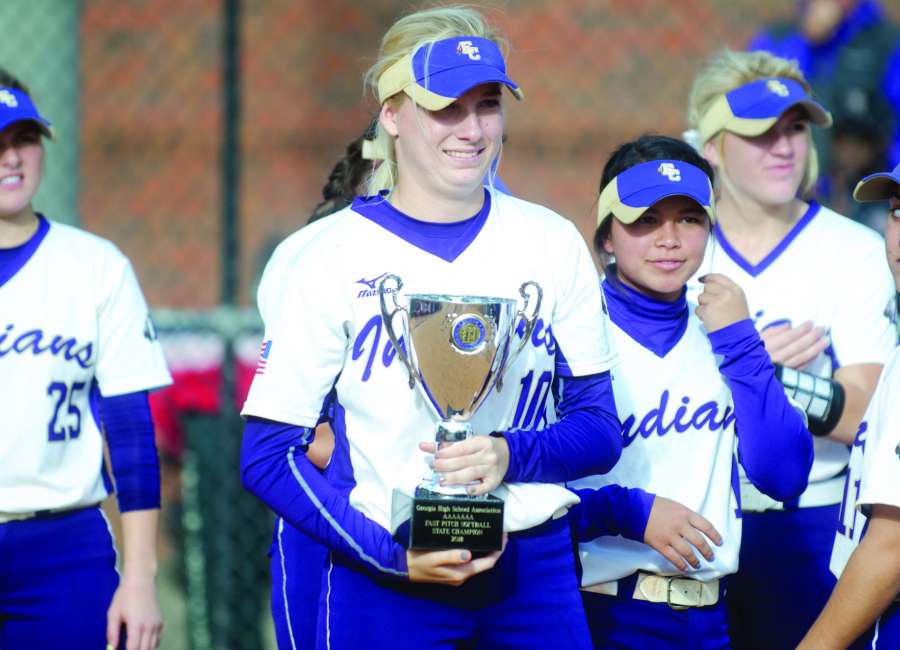 Chris Goltermann

Cowetascore
Hard work pays off for Kelley Lynch in perfect end to varsity career at East Coweta with another state title
Six years after their final softball session together, Kelley Lynch was still following the words of her first and favorite coach at last week's GHSA Class 7A Elite 8 Softball Tournament.
"Always be a leader and never a follower."
Steve Lynch's youngest daughter was that leader on Saturday, just as she's been for the last four seasons as arguably the most talented of a lengthy line of pitchers that have worn an East Coweta uniform.
Six years after losing her father to cancer at age 12, Kelley closed our her high school career at East Coweta with 11 shutout innings, the last five fittingly in a state final where she retired every Mill Creek batter in a 9-0 victory that capped off the Lady Indians' second consecutive GHSA final.
It came to the surprise of no one who has come to know Lynch as either a player or a teammate, whether at the youth, travel ball or high school level. She's succeeded at all of them, and maybe even more impressively, made it look effortless. All while keeping a composure that's earned the nickname "Kelley Ice."
"[She's] the best that has come through here. And I've had a lot of them now," East Coweta head coach Franklin DeLoach said of Lynch earlier in the season, almost hinting that her No. 10 is destined for the fence next to another former star pitcher Allison Owen, now Georgia Tech's pitching coach.
"They'll never be another one like Kelley," he added. "It wouldn't surprise me at all to see her pitching in the Olympics one day."
During a memorable 2018 that included a major travel-ball championship in a nationally televised game this summer, followed by a Class 7A title by a 32-2 Lady Indians team that still had cast a few doubts toward the difficulties of repeating in Georgia's largest high school classification, Lynch never wavered.
In her final 25 innings as a varsity pitcher, Kelley posted a 4-0 record and a 0.56 ERA with 46 strikeouts and just two walks allowed. The efforts were capped off by 11 consecutive zeroes on the scoreboard, starting with a no-hitter against Lassiter and ending with five innings of perfect pitching in the finale over Mill Creek, both in mercy-rule decisions.
Her pitching efforts nearly overshadow her abilities at the plate as one of the team's top hitters out of the No. 3 hole in the batting order. Lynch spent much of the regular season getting the Barry Bonds treatment while intentionally walked as many as four times in games, even with runners on base.
Lynch added two hits in the championship game, starting with a two-run double in the first inning that gave East Coweta a lead for good. In her second at-bat, following a quick huddle with DeLoach, she laid down a successful bunt single that set up teammate Ansley Gunter's two-run RBI single in the bottom of the second.
She's one of the calmest pitchers," said East Coweta junior catcher Caroline Lively. "If she gets a good hit on her, she can take it. Or if she gets a pitch called against her, she's going to come back with a strike. Nobody gets in her head."
Both of Steve Lynch's daughters, Kelley and Katey, excelled in varsity careers at East Coweta after their father's passing.
Their mother, Jan, has been the rock, having watcher her daughters play from the special bench adjacent to the Lady Indians dugout that is dedicated to Steve's memory with the words "Remember, always lead … don't follow."
"I couldn't imagine not playing softball. It's so much more than a game. It's taught me so much more about life. I think that's more important than the wins and losses," she said following Saturday's final victory.  "It teaches you not to get too down. There's going to be days where you don't feel like you're going to want to go, but being there for your teammates is like 'are you going to be there for your family one day.' You have to be there no matter what happens."
For Kelley, that meant dedicating herself to softball at the most fragile time in her life.
Maybe more shocking to those not familiar with Lynch's youth career were days when she could routinely walk the bases loaded and have moments where she struggled.
It's why when asked what she could pass on to today's young players of the community, it might have been the simplest of lessons.
"I just think it's cool for little girls. I wasn't the best when I was 10 or 12," said Lynch. "But hard work really does pay off."
Lynch knew how challenging the road back was to glory at Columbus.
"I think it's definitely harder since everybody wants to beat EC. Everyone knew who we were this year, rather than last year when we're trying to get our first, so that was different," she said. "Defending a championship is definitely harder than doing it the first time."
Last week's tournament also came with the uncertainty of Mother Nature. Weather pushed Thursday's late games to early Friday and then Friday's late games to Saturday.
With current junior Aniston Wright sick with mono and freshman Jaliyah Holmes making her first trip to Columbus after showing signs of being a future ace in years to come, East Coweta's chances were firmly on Lynch last week.   
"It helps that I've played in a lot of big games. A lot of people will say I have 'ice in my veins.' I don't really get super excited," she added. "I think that helps me, but I think that helps me out that I don't get super down too if I'm giving up hits. I kind of just stay the same. I'm pumped up inside."
Lively, who has caught Lynch since her varsity debut as a freshman two years ago, had a birds-eye view of her dominance in the circle during her career. If Lynch was the calming presence of East Coweta's battery, Lively was one providing vocal support out in the field.
"She's really vocal, which is something a catcher really needs to be," Lynch said. "And it helps that we're such good friends off the field."
Throughout the tournament, the senior right-hander kept batters guessing, enough that Mill Creek turned its focus to bunting over the final two innings while simply trying to find baserunners in a 4-2 deficit.
"She knows. She can go from a low rise to high rise," Lively said. "She knows what to throw.