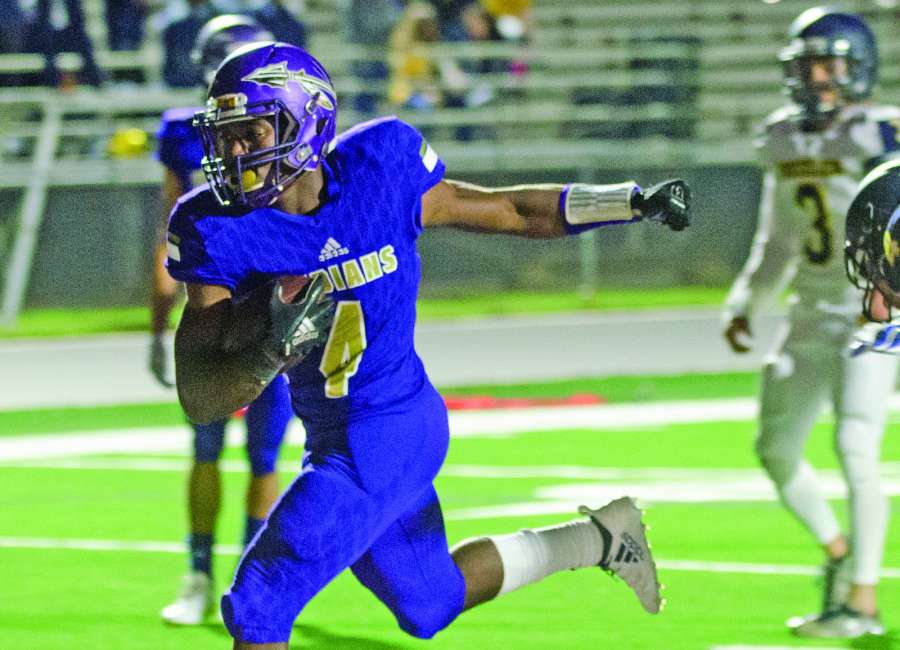 By Chris Goltermann
Cowetascore
Tough times don't last, but tough people do.
A 45-21 victory over Wheeler may not have been the end of the tough times for East Coweta. But the the toughest road ever to a first victory for the Indians was history.
It's why the victory bell rang louder than usual at Garland Shoemake Stadium on Homecoming Night, one typically reserved for cakewalks in college and sometimes high school.
But East Coweta thoroughly dominated a good Wildcats football team that was state-ranked two weeks ago. Wheeler sat undefeated two weeks ago and nearly finished a 17-point comeback in the second half against Newnan.
So the profile for Friday's homecoming game certainly didn't fit, especially after its senior quarterback C.J. Ogbonna marched the Wildcats downfield for a touchdown pass and a 7-0 lead against East Coweta, which was backed up near its goal line on its first possession.
The Indians, having played six opponents with a combined win-percentage of .750 heading into Friday, never panicked.
"We had to trust the process and believe what our coach has been telling us," East Coweta senior running back Gerald Green said. "We had to stay locked in after that first series."
The Indians turned out to be both locked and loaded.
Green found a gaping hole produced in between linemen Jeden Watson and R.J. Petaway to take East Coweta's first offensive snap 60 yards for a touchdown, not unlike the first of his team's six straight losses at Mercedes Benz Stadium in a two-point decision against Kell.
But in the second week of the Region 2-7A schedule in mid October East Coweta did more than hang around until the finish.
Finishing with a season-high 220-yards rushing, Green scored five more times among a six pack of touchdowns as East Coweta used 31 unanswered points to grab full momentum en route to elusive win No. 1 on the 2018 season.
The win left the Indians at 1-1 in the region and tied with next Friday's opponent, Pebblebrook, in second place while about to hit the halfway point of the five-game 2-7A schedule, which was as much a chance for East Coweta to hit the reset button after single digit losses to Kell, Carrollton and North Cobb and tough outings against state-ranked Class 7A opponents Lowndes and McEachern.
Wheeler, which went 5-0 in non-region play, fell to 0-2 in the region standings.
"I told the kids before the game, we still control our own destiny," East Coweta head coach John Small said. "We're still not where we want to be, but it's going to be a whole not nicer going back to work Monday. We've got to get right back at it because we've got a tough Pebblebrook team next. So we still have work to do."
Along with a 20-yard chip shot from kicker Dylan Lewis that put the Indians ahead 10-7 in the closing seconds of the first half, two more scores from Green, the latter of which on a drive where East Coweta converted a fake punt at midfield, kept the home team ahead 24-7 going into halftime.
The Indians then outscored Wheeler 14-0 in the third, with the defense allowing just one score on either side of a break that had Emily Prosser named Homecoming Queen.
And when it seemed Ogbonna and company were ready to mount a comeback with a score in the opening minute of the fourth quarter, Green's ensuing 70-yard kickoff return iced the win after twice answering Wheeler touchdowns with scores of his own.
"We've been working all week … hard. We've been getting better each game," said the Georgia Southern commit after the win. "What led up to this was that hunger."