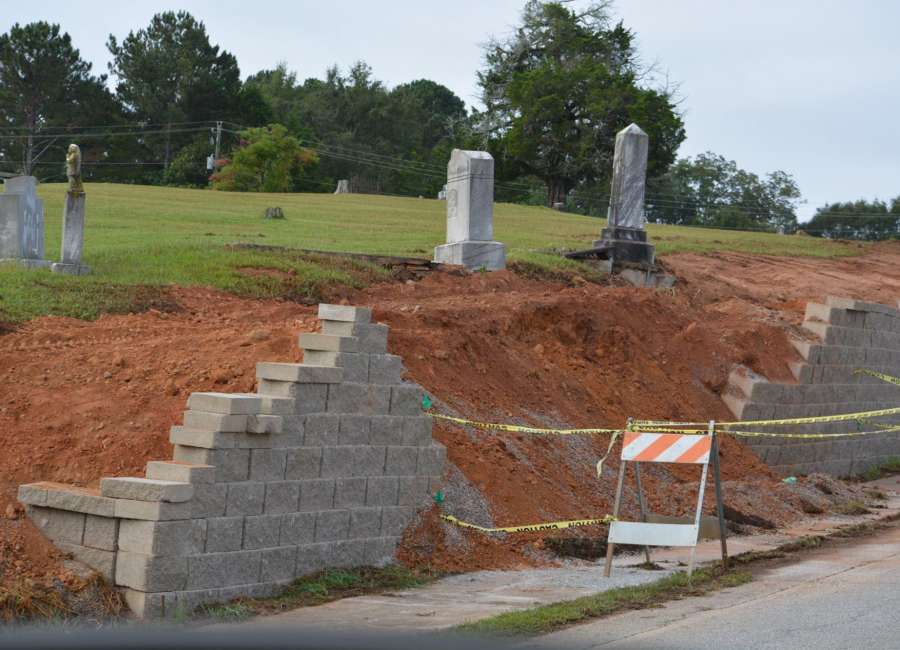 Grantville officials are currently investigating how to repair and fund a cemetery wall that cost more than $70,000 to build.
City Manager Al Grieshaber said the Cemetery Trust Fund Trustees – comprised of Mayor Doug Jewell, Councilwoman Ruby Hines, Donald Olmstead, Marion Cieslik and Ann Tucker – "voted to spend trust funds to build retaining walls on Griffin Street to retain the integrity of the cemetery and keep it from encroaching onto Griffin Street.  
Earlier this year, Olmstead – the only living survivor for the trust – turned over $80,000 to the city for the trust.
According to Grieshaber, a total of $73,206.95 of Cemetery Trust Fund monies was spent to construct the retaining walls with contractor Rosser Concrete, located in Greenville.
Grieshaber said the city is currently investigating the cause of the wall collapse, which happened in September.
Cieslik, the cemetery fund trustee, said he voted against using the funds.
"We all voted and I said no. That money needs to stay in the trust," Cieslik said. "We took the money from the trust to build those walls, and I objected to it."
Since the walls are located in the city, Cieslik said it was Grantville's responsibility to fund the wall, using Special Purpose Local Option Sales Tax (SPLOST) or other funds. He said the cemetery needs additional work, which means more money.
"The cemetery proper is in dire need of pavement and now we don't have the money to do that," Cieslik said.
He said he believes the trust may have $4,000 left.
"Now we have to pay to remove the bricks to re-do everything correctly," Cieslik said. "When you do not have qualified people viewing these bids and proposals, this is what happens. The city engineer should've given his approval pertaining to this project and he did not."
The city engineer did not look at the initial plans for the wall.
Councilwoman Ruby Hines said she voted in favor of the wall so the cemetery bank could be retained.
"This would keep the graves close to the bank from falling into the street," Hines said.
Grieshaber said the city is investigating the cause of the collapse of one portion of the wall and how to move forward.
"After our investigation is finished, the portion of the retaining wall that collapsed will be repaired," Grieshaber said. "The city attorney has been asked as to the appropriateness of the use of SPLOST funds, if needed, to complete the repairs."