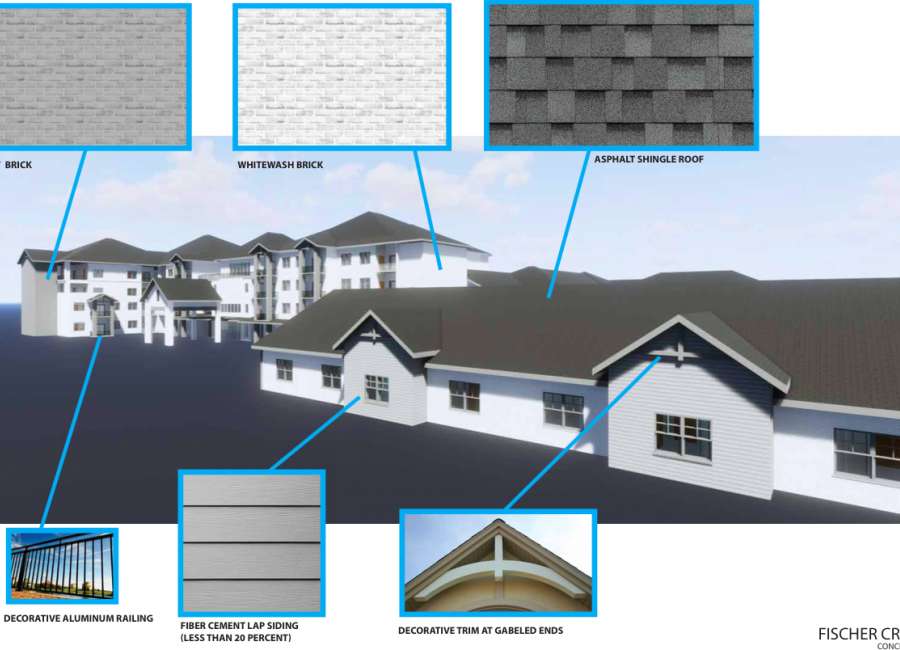 A "continuing care" retirement community is planned for a portion of the Fischer Crossings development at the intersection of Fisher Road and Ga. Hwy. 34.
The proposed development would include a four-story independent living facility, a two-story assisted living facility, and a one-story memory care facility.
The community will be located on northeast corner of the property, with the entrance across from the Sam's Club gas station.
At four stories, the independent living section would be one of the tallest buildings in Coweta.
Variances for the height and number of floors and the conditional use permit for the assisted living and memory care facilities were heard last week by the Coweta Board of Zoning Appeals and will be on the agenda for the Nov. 13 meeting of the Coweta County Board of Commissioners.
The commissioners recently heard a request to rezone the property to the county's Residential Retirement Community Care District. Most of the property is currently zoned C-7, Commercial Major Shopping District, with a small portion zoned RC, Rural Conservation.
Fortress Ventures, which develops senior housing in the Southeast, primarily Florida, Georgia and Alabama, is the applicant.
Mark Marlowe of Fortress Ventures said that the average resident of their communities is between 75 and 80 years old. The company has done a few market studies and found that locally the market is serving "less than half of what the need is for the area."
"We're excited about the opportunity and looking forward to coming here," Marlowe told the commissioners.
Commissioner Rodney Brooks asked to delay a vote on the rezoning until he could see the variance requests. The rezoning, variance, and conditional use permit will all be on the agenda for the Nov. 13 meeting.