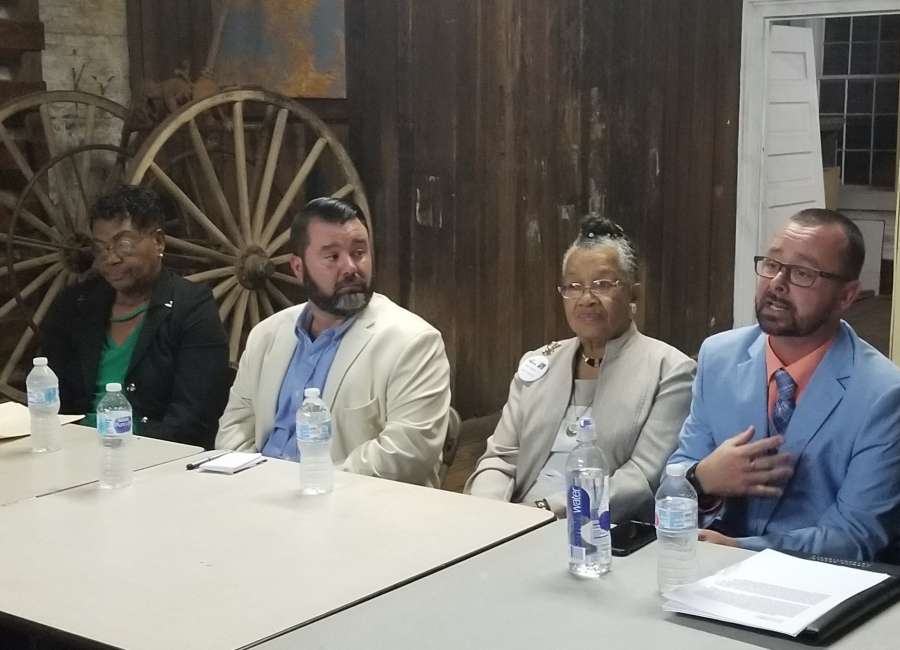 Experience was pitted against change at the candidate forum in Grantville on Tuesday night at the historic freight depot.

Mayor Doug Jewell and Councilmember Ruby Hines talked about the city's accomplishments in the past few years. Most of the challengers on the panel – mayoral candidate Eddie Markward, James Wheeler who is running for Hines' seat and Dee Berry, Sandra Luttrell and Jim Sells who are seeking the Post 1 seat held by Willie Kee – stated dissatisfaction with the status quo.
Sells, a former mayor, was particularly pointed.
"You need to let all the incumbents go, and I'm going to get you why," Sells said. "Five thousand dollars of your money is going down the drain every month, and nobody's doing anything about it."
Sells said property taxes have tripled since he was mayor, and he noted the town is borrowing money from the utility funds, which are enterprise funds intended to stand alone.
"Replace all three of them. You can't do worse than you did in the last four years," he said.
"I'm not talking about character. These are all good people here," Sells stated, but he said the city has spent an extra $1 million during the last four years "just running day-to-day business."
Jewell, who has a law enforcement background and now drives a school bus, talked about the city getting a clear audit that made the city eligible for grants. He cited the elimination of a mold problem at city hall, making the city offices handicapped accessible and the restoration of the passenger depot as accomplishments.
Jewell said the council has reduced the utility losses and increased the city's net worth by $1 million, while decreasing liabilities. "That's all documented," he said.
"Experience is a great thing," Jewell said. "I try to be a part of the solution."
For the future, Jewell proposed seeking a grant for Meriwether Street improvements and a sidewalk project from Griffin Street to Highway 29. "I will continue to try to be your voice," he said.
Hines expresses similar thoughts. "I will continue my role as a voice for the stakeholders of our great, grand lighthouse city," she said.
"We are onward thinkers. If we were not, we would not have been able to do all the things we have done," Hines said.
"We meet. We discuss. We agree, and we disagree. The truth has a way of going all the way around the world before it comes back, but the truth always prevails," she added.
Kee said Grantville is his hometown.
"I never wanted to leave. My investment is in Grantville. I want to see the city I grew up in be fruitful and prosper," he said.
He said he would like to see more done to reduce utility rates. 
"I very much pride myself on integrity. I want to do the right thing for my kids coming up behind me," Kee said, adding he hopes his children will also make their homes – as adults – in Grantville. "I will fight for what's right every time."
Sells said he came to Grantville after he bought a house there sight unseen. Billy Tucker, a longtime mayor, encouraged him.
"Billy Tucker is the reason I'm in Grantville today. He's the one who made me want to do more in Grantville," he said. Sells chose to retire early from Delta and has – over the years – purchased 25 homes in the mill village, bought the mobile home park and purchased much of the downtown business district.
"I'm committed to the community. I have skin in the game. I'm on the streets here every day," he said. "Elected or not, I'm going to be here."
Luttrell also addressed the issue of utility bills – and of citizens having their utilities disconnected. "I believe there is a solution if we work together," she said.
"I sincerely care about our city. I am one of you, a concerned citizen who wants the best for our city," Luttrell said.
Dee Lattimore Berry said the city must find a way to help the residents who have no other utility company options. She said some people have moved from Grantville because of lower utilities in other nearby places.
Markward moved his family to Grantville two years ago to join the pastoral team at Change Church.
"Utility bills – they need some work," he said. "What you see is the ones who complain about high utility bills. What I see is the people who are hurting – the people who want better."
Sells and Markward said a more pro-business atmosphere is needed in Grantville.
"Businesses pay the bills, and businesses have been run off for the past four years," Sells said.
"We're not showing up saying, 'How can we help you,'" Markward said. He said the city must work to cut spending and to streamline the way the public works department functions.
"It's time that we quit taking baby steps. Otherwise we never catch up," Markward said.
Jewell said the city has made efforts to improve the appearance of the city, which is helps attract business.
Sells addressed the water bill issue, noting that the amount of water leaking from pipes in older parts of town has increased from 31 percent to 39 percent in the last few years.
"Now it's $5,000 a month of our money that's leaking out of those pipes," Sells said. He said "a full court press on finding those leaks and plugging them up" is needed.
Luttrell agreed on the need to address infrastructure issues, saying the issues must be addressed by whoever wins the election.
The forum's organization was unique. Penny Wynn, who moved with her daughter to Grantville less than a year ago, put the forum together. Her daughter set up tables of food that was enjoyed by the approximately 65 people attending.
"We did this for selfish reasons because we're new," Wynn said. "We wanted to know who we're voting for."