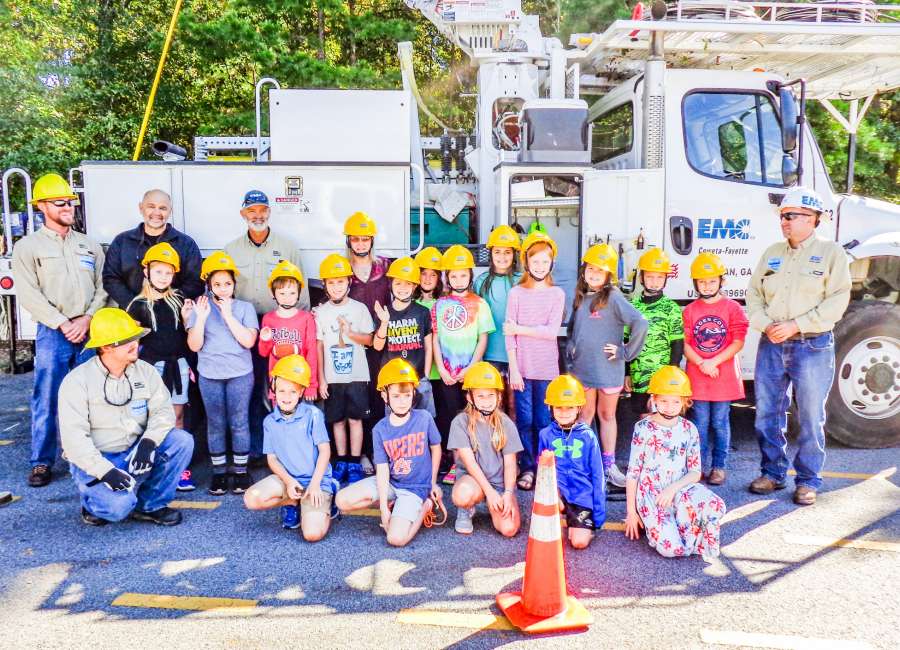 EMC lineman recently visited the Northside Elementary School STEM (Science, Technology, Engineering and Math) Academy Challengers, an afterschool club sponsored by Mrs. Mary Thompson. 
The demonstration captivated the challengers by watching the lineman put on their gear and climbing a pole. Students were able to experience what it would be like to be a lineman by touching the gear and tools.
Kaylee Ceballos and Cooper Mansfield were given a challenge by using the lineman gloves. Ceballos mentioned that the gloves were stiff and that it was a difficult task. 
The lineman explained that the gloves were made to protect them from getting hurt. Explaining further, every time they put on their gloves they thought of their family – making sure to stay safe so they could return home to them.
The grand finale of the demonstration was seeing their sponsor,  Thompson, hoisted up among the trees in the bucket truck. All of the challengers received their own EMC hard hat to celebrate and remember their exciting and electrifying visit from the EMC lineman.