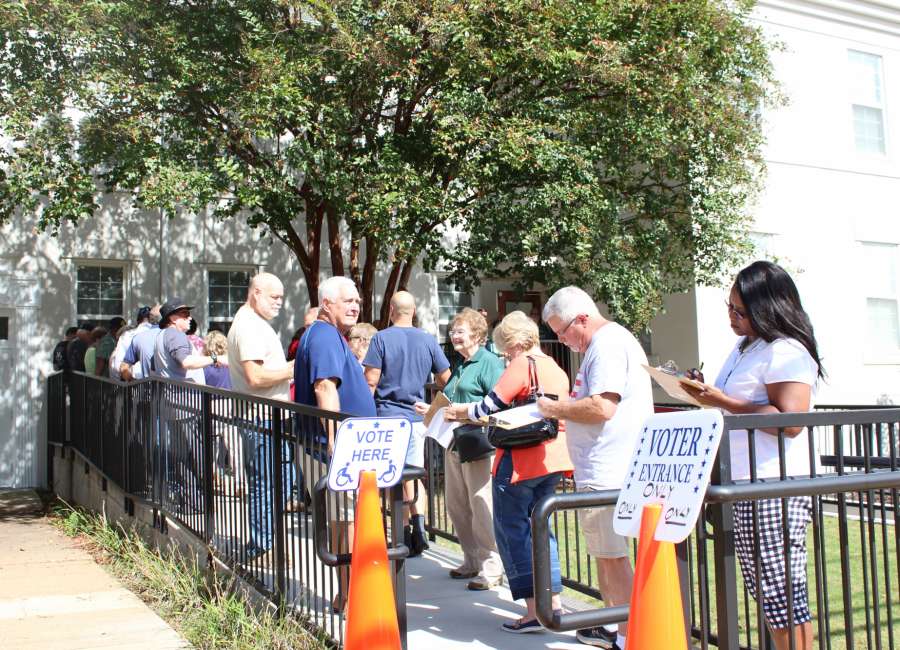 Cowetans, as well as voters all over the state, have been taking advantage of early voting in a big way.
In the first three days of the 15-day early voting period, 4,047 Cowetans cast their ballots on the electronic voting machines. The Coweta Voter Registration Office had mailed out 2,155 absentee ballots.
Election day is Nov. 6.
Statewide, 211,861 early votes were cast by Oct. 16, according to Georgiavotes.com. That includes in-person early voting as well as absentee voting by mail. At the same time for the 2014 mid-term elections, the total was 67,372.
This election bears more resemblance to the 2016 presidential election in terms of turnout than the 2014 midterms, according to Coweta Elections Superintendent Jane Scoggins. In 2014, a popular incumbent governor was on the ballot, while this year there is a fiercely contested and nationally watched governor's race.
Total early voting turnout in 2016 was 31,439, with 3,112 absentee ballots, according to Scoggins.
Scoggins thinks Coweta might reach or beat that turnout this year. Typically, early voting starts off slow and turnout grows over time.
"I expect it to stay busy. And we're ready," Scoggins said.
Scoggins said she's gotten quite a few phone calls from people who think something is wrong with their absentee ballot because there is no race for Coweta Sheriff on it.
There are several candidates campaigning to succeed Sheriff Mike Yeager, but there is no election yet. Yeager has been nominated to be U.S. marshal for the Northern District of Georgia, but hasn't yet been confirmed or taken that office, and is still Coweta's sheriff. An election won't be called until Yeager officially announces he is leaving the post.
Scoggins is also seeing quite a few people turning in absentee ballots and having them canceled so they can vote on the electronic voting machines.
If you've received an absentee ballot and decide you don't want to vote by mail, simply bring your ballot to either the early voting location and have it canceled, or bring it to your polling place on election day.
"You must bring that ballot with you," Scoggins said. "Once you've been issued that ballot, it is like you've voted."
Scoggins' office has received an unusually high number of absentee ballot requests. There are multiple organizations that have been sending people pre-printed ballot applications, Scoggins said.
She's had some people bring in the ballots and say they never requested them. When she shows them their signed ballot request, "They say 'oh, I didn't know that is what that was,'" she said.
Early voting runs Monday through Friday, 8:30 a.m. to 4:30 p.m., through Nov. 2. There will be early voting Saturday, Oct. 27, from 9 a.m. to 4 p.m.
Early voting takes place at two locations: the Coweta Voter Registration Office at 22 East Broad St. in downtown Newnan, and the Central Community Center, 65 Literary Lane, Newnan, near the intersection of Lower Fayetteville Road and Ga. Hwy. 154.
For more information about early voting, call 770-254-2615 and press zero.