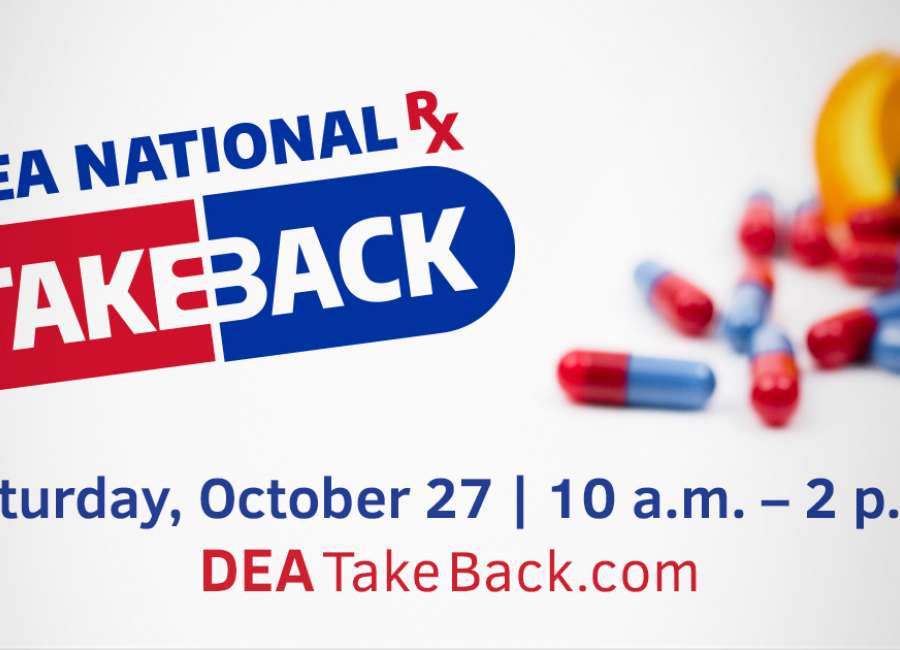 A majority of the prescription drugs that are misused across the U.S. were obtained from family and friends – often from the home medicine cabinet, according to the Drug Enforcement Administration.
That's why securely storing your controlled substance medications, and safely disposing of those that are no longer needed, is so important.
To help Cowetans clear out their cabinets of old, expired and unneeded medication, the Coweta County Sheriff's Office and the Coweta Substance Abuse Prevention Coalition (CSAP) are participating in a National Prescription Drug Take Back Day event on Saturday, Oct. 27.
The event will be held in the parking lot of Cornerstone United Methodist Church at Thomas Crossroads, 2956 Sharpsburg McCollum Road, Newnan. Hours will be 10 a.m. to 2 p.m.
All medications are accepted, except for needles and other "sharps," and anything that could be considered a biohazard, said Lt. Jason Fetner of the CCSO's Criminal Investigations Division.
"There's no questions asked. That is the important part," said Jean Felts, a member of CSAP who lost her son to an opioid-related death.
"They don't care if it is legal, if it is illegal. They're not asking anyone's names," Felts said. "The idea is just get rid of it."
People can drive up to the donation spot, dispose of their medications and drive away. Or, they can stop and talk to representatives from CCSO and CSAP who will be on hand, under a tent.
"They may have questions about the opioid crisis in the community. They may have questions about substance abuse," said Fetner. "They may be looking for direction about how to handle situations that they are experiencing in their lives."
And some people may not want to interact. "We're going to have a drive-thru area where they can drive up, as anonymously as you can do something in the day time… and drop off," he said.
The law enforcement officers who will be on hand aren't there to investigate people who are dropping off medication or to look at tag numbers, according to Fetner.
Instead, "the law enforcement presence is exclusively designed to create a safe atmosphere where these items can be brought and turned in and a chain of custody will be maintained to ensure it is disposed of safely and that the appropriate safety measures are in place, because of the nature of the substances involved," he said.
Though this is a national event with many participants, including the Fayette County Sheriff's Office, Cowetans don't have to wait for a special day to safely dispose of prescription drugs – or any kind of drugs or medication. Though the event is geared toward prescription drugs that can be dangerous if misused, all medications are accepted.
The sheriffs office has a drug drop box – essentially a mailbox painted red – in the parking lot of the jail entrance, 560 Greison Trail, Newnan. Fetner said when they've emptied the box, they've found everything from children's vitamins to cocaine.
"For better or for worse, if it is something that people feel like they need to get out of their homes… we're going to take what they've got," Fetner said.
The Newnan Police Department will soon be getting its own drug disposal box, said Chief Douglas "Buster" Meadows.
The NPD has applied for a box through CVS Health and it will be placed out front at the police department, at 1 Joseph Hannah Blvd., on Jefferson Street across from Oak Hill Cemetery.
People sometimes let old medications sit in their cabinets for years, Meadows said.
Flushing medications isn't recommended because of the effects it can have on the environment, aquatic life and drinking water. Throwing them in the garbage isn't always the best either. "They're liable to fall out anywhere, out of the trash truck, the garbage bag," Meadows said.
If you are prescribed controlled substances the best way to keep them is in a locked medication box. The lock boxes can be bought fairly cheaply at local stores. "Don't let someone else take your medicine," Meadows said.
And "don't take drugs that you don't know what they are. Don't take someone else's drugs. Don't experiment," Meadows said.
All the items collected during the drug take back day will be weighed, and the data submitted to the DEA. Any items placed in the lockbox at the CCSO on Saturday will also be weighed and will be included in the total.
After collecting, the items are incinerated.
This will be Coweta's first official participation on National Prescription Drug Take Back Day, and Fetner is excited about it.
In addition to being a good time for people to get rid of unneeded medication, he sees it as a good opportunity to get out and interact with people about the opioid crisis.
The CSAP town hall meeting on the opioid crisis in late August was a good opportunity for people to come and learn, but Saturday's event will be an opportunity for some one-on-one interaction.
"You can chit chat for a bit, get into some areas you may not have had time to talk about or couldn't talk about when we had the town hall meeting," he said.
Fetner sees the event as another way to raise awareness of the problem with opioid and prescription drug misuse in Coweta.
"The more people that know about it and the more people that talk about it – the more likely we're going to end up saving somebody's life because of it," he said.