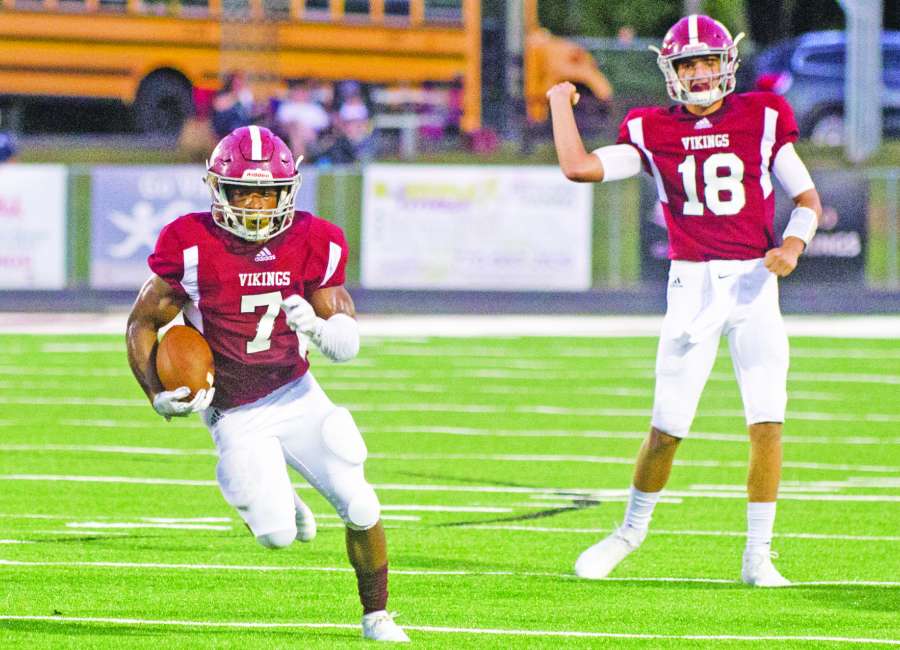 By CHRIS GOLTERMANN
CowetaScore.com
Cameron Cruver isn't the first running back in his family to star for Northgate High's football program.
But the Viking senior is putting together a pretty good argument through six games that he might be the best one to play the position yet.
Cruver heads into Friday's home game against New Manchester as the county's leading rusher with 893 yards and 10 touchdowns.
More importantly, he's been described by head coach Mike McDonald as "a workhorse" for a Northgate offense that, at times, has needed to put together sustainable drives in key victories. They included last Friday's 24-20 victory over Alexander that allowed the Vikings to pull even at 3-3 overall and 2-2 in Region 5-6A play.
The Vikings' staff wasn't even sure Cruver was going to see action in last week's Homecoming game, which was delayed 90 minutes, the majority of which to lightning delays on a stormy Friday.
Even prior to an eventual 9 p.m., kickoff, the senior, who began his varsity career at Sandy Creek, had some doubts after being held back in practice with a sore ankle after rushing 40 times for 242 yards and three touchdowns in a previous 36-30 loss at South Paulding.
"Even all week I was limited in practice," Cruver said. "During the rain delay, I was like I don't know if I'll be able to do it, but I pushed through it."
It produced the senior's fifth consecutive 100-plus yard rushing performance while getting the call on 28 of Northgate's 42 rushing attempts on a wet turf. They included key first-down runs late in the game that kept the clock moving after Northgate took a final four-point lead into the final quarter.
The Vikings trailed 14-3 early, but stormed back for two unanswered touchdowns.
"That's all we do is pick each other up," Cruver said.
With a 5.8-yard average, Cruver equally understands that there's multiple reasons for the success this year and didn't waste any time bringing them to the forefront after a reporter's initial inquiries.
"We've had a great O-line and great blockers," he said. "I've just been doing what I do, trying to get into the end zone."
In addition to McDonald's arrival as head coach and an influx of new staff members, four of which were former colleagues previously at Newnan, Northgate's offense has equally seen a shift in both scheme and personnel away from its familiar wing-T.
Offensive line, however, was among Northgate's strengths heading into the season, with returning talent among a core group including seniors Bryan Bordeaux, Will Sachs and Mason Smith as well as sophomores Josiah Quinn and Luke Vega.  
Quarterback Isaac Corbitt has thrown for 552 of Northgate's 565 passing yards while on pace to eclipse the 723 of former standout and three-year starter Kyle McLaren.
Cruver, meanwhile, has filled a hole left by another former All-County selection, Nick Carter, who gained over 1,200 yards rushing while pacing last year's wing-T.
"I came in and fit right in. It was a smooth transition. It's kind of similar to what we had run at Sandy Creek," said Cruver.
Northgate's cardinal red might have been in his future since birth. His cousins include Marlon Cruver, who was a standout running back for head coach Ron Beaucham before graduating in 2001.
Only Newnan has been able to hold Cameron under 100 yards rushing this year, with Cruver still managing 88 and two scores while playing against former Sandy Creek head coach Chip Walker, who remembered Cruver being a top rusher in its feeder programs.
Northgate has continued to win every game after a loss, going 3-0 in those opportunities. But the Vikings now have a chance to keep control of its own playoff destiny in Region 5-6A, having faced three of the top four teams in the standings.
New Manchester, at 1-5 overall and 0-4 in the region, has struggled on offense, managing nearly half of Cruver's individual rushing total with just 453 yards on the ground.
Northgate might like nothing better than to get a sizeable lead during its Youth Night at Henry Seldon Field in hopes of limiting Cruver's rushes for at least one week.
"I don't feel like we've played my best game yet," he said. "I know we can this week. We're starting to put it together."
The Jaguars' only double-digit single-game output came in a 35-12 loss to Alexander, which suffered its first region loss in Friday's game at Northgate.
Of the Vikings final four games, only defending champion Mays (3-2, 3-0) currently has a winning record.
"It was a big win for us," McDonald said.