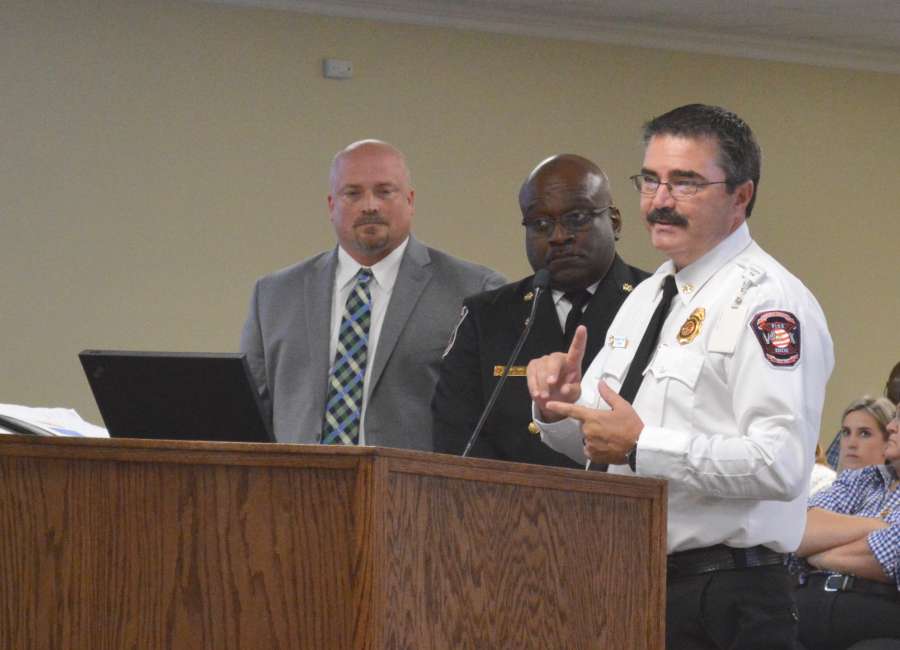 Coweta County Fire Rescue is taking a new approach to the treatment of behavioral health among Coweta residents with the launch of the Coweta Cares mobile integrated health care unit and changes to dispatch procedures for behavioral health calls.
The new program was approved at Tuesday's meeting of the Coweta County Board of Commissioners.
The Coweta Cares unit will be staffed by a paramedic from Coweta County Fire Rescue and a licensed professional counselor from Pathways. The unit will not provide emergency response, but instead seeks to provide "communication before crisis," said Assistant Chief Jeff Denney of Coweta County Fire Rescue.
Denney, Fire Chief Pat Wilson and Pathways CEO Jade Benefield presented the program to the commissioners.
The program will have a soft launch later this year, with a full launch once the new Pathways behavioral health crisis centers open on Hospital Road.
Initially, the Coweta Cares unit will be staffed Monday through Friday from 8 a.m. to 5 p.m. The unit will visit Cowetans who have been regular callers to Coweta 911 for behavioral health issues, as well as other patients with behavioral health issues who are referred to the service – and some stroke patients. The unit is an SUV, not an ambulance, and the staff won't wear typical paramedic uniforms.
"We'll go to visit them in their homes, make sure they have their medicine, make sure they know how to take their medicine," said Denney, who oversees the EMS services for Coweta County Fire Rescue. The team will also make sure the patients can get back to their doctor's appointments.
There are plans to work with local organizations to help patients who can't afford their medication.
"We're basically trying to prevent that 911 call," Denney said.
If needed, the team can do a 1013 order, which authorizes transport to a behavioral health crisis unit.
Another change will be using the Georgia Crisis and Access Line for some behavioral health calls to Coweta 911.
Callers to GCAL can talk to a licensed professional counselor over the phone who can provide counseling and resources, and make an appointment for follow-up care. GCAL can also dispatch a mobile crisis team.
If a call comes into 911 and a person is threatening suicide or has a weapon or plan to commit suicide, the dispatch procedures won't change. An ambulance, a fire engine and law enforcement will be sent to the caller's location.
But if the caller only has suicidal ideation and hasn't done anything to cause harm to himself or herself, the call can be patched through the GCAL, Denney said. If the counselor on the GCAL line determines that the situation is more serious than initially perceived, the call can be patched back to Coweta 911 for dispatch as an emergency call.
One in five Americans experiences some type of mental health issue every year, said Benefield. Benefield said he is excited that the new program will not only serve more people who are having behavioral health issues, but is going to "serve them where they need to be served."
Behavioral health issues are the reason for a significant number of calls to Coweta 911. In 2017, there were 641 calls for heart attacks, 531 calls for stroke  – and 1,603 calls for behavioral health, Denney told the commissioners.
Many times, those callers end up being transported to the emergency room at Piedmont Newnan.
"They are really not going to get what they need in a medical hospital," Denney said.
Sometimes patients stay in the ER for days waiting on a spot to open up at a behavioral health facility. The average "hold time" for behavioral health patients in the emergency room this year is 16 hours, Denney said.
There have been cases where a patient stays in the ER for the entire 72 hours that the 1013 is in effect.
"Then they'll be released from the ER and go right back home and call 911 again," Denney said. It's not a rare occurrence, according to Denney.
When behavioral health patients are waiting in the ER, it affects more than just the patient who isn't getting needed services. It also means medical patients may have to wait longer for services.
Last year, there were 760 calls to Coweta 911 for suicidal ideation, and nearly 40 of those people called 911 multiple times, Denney said.
The Coweta Cares team will follow up on all the calls that were patched through to GCAL, as well as other behavioral health calls.
"Some of them are going to want no part of it," Denney said of the new service. "But we're thinking the majority of them are probably going to want the additional help. They are obviously reaching out for help when they call 911."
"We're going to follow up with those people to make sure they've got what they need," Denney said.
"I truly believe Coweta County will be a trendsetter in how we respond to emergencies in our community," said Wilson.
Coweta County Fire Rescue is working closely with the Georgia Department of Public Health on the program, as well as with Piedmont Newnan to identify patients who can benefit from the service.
The Coweta Cares unit is receiving a telemedicine kit from the Department of Public Health that can be used when the unit responds. The kit looks much like a briefcase, and can be used to video conference with doctors or psychologists. The kit is equipped with monitoring devices such as a stethoscope. A paramedic can use the stethoscope on a patient and the doctor can hear the heartbeat through the kit, Denney said.
The telemedicine kit can be used to medically clear a patient and make sure that behavioral issues aren't related to a medical problem. It can also be used to check stroke victims.
The paramedic with the Coweta Cares unit can also do home safety checks while visiting a patient. And if the home doesn't have smoke detectors, they can be installed on the spot.
The program is expected to cost roughly $150,000 per year, said Coweta Administrator Michael Fouts.
The county requested funding for a two-year pilot program from the Coweta Hospital Authority. The authority has granted $100,000 toward the program, Fouts said.
An open house, where members of the public can come see the unit and get more information, is scheduled for Nov. 9.
The new program grew out of meetings that Denney organized last year with representatives from law enforcement, the hospital, behavioral health and the Coweta and Newnan fire departments.
"This is all that finally coming to fruition," Denney said.
Grady Health System in Atlanta has a similar unit, which was the inspiration for Coweta Cares.
A website, www.cowetacares.org  is up and running, but is a work in progress, Denney said.
For more information, visit cowetacares.org or contact Denney at 770-254-3900.