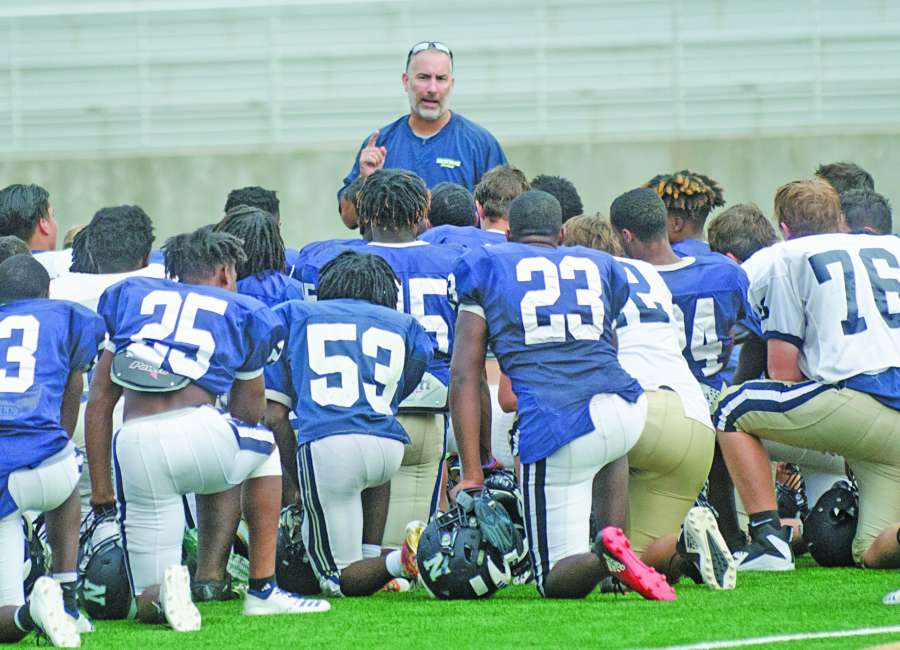 By Chris Goltermann
Cowetascore
When looking at Campbell's trip to Newnan for the Cougars' Homecoming night on Friday, it's hard to see past two offenses that experienced opposing levels of success during last week's Region 2-7A openers.
Since a 21-point effort against undefeated North Cobb, Campbell has managed a combined 14 over its most three recent games capped off by last Friday's 27-7 loss to Pebblebrook.
The Cougars opened the region schedule, meanwhile, by reeling off 17 unanswered points in the first half against previously undefeated Wheeler before holding off the Wildcats at the finish 38-36.
But on the heels of ruining Wheeler's Homecoming, Newnan head coach Chip Walker isn't looking at all past a 1-5 Spartans team that has gone through their share of tough luck.
Among three 1-0 teams in the region standings, the Cougars have an opportunity to stay ahead of what expects to be a competitive race for four state playoff berths following the first week of action.
Prior to the game and Homecoming festivities at halftime, Newnan will officially retire the No. 39 high school jersey worn by current N.Y. Giants and former University of Georgia linebacker Alec Ogletree.
"Hopefully we'll be able to dial ourselves in. The good thing is there won't be any distractions on Friday. That'll all be taken care of by then," Walker said. "We need a little momentum, no doubt about that. We need to take care of business. Campbell's record may be what it is, but they're a playoff team from last year and they've played a bunch of really good football teams."
Campbell (1-5, 0-1), in its second year under head coach Kyle Adkins, went to halftime trailing Pebblebrook 3-0 in a defensive standoff before the Falcons (3-3, 1-0) finally pulled away for a 27-7 victory.
All six of the Spartans' opponents this season currently have records at .500 or better while sitting at a combined 22-8 overall. Newnan knows the feeling, having played teams that are currently 23-9.
In fact, when the Georgia High School Football Daily released a list of teams with the toughest strength of schedule in Class 7A, three were from 2-7A with East Coweta (24-8) ranked fourth, Campbell sixth and Newnan eighth.
The victory over Wheeler gave Newnan its first victory over a ranked opponent since moving to Class 7A following losses to Tift in last year's playoffs and No. 2 Walton on Sep. 21 to close this year's non-region schedule.
It came with the Cougars still recovering from a string of injuries that carried through the bye week heading into a second straight trip to Marietta. With sophomore running back Bryson Moss still held back from an ankle injury suffered Aug. 31, teammates Aubrey Carter and Tyriq Hussie continued to prove capable of sharing touches in the backfield.
Hussie recorded his second straight 100-yard performance, finishing with 134 and three touchdowns on a season-high 32 carries.
Newnan's scoring began with an equally impressive 27-yard scoring run from Carter, who spun away from traffic while averaging 6.3 yards per carry.
After building a 17-7 lead at halftime, the Cougars stayed balanced behind a 10-for-17 passing effort from sophomore Michael Maginnis, who connected with senior Woody Waters five times for 62 of his 130-yard total. Senior Kyle McDonald also had two catches including a 23-yard touchdown.
Moss, who was held to one carry, has a chance to continue his recovery on Friday. Injured senior center and All-County long snapper Carson Knight should also be ready to return after being fitted with a playing cast and being held out as a precaution last week.
Meanwhile, Newnan equally has continued to inject newcomers into its rotations on both sides of the ball.
Talented freshman Quanard Arnold, who began the season on the varsity roster, caught his first two varsity passes for 12 yards, joining Carter and Maginnis among new players making contributions to the offense this fall.