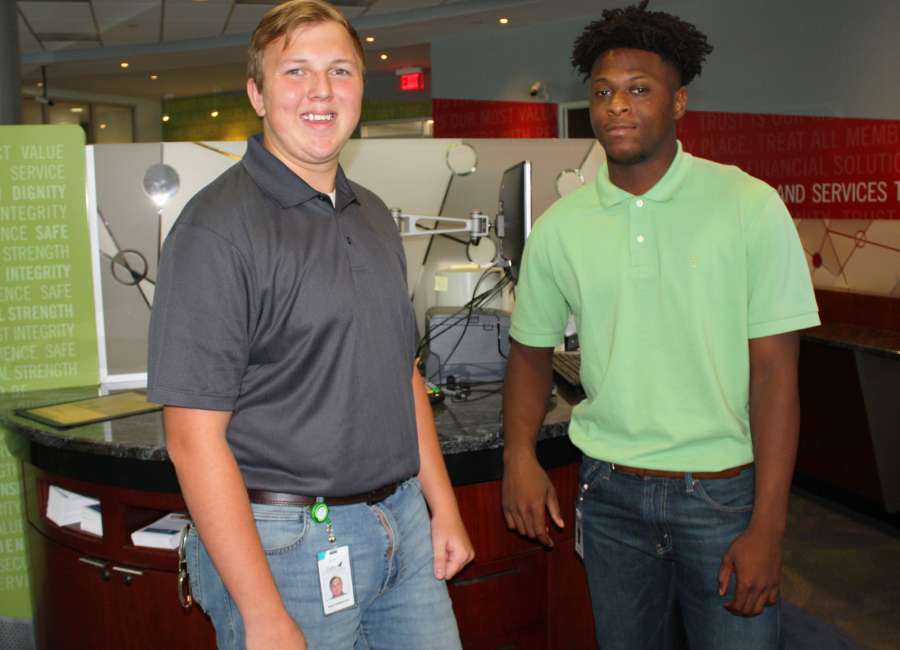 Local students work in credit union's apprentice program
Two Coweta County high schoolers are now working as bank tellers in Delta Community's Newnan-Highway 34 branch as participants in its apprentice program. Delta Community Credit Union has welcomed 21 local high school students to work in its retail branches throughout metro Atlanta. As participants in Delta Community's award-winning High School Apprentice Program, these 11th- and 12th-graders are receiving job training, career opportunities and a paycheck.
Apprentices are identified through Work-Based Learning programs at specific metro-Atlanta schools. In 2018, the Georgia Association for Career and Technical Education recognized Delta Community's High School Apprentice Program as Business Partner of the Year for its support of Work-Based Learning in both Fayette and Cobb Counties.
Since Delta Community launched its apprentice program in 2006, more than 140 high school juniors and seniors have participated. Many remain employed by Delta Community after graduation on a full-time basis or part time while attending college. They have also moved beyond their original teller jobs to work in departments such as retirement and investment services, lending, and regulatory compliance.
While the 2018 apprentice class is already in place, students interested in enrolling in the future should contact their high school's Work-Based Learning coordinator. Apprentices must undergo background checks and the same professional training as Delta Community's adult tellers.
* * *
Southern States Bank opens in Newnan

Southern States Bank recently announced the opening of a new office in Newnan at 1421 Hwy. 34 E., in the White Oak Shopping Center. The Newnan office is the sixth location in Georgia for Southern States Bank and marks the expansion of the bank's footprint in the Georgia market.  
David Ridgeway will serve as the market president for the metro-Atlanta market, which includes Bremen and Carrollton and upcoming expansions into Cobb County, as well as manage the Small Business Administration efforts for the bank.  Brett Johnston has joined the bank as president of Coweta and Fayette Counties and will head up the Newnan office. Collectively, Ridgeway and Johnston have over 40 years banking experience and both have worked in the metro-Atlanta market for years.  They have called Newnan home for more than 15 years and are active in the local community.
* * *
Local business connections and  opportunities
Oct. 29
Business Women's Network Committee Meeting, 4:30-5:30 p.m. The Newnan-Coweta Chamber of Commerce, 23 Bullsboro Drive, Newnan.
Oct. 30
Ribbon Cutting – The Venue at Murphy Lane, 12-1 p.m. 525 Murphy Road, Newnan.
Oct. 31
State of the Community Lunch, 11:30 a.m.- 1:00 p.m. Newnan Country Club
1356 Hwy. 29 N., Newnan. Mayor Keith Brady to speak.
For more information on these activities, visit www.newnancowetachamber.org
Items for consideration as business briefs should be emailed to business@newnan.com, faxed to 770-253-2538, or mailed to Business Briefs, The Newnan Times-Herald, P.O. Box 1052, Newnan, GA 30264. Email submissions are preferred.