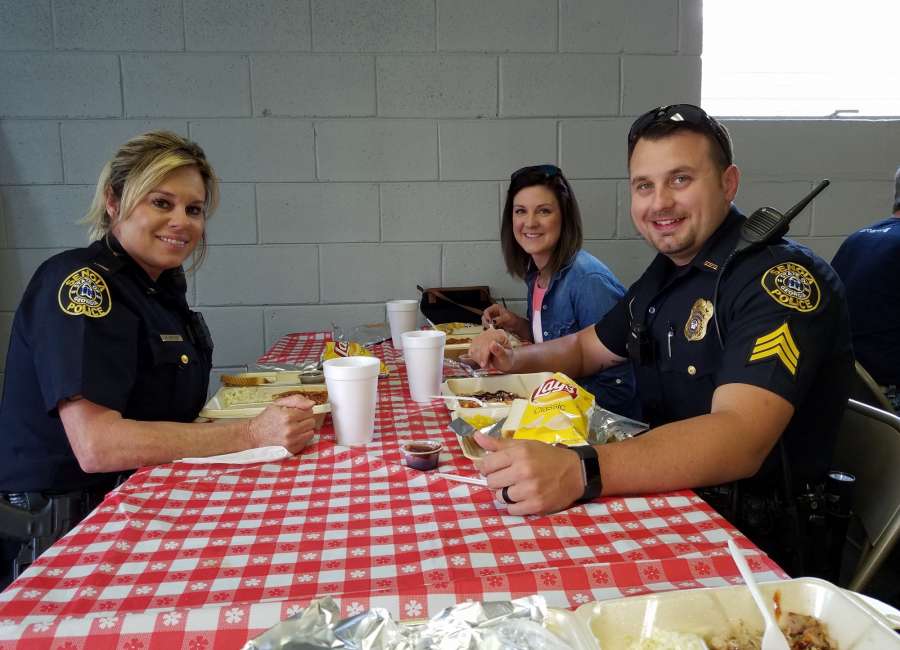 The smell of slow-cooked barbecue will soon waft through the air in Senoia.
The Senoia Optimist Club will be hosting its annual fall barbecue on Saturday, Oct. 20.  
The menu this year includes Brunswick stew, barbecued pork and a few side dishes.
The Brunswick stew will be prepared by Bill Underwood and Carl McKnight. The duo will use the popular McKnight family recipe prepared so frequently in the past by the late Paul McKnight, Jr.  
The pork and sauce will be prepared by Michael Couch, using techniques he learned from his family. Couch is a third -generation local barbecue aficionado.
Prices for the delicious dishes are:
Gallon of Brunswick stew = $30
Quart of Brunswick Stew = $10
Pound of BBQ pork = $10
BBQ plate with a beverage = $10  
All of the proceeds from the Senoia Optimist Club BBQ fundraiser will support childhood cancer research through the Aflac Cancer Center at Children's Healthcare of Atlanta.
The annual barbecue will be held at the Masonic Lodge in downtown Senoia, located at 19 Main St. – between Hollberg's Furniture and Senoia Coffee & Café.  
The event will begin at 11 a.m. and end at 2 p.m. –  or until the club sells out, whichever comes first.
The Senoia Optimist Club is taking pre-sale orders, which can be placed with any member of the organization.
The group will also make deliveries and handle drive-by pickup orders.
For more information or to place an order, contact the Senoia Optimist Club at 770-833-9242 or 770-312-9300, or email senoiaoptimistclub@gmail.com.
Creative BBQ side dishes that will please any crowd
By MELANIE RUBERTI
Slow-cooked, smoky barbecue is always good on its own, but it may taste even better with just the right side dish.
Potato salad, cole slaw and rolls are some of the traditional dishes served with the sweet and tangy pork.
But there are a few more ways to enhance the flavor of barbecue – and have side dishes that stand all on their own.
Hot & Spicy Hush Puppies
If you don't like eating hush puppies plain, this recipe has zesty dipping sauce to pack a little punch. The tasty treat can be served alongside a barbecue meal or as an appetizer.
Ingredients:
1 cup yellow cornmeal
3/4 cup self-rising flour
1 teaspoon salt
1/2 teaspoon sugar
1/2 teaspoon cayenne
1/2 small sweet onion, finely chopped
1/2 jalapeno, finely chopped
4 green onions, sliced thin
1 large egg, beaten
1/4 cup grated cheddar cheese
1 cup buttermilk
Orange Dipping Sauce
1/4 cup Dijon mustard
1/4 cup honey
1/4 cup orange marmalade
Recipe:
Preheat deep fryer to 375 degrees.
Mix all the ingredients together into a large mixing bowl to form a thick batter.
Dip 2 tablespoon-size spoons into water. Using the spoons, scoop up some of the batter and drop into the hot oil. Work in batches. Fry hush puppies 3 to 4 minutes or until golden brown.
Remove and drain on a paper towel-lined sheet tray.
Serve with dipping sauce.
Gina's Orange Dipping Sauce:
Mix Dijon mustard, honey and orange marmalade together.
(Recipe Courtesy: foodnetwork.com)
Grilled Jalapeno – Lime Corn on the Cob
Buttery grilled corn with jalapeño peppers, cilantro and lime juice will add a little south-of-the-border kick to any pulled barbecue pork plate.
Ingredients:
8 ears fresh corn, husks removed
Vegetable cooking spray
Salt and freshly ground pepper
1/2 cup butter, softened
1 jalapeño pepper, seeded and minced
1 small garlic clove, pressed
1 tablespoon lime zest
1 tablespoon fresh lime juice
2 teaspoons chopped fresh cilantro
Garnish: lime zest
Recipe:
Preheat grill to 350° to 400° (medium-high) heat.
Coat corn lightly with cooking spray. Sprinkle with desired amount of salt and pepper.
Grill corn, covered with grill lid, 15 minutes or until golden brown, turning occasionally.
Meanwhile, stir together the butter, jalapeño pepper, garlic, lime zest, fresh lime juice and cilantro.
Remove corn from grill, and cut into thirds. Serve corn with butter mixture. Garnish, if desired.
(Recipe Courtesy: southernliving.com)
Grilled Blue Cheese and Bacon Potato Salad
Potato salad goes great with tangy barbecued plates, but this salad takes the potato – and the barbecue – to a whole new level. It's sure to be a crowd favorite.
Ingredients:
3 pounds baby red potatoes, cut in half
2 tablespoons olive oil
1 teaspoon salt
1 teaspoon freshly ground pepper
1 cup mayonnaise
1/4 cup chopped fresh parsley
1/4 cup white balsamic vinegar
2 teaspoons sugar
2 teaspoons Dijon mustard
1 cup thinly sliced red onion
4 ounces crumbled blue cheese
6 bacon slices, cooked and crumbled
Recipe:
Preheat grill to 350° to 400° (medium-high) heat.
Place potatoes in a single layer in center of a large piece of heavy-duty aluminum foil. Drizzle with olive oil; sprinkle with salt and pepper. Bring up foil sides over potatoes; double fold top and side edges to seal, making 1 large packet.
Grill potatoes, in foil packet, covered with grill lid, 15 minutes on each side. Remove packet from grill. Carefully open packet, using tongs, and let potatoes cool 5 minutes.
Whisk together mayonnaise, parsley, white balsamic vinegar, sugar and Dijon mustard. Add potatoes, tossing gently to coat.
Stir in onion, blue cheese and bacon. Serve.
(Recipe Courtesy: southernliving.com)