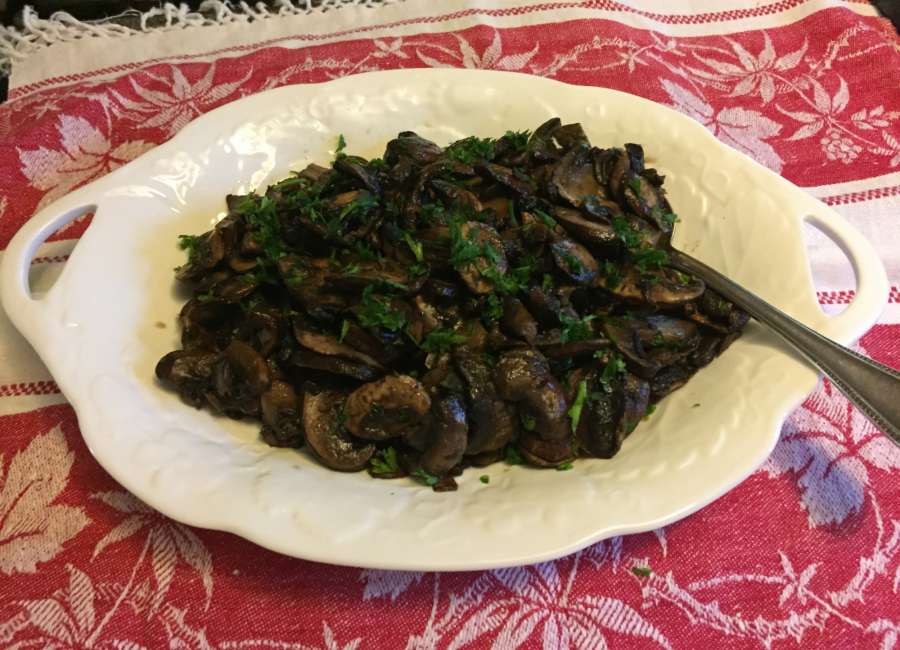 Since my father remained stateside on an Army-Air Force base in Goldsboro, N.C., he ate quite a few meals in the mess hall.
For whatever reason, Daddy felt there must have been a glut of onions available to cooks as he declared they appeared in morning eggs as well as nightly stews.
From that time forward, he stipulated that my mother eschew the orbs in our daily meals, which she unwillingly followed.
At Thanksgiving, Daddy had his own skillet of dressing as well as several vegetables as he preferred them. His dislike encompassed all alliums:  garlic, leeks, shallots, scallions and chives.
Mother was highly amused when a dish hid his forbidden ingredients.
"The dressing on the salad last night was full of garlic; he loved it," she would delightedly tell me. Always eager to please, I just accepted the omission of alliums in our diet.
However, I can presently exclaim, "Absence makes the heart grow fonder."
And fond I am.
A heap of onions slowly browned in a vessel creates a fine topping for most any meat or a base for famed onion soup. Adding beef or chicken stock, along with a simmer of an hour or so, brings restaurant-worthy bowls to the table, enlivened by a large crouton of cheese topping.
Use leeks instead, cooked until they are soft, plus stock and potatoes for a warming winter meal.
With the addition of cream and a puree, leeks become the star in icy vichyssoise in cooler months.
Nothing is better than sliced garlic, warmed for a few minutes in olive oil to top French bread slices or pour over pasta for a quick meal. With the addition of Parmesan, both bread and noodles are improved.
Roasting a head of garlic in foil with an oil to pick up the flavor enlivens mashed potatoes. I smash cloves often and add them to any vegetable I am roasting.
Tiny favorites, scallions and chives, are a good marriage for salad greens. My oldest son, Charles, loves mixed greens with simply sliced scallions and a good dressing. Bleu cheese chunks always seem a guy favorite. I slip chives into my potatoes of any concoction as well as a fine garnish for most any vegetable or meat.
In recent years, I buy shallots by the dozen.
My first encounter with this versatile allium occurred in the Louisiana influenced kitchen of Millie Oakes, whose daughter remains a dear friend. Although I had never seen a Chinese stir-fry in my own home, I observed as Millie added the shallots as just one ingredient of many. Somehow, they give a dish the benefit of onion and garlic in a small package.
Perhaps I use shallots most often to finish a meat dish after I have seared and cooked it to desired doneness. Usually, I add them to the meat juices in my pan, augmented by a bit of oil or butter. They are ready in half a minute, so I then merely deglaze the pan with a little wine and stock.
A steak, pork chop, or chicken will thank you. Sautéed bits form a great addition to many vegetables: green beans, asparagus or broccoli.
For ease of cutting, use a tomato knife whose serrated edges make dicing a snap.
Sautéed mushrooms are a staple.
A recipe that recommended roasting the mushrooms intrigued me as all the ingredients were simply mixed together and cooked in the oven, rather than carefully watched on the stove. I was smitten and have rarely used any other method. The juices that remain after roasting are a boon to their flavor.
Amelia Adams is a Newnan resident and will be writing a monthly column for the Food page of The Newnan Times-Herald.
Roasted Mushrooms
By Amelia Adams
news@newnan.com
Ingredients:
8 oz. crimini mushrooms, sliced
½ teaspoon dried tarragon
1 tablespoon oil
zest and juice of a half lemon
2 tablespoons vermouth or white wine
½ teaspoon salt and paprika
1 small shallot, finely diced
freshly ground pepper
2 tablespoons fresh parsley
Recipe:
Mix all ingredients together and bake at 375 degrees for about 15 minutes until the mushrooms are fully cooked, but cooking juices remain.
Stir at least twice during the roasting. Garnish with fresh parsley, or a smaller amount of dried if you wish.
    Although the smells of garlic, onion, and shallots perfume my kitchen almost daily, my father would not agree with my choice of verb. Maybe, just maybe, I might be able to pull one over on him if glory could give me the pleasure.