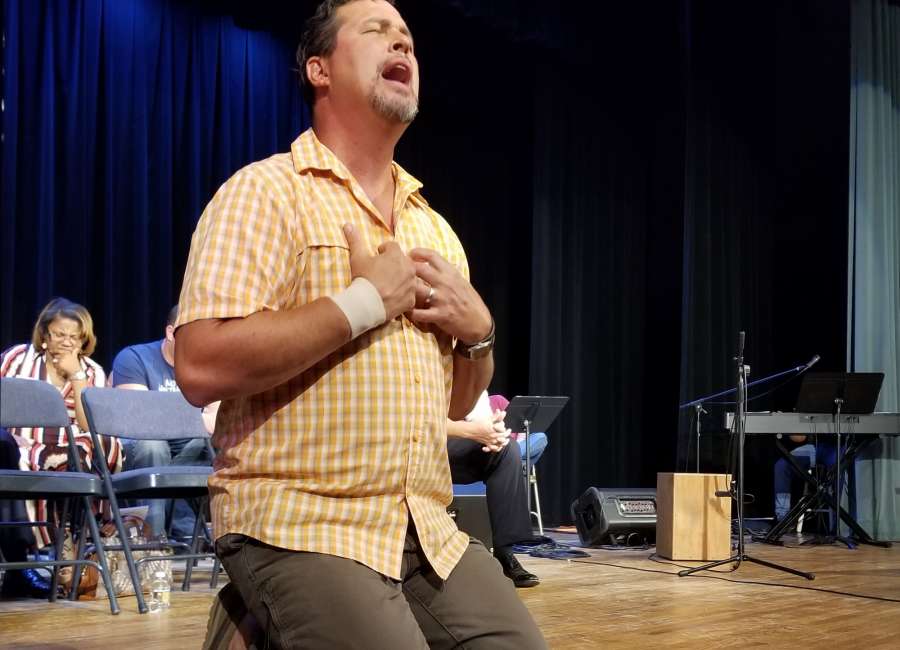 "Obviously, 9/11 was a game changer for all of us."

Paul Dennis of the Fellowship of Christian Athletes reflected on the meaning of the day at Pray Coweta's first Patriot Day community prayer at the Wadsworth Auditorium Tuesday. The gathering brought about 500 Cowetans together.
The events of 2001 – when terrorists attacked New York and Washington, killing and injuring thousands – were a secondary focus at the meeting, which was aimed at issues facing society today.
Dennis talked about discrimination, saying it has no place. 
"It doesn't matter what color you are or what community you live in," he said.
"We need a move of God – not a movement, not a movement against things … a movement from heaven," said Phillip Fields of Be Courageous Counseling. "That movement needs to start in our hearts."
Fields said honesty is a key to changing the world for the better.
"There's stuff going on in our homes. There's stuff going on in our churches. There's stuff going on in our schools, and we're hiding," Fields said.
Matt Pfaltzgraff of Church Outside the Walls also spoke of the need for "getting real with ourselves and then stepping out of our four walls and sharing what real love looks like."
Caleb Anthony of The Alternative, a youth ministry, said people must be "willing to look past the Democrat, the Republican, the black, the white" and all denominational labels.
Sandi Haner, Pray Coweta leader, organized the event at the Wadsworth, which featured speakers – who also offered prayers – along with a praise band. Shofars were sounded at the beginning of the service, marking the end of Rosh Hashanah, a Jewish holy day.
Jerry Williams of J93.3 was master of ceremonies for the evening. As he spoke about Sept. 11, 2001, Williams' voice broke.
"I didn't expect to be this emotional," he said. 
Williams also read a message from Pres. Donald Trump regarding the day when the United States was attacked by terrorists.
Following the opening prayer by Dana Roberson of Healing Waters Outreach Ministry and the pledge of allegiance led by a JROTC cadet from Northgate High, presentations were made to local emergency services agencies.
Andy Brown, Newnan Fire Department chaplain, presented gifts – given by local churches – to representatives of the Newnan Fire Department, the Newnan Police Department and the Coweta County Sheriff's Office. A gift was also sent to the Coweta County Fire Department.
The Pray Coweta event followed the same template as National Day of Prayer services. There were prayers for various segments of society – government, Mike Crane, former state senator; business, Brent Anderson, Senoia Coffee Company; and arts and entertainment, Mark Fincannon, film casting director.
Joy Grady, Moms In Prayer; Pat Daugherty, former University of Georgia administrator, now president of Eagle Forum; and Dennis spoke during the prayer for education.
Prayers for families were offered by Fields and Jerry Powell of A Better Way Ministries. Prayers for the church were given by Stanley, Pfaltzgraff and local minister Jessie Roberson.
Williams and Winston Skinner, news editor at The Newnan Times-Herald, offered prayers for media.
During the evening, several groups – first responders, military personnel and veterans, educators, business leaders and church leaders – were asked to stand.
"Thank y'all for holding the line for freedom for all of us," Crane said to the military and veterans present.
Crane talked about problems he sees with American government. 
"It's more than the gates that are torn down and the walls that crumbling," he said. Crane termed "unrelenting " the current divisiveness in society.
"It is because we have set God aside," he said. "God is the head of the nation."
He referred to court cases that removed Scripture reading from classrooms and legalized abortion.
"Fifty million American people have been slaughtered. It is an abomination before God. If we can't sanctify and honor what God has made in his image … we're not doing our job," he said.
Grady talked about Moms in Prayer, which has grown in 34 years from one group of praying women to chapters in all 50 states and 140 countries. 
"It is changing my life – prayer by prayer, week by week," she said.
Dennis said there are more than 2,000 Coweta students involved in Bible study and prayer each week. 
"Those are the current numbers, and they're growing rapidly," he said.
Daugherty talked about the dedication of teachers and the challenges they face. She said teachers today often must act as social workers, psychologists – even probation officers – because of the "background and experiences and challenges" of their students.
In his remarks, Powell referred to the two rows of men from A Better Way Ministries, which helps men to overcome substance abuse and other problems. 
"It's a powerful thing that God's doing," he said.
Powell urged people to be optimistic and not to lose heart as they help loved ones struggling with addiction and similar problems. 
"Watch God work," he said.
"We're called to bring Jesus everywhere we go," Pfaltzgraff said.
Fincannon, who has been in the film industry for 35 years, said film topics often are unsavory because many in the industry fear they are one project away from unemployment. He said there "truly are thousands" of Christians in the U.S. entertainment industry, and they would like to make films with uplifting values.
He urged prayer for leaders in the entertainment industry who OK which projects get made.
Anderson said business activity is part of the creativity and fruitfulness in God's creation of humankind.
Skinner talked about the dedication of journalists to sharing truth with their readers and the role of The Newnan Times-Herald as a "place" – in print and electronically – to bring the community together and to provide residents with information they need.
Jessie Roberson spoke of the tendency for churches to be segregated.
"Unity has no color," he said. "We all need each other. It doesn't matter what color we are. We all need one another."