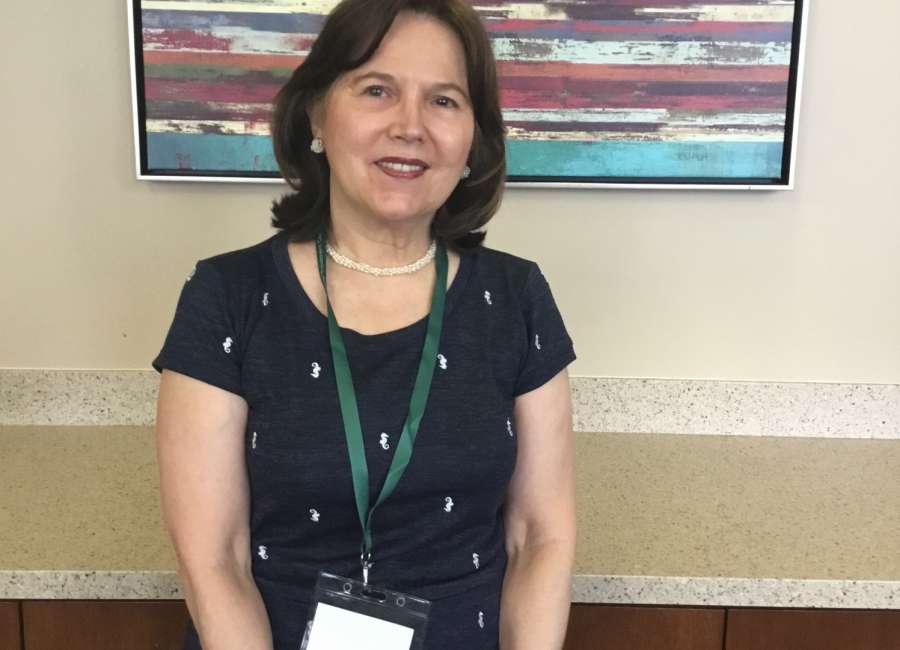 Jean Bates felt fabulous in the days and weeks leading up to her 60th birthday in 2012.

The healthy, then-59-year-old woman exercised regularly in her Peachtree City neighborhood and remained active when playing and working with preschoolers.
Bates said only some light bleeding gave her cause for concern, since she was postmenopausal.
She made an appointment with her general practitioner, who immediately noticed a problem. According to Bates, the doctor told her the cells were unlike anything she had ever encountered before.
Bates endured more tests and a week later, on her 60th birthday, received a phone call that turned her world upside down.  
The physician diagnosed Bates with a form of uterine cancer that also has ovarian cancer characteristics and can affect both female reproductive organs.
"She called and said, 'You need to move quickly. These cancers are bad players,'" Bates remembered. "It hit me hard. It was really tough. I squeezed my husband really tight. Cried a lot. I couldn't have felt any better, but I knew by the tone of her voice this was not good."
Bates was accepted into the then-newly opened Cancer Treatment Centers of America in Newnan.
Doctors told Bates the disease had already progressed to stage 2.
"Initially I was told I had 50-50 chance of survival," Bates remembered. "I was fearful going in, but I prayed a lot. I knew it was all in God's hands."
The Peachtree City woman remembered doctors said if the disease had progressed to stage 3, her chances of survival diminished to only 15 percent.
Bates had a hysterectomy and began chemotherapy.
While Bates' cancer at the time seemed rare, researchers have learned throughout the years that not all ovarian cancers begin only in the ovaries. Many actually start in the cells in the far end of the fallopian tubes, according to the American Cancer Society.
Dr. John Geisler and Dr. Kelly Manahan are gynecologic oncologists at the Cancer Treatment Centers of America in Newnan.
The physicians, along with Bates, are sharing more information about the disease since September is National Ovarian Cancer Awareness Month.
People are asked to show their support for survivors and patients battling the disease by wearing teal ribbons throughout the month.
While ovarian cancer is treatable, the disease still has a sinister stigma attached to it, known as the "silent killer,"  Manahan said.
"It's called the 'silent killer' not because of the symptoms, but because the symptoms are generalized," she explained. "The four main traits are bloating, abdominal pain, frequent urination and acid reflux.
"A lot of women have those symptoms, but don't associate it with ovarian cancer – and having those symptoms doesn't always mean a person has the disease either," Manahan added.
Geisler and Manahan said most ovarian cancers are found in women between the ages of 50 and 60 years old.
"It's more common in women with infertility issues or those who never had children," Manahan said.
"But ovarian cancer has never been linked to any infertility drugs," Geisler added.
Women with genetic mutations, such as the BRCA gene, or those with a family history of breast and ovarian cancer are at a higher risk for developing the disease, Manahan said.
According to the American Cancer Society, between 22,000 and 25,000 women will be diagnosed with ovarian cancer in 2018.
More than 14,000 women will succumb to the disease by the end of the year.
Manahan said women need to schedule a visit with their gynecologist each year – and become their own health advocates.
"Recognize new symptoms and signs that things are not normal, such as bloating for days or a change in bowel movements. Make an appointment to see your doctor right away," she said. "Find out if you're in a high risk category for ovarian cancer, too."
"The best way to decrease your risk for ovarian cancer is to exercise and eat a healthy diet," Geisler added. "We know epithelial ovarian cancer is related to bad eating habits, among other things."
Geisler and Manahan said there have been great strides in treating ovarian cancer, such as immunotherapy, which is allowing patients to live longer, fuller lives.
While Bates was treated with traditional chemotherapy, she remains cancer-free almost six years after her diagnosis.
Bates hopes her story of survival will help at least one person.
"If there are people out there with symptoms and wondering if the need medical attention, I hope they do it without delay," she said. "Keep appointments with your gyno and have regular visits. You might pick up on any abnormalities quicker, whether it's cancer or not."