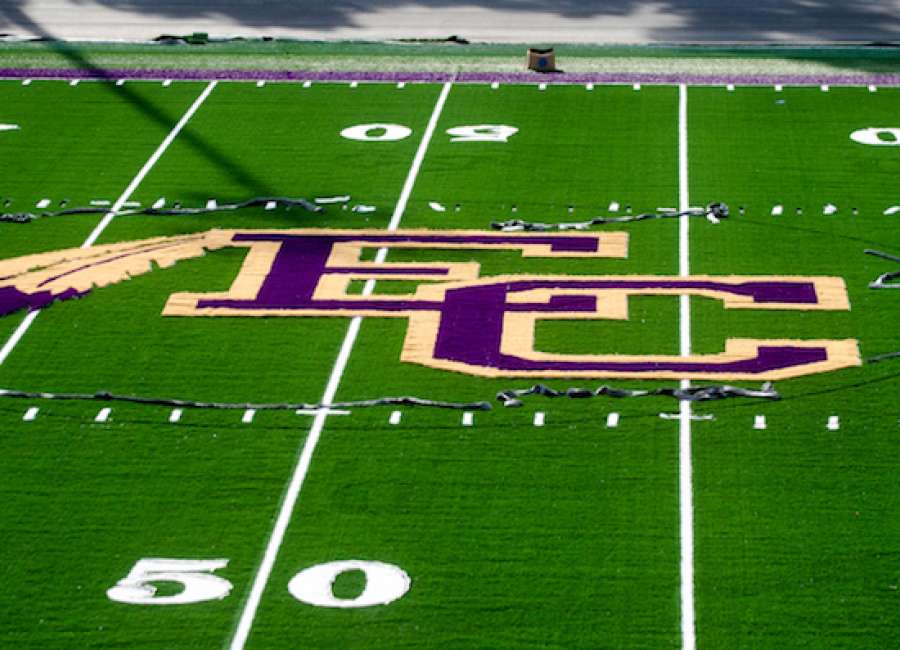 (Editor's Note: This is the first report in an ongoing investigation of allegations of wrongdoing against Coweta County school officials. The Newnan Times-Herald will continue to keep readers up-to-date as the investigation unfolds.)
A local man plans to sue school system personnel and school board members, and he may have board member Linda Menk's blessing.
Henry "Hank" Ashmore has accused school system staff and board members of committing crimes during the process of awarding a contract worth more than $5 million for improvements, including the installation of synthetic turf, at the county's three public high school stadiums.
A pre-litigation (ante litem) notice sent by Ashmore's attorney, Josh McKoon, alleges fraud, racketeering, conspiracy and bid-rigging during the bid process for the project. Ashmore is a local resident with no apparent ties to the companies that submitted bids.
In an Aug. 29 message posted by Linda Menk to the neighborhood social media site Nextdoor, the District 4 representative expresses her support for Ashmore, who intends to file a lawsuit against Coweta County School System employees and members of the Coweta County Board of Education for allegedly violating Georgia's Racketeer Influenced Corrupt Organizations (RICO) Act.
"I've spoken with Hank and he's so unbelievable (sic) grateful for all the support," wrote Menk in a post titled, "Coweta School Turf Project – Ante Litem Notice/Hank Ashmore," which has since been taken down. "…You have no idea how your comments have encouraged him and his efforts to protect all of us who live in Coweta. God bless you."
Ashmore's lawsuit is not about financial gain, Menk wrote.
"Just FYI, should he win in (sic) suit in the court system, he's NOT asking for ANY financial compensation other than a reimbursement of his legal fees to McKoon," she wrote on Nextdoor.
However, McKoon's letter, dated Aug. 7 – which gave the accused 30 days to respond and suggested Ashmore would consider an offer to settle – includes several stipulations, including both attorney's fees and "damages."
The letter states Ashmore is seeking "injunctive relief to ensure the relevant parties will cease and desist from conspiring to flout Georgia's competitive bidding statute," attorney's fees, "three times his actual damages, and punitive damages."
"I don't see how he has any damages at all," said Tommy Coleman of Albany, a former mayor, city councilman and attorney who specializes in municipal law, education and election law, and public finance. "I don't see as a citizen what standing he has to do this."
'We invited them to present any evidence whatsoever'
Coweta County School Superintendent Steve Barker and all seven members of the Coweta County Board of Education, including Menk, received letters from McKoon notifying them of Ashmore's intent to sue, according to board attorney Nathan Lee.
No individuals are are mentioned by name in the letter, which lists Ashmore's complaints against "the members of the Coweta County School System, the Coweta County Board of Education, and other staff" who facilitated the request for proposal (RFP) for the synthetic turf project.
Ashmore claims the RFP was overly restrictive by design to ensure a single company – Deluxe Athletics – was awarded the contract. He alleges the school system issued a second RFP after objections from "members of the board of education and the public," and that "some of the companies which had placed bids under the original RFP were not notified or given any opportunity to rebid." 
Lee said he can find nothing to support Ashmore's accusations.
"I can't see any evidence whatsoever the allegations have any merit," Lee said. "We would invite Mr. Ashmore or his attorney to present any evidence they have whatsoever of any criminal activity."
In a letter dated Aug. 22, Lee took his request for evidence directly to McKoon.
"Your letter contains serious allegations of violation of Georgia law, specifically bid rigging," Lee wrote, reiterating he has found nothing that indicates illegal activity on the part of anyone involved with the school system. "To the extent you have any evidence which would substantiate the serious allegations set forth in your letter, I would ask that you please provide that to me for my immediate review."
As of Friday, McKoon still had not responded.
A computer glitch and a mixup
Ashmore's allegations of bid fixing appear to stem from an incident reported to members of the board of education and those in attendance for the board's April 10 meeting, during which the board voted 6-1 – with Menk opposed – to accept the bid from Deluxe Athletics.
Southern A&E, the architectural and engineering firm charged with creating specifications for the project, posted the RFP and the project manual containing specifications online Feb. 26. The firm handled inquiries from potential bidders and conducted onsite preconstruction meetings at all three stadiums March 13 with representatives from interested companies.
A committee of eight people was established to evaluate submitted proposals in nine categories, including areas such as experience in similar projects, products used, claims history and proposal cost.
After the bid proposal and RFP were posted online, a website malfunction required the school system to remove and repost the documents. The official RFP was inadvertently replaced with an earlier draft containing the wrong bid open date, Barker said.
"Originally we were going to have bids open during spring break," he said during the April 10 meeting. "Once we realized that, we said, 'No, let's do it the week before because that's when we'll have the team here to evaluate it.'"
School officials became aware of the mixup only after the two bids submitted within the correct time period were open and evaluated, when a third company called with questions about the project.
"The response was, 'Hey, we opened those bids the last couple of days,' and the company said the RFP stated this date coming up in a few days," Barker said.
The bids had not yet been revealed because no recommendation had yet been brought to Barker, so the committee decided to allow the third company to bid, open its bid and any other bids that came in before the date posted on the wrong RFP – essentially extending the submission period for an extra week.
"The company that I spoke with that assumed they were going to get the bid for the project said 'I understand. I think you're doing the right thing,'" Barker said. "The company that called and said 'Hey, we're trying to get a bid together' were very appreciative of us extending that courtesy to them."
In the end, the glitch had no effect on the outcome. The company that was granted the extension decided not to bid on the project.
"That was the hiccup with the dates, but we were able to proceed forward with it," Barker said.
Barker hinted that questions may have been raised about the school system's handling of the situation, which is why he said he called on those involved in the process to explain how it worked.
"It's been a lot of work on the part of our staff to do their homework on this project and do it right," he said during the meeting. "We work with the highest goals of integrity in our process."
Money matters and more questions
Menk questioned that integrity, pointedly asking why so few companies had submitted bids. Ken Pritchard of Southern A&E explained that the highly specialized work, the scope of the projects and the abbreviated time frame – all work to be completed between May graduation ceremonies and the first home football game at each of the three stadiums – was beyond the capability of most firms.

Menk accused the firm of having a particular allegiance to Field Turf products.
"There's nowhere in the specification where a particular vendor is ever mentioned," Pritchard responded. "The only thing that's listed in there is the type of fiber, the type of backing, the rubber and the sand, which are basic components. Anybody out there can buy those components. Field Turf is not the only one who makes (that particular type of turf)."
Menk also claimed the amount of the Deluxe Athletics bid far exceeded the costs she said she uncovered while researching similar projects, citing her own private notes during the meeting. 
Deluxe Athletics' bid of just under $5.4 million came in under the $5.8 million estimate forwarded by Southern A&E in February, after the firm began compiling specifications for the large-scale project.
The board voted 7-0 at its Nov. 14 meeting in favor of moving forward with the process of soliciting bids for the turf and track project, with Menk present and voting, according to official meeting minutes. There is no record of Menk questioning the $5.8 million project estimate included in the superintendent's Facilities Construction Report at either the Feb. 13 or March 10 board meetings, although official minutes show her present at both.
That did not escape the attention of Farmer, who chastised his fellow board member after she suggested at the April meeting that they should delay the project and look for ways to drive down the costs, based on her own numbers.
"I question how long you've had this," he said. "You haven't shared it with me, and I don't know if you've shared it with any other board member, or any other staff member, until you just bring it up here tonight and start throwing numbers around."
Independent investigation, taxpayer dollars
On Aug. 14, Barker addressed Ashmore's allegations during the board's monthly meeting, saying the accusations require the board to follow a specific policy that outlines protocol for reporting and investigating fraud allegations.

"I believe you have no choice, in my opinion as superintendent, but to follow board policy," Barker told board members.
On Lee's advice, board members decided to move ahead with facilitating an independent investigation into the claims contained in McKoon's letter. 
The school system has tapped Keri Ware and former DeKalb County District Attorney Bob Wilson, both of whom were appointed to then-Gov. Sonny Perdue's team of special investigators in the late 2000s when a probe into an unnaturally sharp rise in Atlanta Public Schools' standardized test scores revealed a widespread cheating scandal.
Taxpayers probably will foot the bill for what likely will be a pricey investigation into Ashmore's allegations, according to Coleman.
"There is no doubt that that this will cost the taxpayers in Coweta more money than it should," he said.
Coleman, whose clients have included cities, counties and school boards, said he sees no significant irregularities in the Coweta County Board of Education's handling of its bid process.
"It is common for people in the school business to make errors. There certainly doesn't appear to be anything extraordinary about this," he said. "There are not really any RICO violations here."
The serious nature of Ashmore's accusations make an investigation necessary, even when there is no evidence of wrongdoing, Coleman said.
"You have frivolous claims sometimes, but you still have to defend them," he said. "I'm confident it will turn out well for Coweta County, but it will cost money to answer all the questions and defend the board members and the school system."