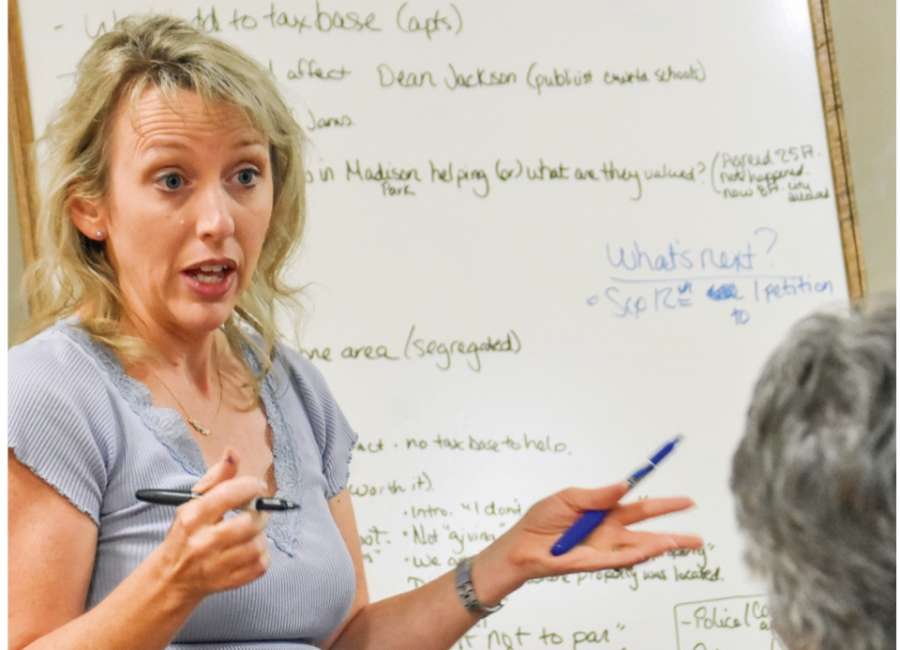 A group of concerned homeowners believes a proposed apartment complex will negatively impact their property values, and wonder why their street seems to attract such projects.

Last July, Thompson Gooding, representing Oracle Consulting, applied to change the zoning on the 19.85-acre tract for the development of Brookside At McIntosh – a 96-unit townhouse-style apartment complex at the corner of Greison trail and McIntosh Parkway.
The complex would be built on the southwest portion of the property, while the other three tracts would be donated to the city's LINC project.
The property is currently zoned RU-2 (townhouse residential dwelling district). Gooding is seeking to change it to RML (residential multiple-family dwelling) since the site topography would make it difficult to create a townhouse development.
The homes are ideal for restaurant managers, firefighters and people with similar income ranges and occupations, Gooding said. Rent prices for two- and three-bedroom apartments ranged from $820 to $1,000 respectively.
Members of the Browns Ridge subdivision on Greison Trail say they're not against multi-family housing but wonder just how much is enough for their corridor. For some residents, the rent prices are a red flag.
Homeowner Elizabeth Ray has lived in her home for six years and said the concerns shared by her family and other residents aren't necessarily rooted in a "not in my backyard" attitude but are more concerned with "why?"
Ray cited nearby The Preserve at Greison as a quality development residents welcome and believe the new proposed development will fall short.
"There isn't one person against affordable housing, but we're not happy it seems to be segregated into our corridor," she said. "From Bullsboro Drive to Broad Street, they're 236 affordable housing units on our street already. We feel like we're getting segregated."
Katherine Hughes has been a resident of Browns Ridge for 14 years and was present for the neighborhood meeting in May. Hughes said she was shocked that someone would build anything on the property, which sits on a floodplain.
"There's bound to be some drainage issues, and we already have that," she said. "They said it can't affect you since it's downhill, but the entrance of the project will be uphill and running into our drainage area."
She's also concerned that after spending $2 million on the roundabout and parkway, the city would want to showcase this particular property to the public traveling from Ashley Park to downtown Newnan.
"Something can be built there, but we can do better than that," Hughes said. "Why set the bar so low to begin with?"
High Demand
There's no question the city of Newnan is in need of housing.
Since 2013, the city has approved around 960 new multi-family units. The vast majority have been higher-end apartments like the Trees of Newnan and The Residences at Newnan Crossing with rents ranging between $900 to $2,000 per month.
Approximately 160 units are more affordable, including Jefferson Grove Apartments with rents based on income.
Recently, the city council approved the development of a 320-unit market-rate rental apartment community between Lower Fayetteville and Poplar Road on Newnan Crossing Bypass.
Gwyn Wheeler, development director for Continental Properties, said the company was attracted to Newnan because it's the fifth fastest growing community in Georgia, according to a study done by Bleakley Advisory Group.
As the employment center of Coweta County, Newnan is growing faster than the county and the Atlanta region overall, according to the study. Since rebounding from the recession, the job market has grown by roughly 4 percent annually, and Newnan has added 9,000 jobs since 2010.
"We've seen low multi-family supply in recent years and supply isn't keeping up with demand," Wheeler said.
Due to an aging apartment stock, Wheeler said the Newnan market currently lacks supply that meets the quality standards of residents who can afford to rent new apartments.
As a result, Wheeler said there is an opportunity for additional smaller housing units, such as multifamily apartments, to better meet the needs of the populace.
The study referenced The Trees of Newnan – a higher-end apartment complex with rent prices ranging from $980 to $1,950.
For Browns Ridge resident Pauly Cooper, she'd like to see something of similar quality come to Greison Trail.
Cooper, a former employee of the Department of Family and Children's Services, said the days of building new low-income housing are in the past. Instead, she wants to see higher-end developments with the option to let section 8 residents move in.
"We're trying to get away from stigmatizing people and we have enough housing in the city that's already 'affordable,'" she said. "You can incorporate lower-income people into higher-end neighborhoods where they're living with people who have good jobs and a decent school system."
On to City Council
In a neighborhood meeting conducted May 23, Developer Mark White met with several nearby homeowners to get their thoughts on the complex.
White presented a greenspace concept in the middle, showcased a playground and community building and agreed to extend a buffer around the property running 60 to 100 feet in depth, along with no rear entrance to the units.
Suggestions such as using more brick on the exterior, eliminating a swimming pool, maximizing tree preservation and limiting the height of the buildings to two stories were all presented.
In an Aug. 14 meeting with the planning commission, White said Oracle heard the concerns expressed by the commission and the neighborhood to better define the buffers associated with Greison Trail and Jacks Drive.
Wright explained there are two streams that run through the property that will require an undisturbed buffer. He said the development would only cross the stream once, which will be less impactful on the environment.
He also stated that several neighbors mentioned possible drainage issues, but their development is downstream and will neither add to nor resolve those problems. Wright said they incorporated a 60-foot buffer around the entire property.
The planning and zoning commission approved sending the request to the city council that will meet to discuss the issue at its Sept. 12 meeting.  
In the meantime, Ray hopes a petition signed by her neighbors will help give councilmembers pause before signing off on the new development.
"We're not against growth," she said. "We just want quality growth, and we're concerned this project isn't up to the standards the city typically holds."