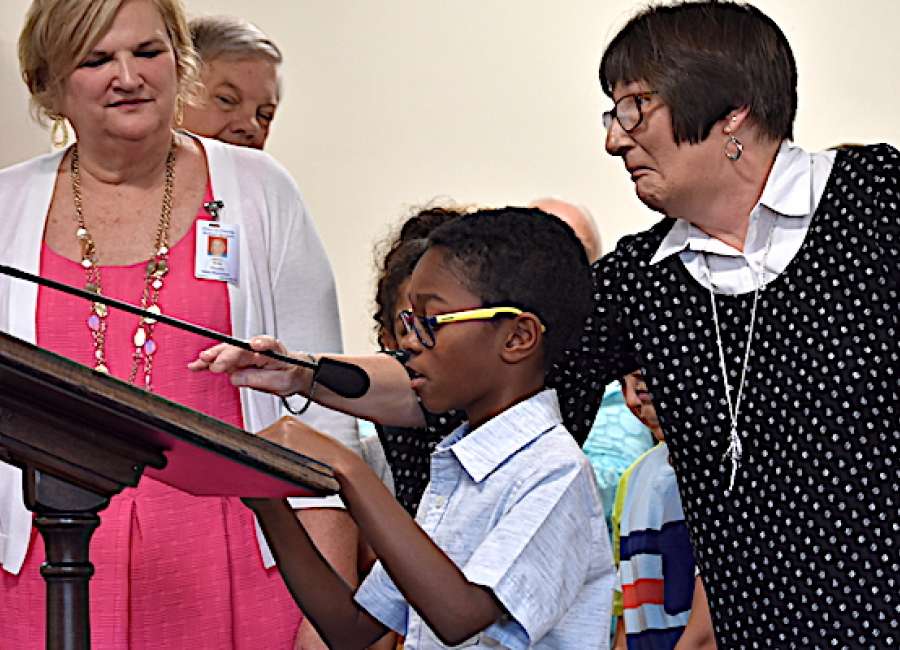 Students from Welch Elementary School's fourth-grade REACH class can tell you a thing or two about math.
Four students – Jayda Stone, Adam Abke, Brett Daniel and Michael Reed – did just that at the Coweta County Board of Education's Sept. 11 meeting. After being introduced by REACH teacher Sharon Crawley, they explained how sunflowers help them master math skills in the school's Science, Technology, Engineering and Mathematics (STEM) garden.
The students went in pairs outside to the garden with parent volunteer Jennifer Abke, who has been involved in everything from helping plan the garden to securing a grant for its initial features to be installed.
"We couldn't do it without Ms. Abke," Crawley said. "She is the one that is the keeper of the garden, and it is amazing."
Stone said each pair of student chose a sunflower to measure to the nearest 1/8 inch.
"For example, I measured a flower and I got 19 and 1/8 inches," she said.
Going out into the STEM garden helps Stone better understand the work, she said.
"I can see it better," she said. "Sometimes the ink is faded on the worksheet and I like using a real ruler instead of a drawing. Because I love nature, this was my favorite part about this activity."
Estimating was another part of the activity, according to Adam Abke.
"When I estimated the height of the sunflower, I estimated 9 feet, 4 inches," he said. "The actual height of it is 8 feet, 4 inches."
Daniel's pre-measurement estimation was 90 inches.
"We used Ms. Abke that is 5 feet, 4 inches tall to help with the estimating," he said.
After estimating and measuring, students completed the final step – converting feet and inches into inches.
"Here is the way I converted 8 feet, 4 inches into inches," Reed said. "First, I multiplied 12 by 8. I chose those factors because there are 12 inches in a foot and there were 8 feet, which is 96 inches. After I took my product and added the four inches, that equals 100 inches, which is my answer to 'How did you convert eight feet and four inches into inches?'"
Principal Janice Smith told board members the exercise is meant to make learning relevant to students' everyday lives, to build on previous knowledge and to help make sure students are ready for their next steps.
"Outstanding work," Superintendent Steve Barker told the students after their presentation. "You did great."