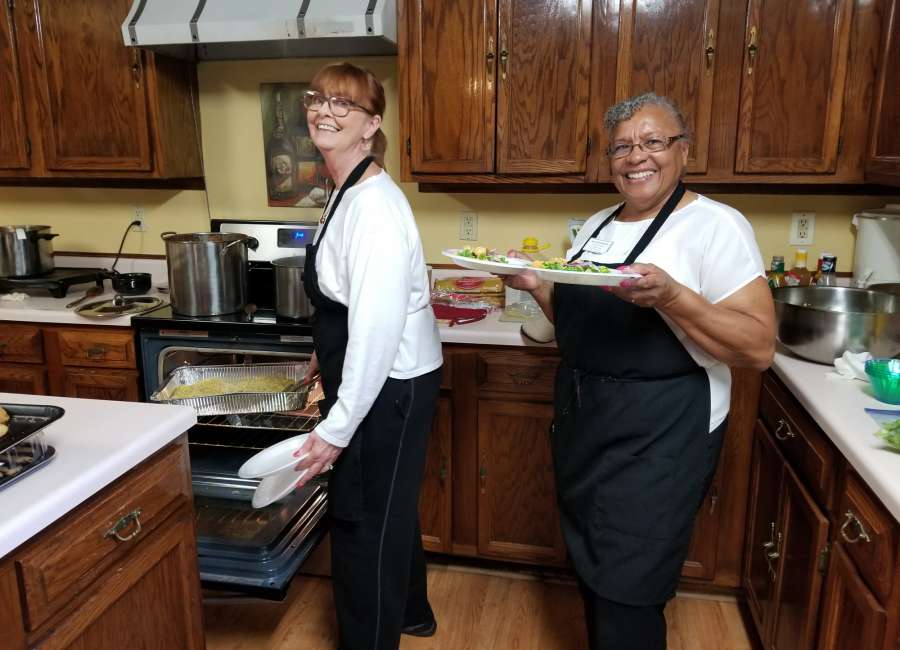 Plates of hot, tasty spaghetti and meat sauce are keeping things cool for some Coweta County senior citizens. 

This year's spaghetti dinner helped pay for a new blower for the Cambridge House Enrichment Center's air conditioning system.
The annual spaghetti dinner was held Sept. 18 at the center on McCollum-Sharpsburg Road. Diners enjoyed plates filled with noodles and savory sauce along with garlic breast, salad – and oversized cupcakes for dessert. The lights were dimmed, and candles flickered on the tables laid with red-and-white cloths as soft music played in the background.
This marked the sixth year for the adult day program to raise money with a spaghetti fundraiser. "People like spaghetti," said Mary Ann Neureiter, the gerontologist who is executive director at Cambridge House.
She said the idea of spaghetti came up when she and Cambridge House staff and volunteers were contemplating a fundraiser six years ago. "It's always been pretty successful," Neureiter said.
About 70 people enjoyed the Sept. 18 meal at the center, and many others picked up plates to send home.
Barbara Harris, who was there with friends Kathleen Hammons and Carolyn Sims, said she comes with a group every year.