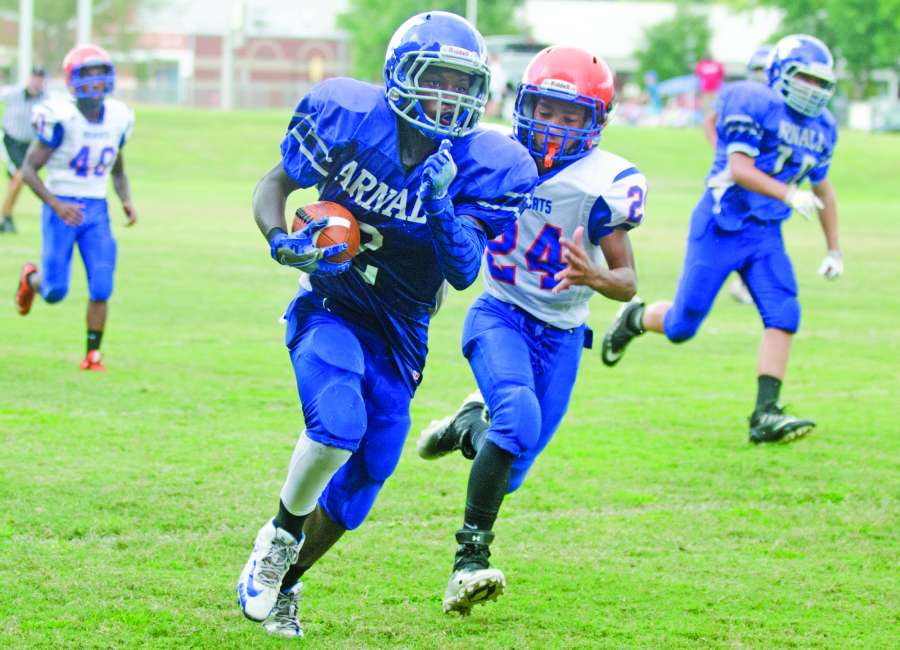 BY CHRIS GOLTERMANN
Cowetascore
Smokey Road kept its footing near the top of the Coweta County Middle School Athletic League football standings this week, with three Wildcats rushing for at least 60 yards and a touchdown en route to a 22-12 victory over host Arnall in a game that was called due to lightning in the area in the fourth quarter.
The win pushed Smokey Road to 2-1 overall while remaining a game behind undefeated East Coweta Middle in the standings.
East Coweta moved to 3-0 after defeating Madras 42-20 at home to stay ahead of both Smokey Road and Evans.
Evans also emerged with Smokey Road from a logjam of four schools tied for second place after defeating Lee 26-12 to rebound from the previous week's loss to East Coweta.
Smokey Road, meanwhile, had a reason to be feeling confident heading into Tuesday's game at Arnall, coming off an overtime victory over Madras while also rebounding from an opening week loss to ECMS.
But some of the glow of the previous victory had been showered off by halftime of a tie game against host Arnall, led by quarterback Kaleb Harris' heroics.
The Wildcats left six points on the field in the second half due to a score called back by a penalty late in the second quarter. They were equally fortunate to have an Arnall touchdown called back on a penalty by the host Knights on the opening possession of the game.
Harris was as much a problem for Smokey Road while keeping Arnall in the game. The Knights quarterback connected on all six pass attempts including a quick 50-yard strike to teammate Jeremy Render in the fourth quarter.
Along with at least 145 yards passing, Harris added a game-tying 30-yard touchdown run to complete an 8-play drive with 4:29 to play in the second period.
The 6-6 deadlock held through the end of the first half after the Wildcats had a responding score called back before the clock ran out.
Yet a halftime message from Smokey Road's  coaching staff, however, hit home as the Wildcats responded in a big way with 16 unanswered points that including a touchdown off the opening drive of the third quarter.
After scoring on its first possession of the game in the first half to take a 6-0 lead, Smokey Road took it back for good with help from a long kickoff return to the Arnall 35.
One play after negating a false start penalty, the Wildcats reached the end zone on Columbus Franklin's 35-yard run.
Franklin joined Logan Sinkfield and Cameron Hart with steady efforts that had each Smokey Road player reaching the end zone, beginning with Sinkfield's 1-yard push late in the first quarter to cap off an 8-play opening possession.
It came after Arnall had a touchdown called back on its first drive of the game. The Knights opened with a 55-yard strike from Harris to Connor McElroy to the Smokey Road 5-yard line, but had three penalties negate gains en route to a missed 28-yard field-goal attempt.
Along with 65 yards rushing from Franklin and 64 from Sinkfield, Hart equally chewed up yardage that kept the yard sticks moving in the second half.
After Smokey Road's defense held Arnall on downs late in the third as a steady rain continued from just before halftime, Hart pushed the Wildcats to its largest lead on a quick march that had Sinkfield weaving through traffic.
The fourth quarter began with Hart's nine-yard touchdown on a run where he started to his left before cutting back inside to score untouched en route to a team-high 75-yard rushing performance.
Smokey Road hosts Lee next week, while Arnall plays a second-straight home game while facing unbeaten East Coweta.
Evans travels to Madras in a rematch of last year's CCMSAL championship won by the Eagles.
Wildcats 22, Knights 12
Smokey Road 6 0 8 8 — 22
Arnall 0 6 0 6 — 12
(Game called with 6:18 left in 4th quarter due to lightning in area)
1st Quarter
SRMS — Logan Sinkfield 1-yard run (run failed), 0:37
2nd Quarter
AMS — Kaleb Harris 30-yard run (kick blocked), 4:29
3rd Quarter
SRMS — Columbus Franklin 35-yard run (Sinkfield run), 6:57
4th Quarter
SRMS — Cameron Hart 9-yard run (run good), 7:51
AMS — Jeremy Render 50-yard pass from Harris (run failed), 7:29
EAST COWETA 42, MADRAS 20
At home, East Coweta stayed unbeaten while handing the Eagles their second loss of the year in a back-and-forth game.
Madras tried to stay in the game with touchdowns in each of the last three quarters of play. Mason Hart had separate 8-yard receptions from quarterback James Paige in the second and third quarters.
Ryan Cobb added a five-yard scoring catch from T.J. Brown in the fourth.
Nick Troemel connected on PATs in both the third and fourth quarter for Madras.
(For more game information, go to CowetaScore.com)
EVANS 26, LEE 12
Evans quickly rebounded from a previous loss to East Coweta while churning out 352 yards of total offense.
Quarterback Aundre Carter and running back Quentevious Berry were at the center of the Cougars' success. Berry had 160 yards rushing, along with a touchdown and a two-point conversion in the win, which improved Evans' record to 2-1.
Carter was also responsible for 168 total yards (95 rushing, 73 passing) while scoring two touchdowns. He had a 15-yard pass to Berry while also connecting with Austin Colton for 58 receiving yards.
Evans also picked up a touchdown and 43 yards rushing from Mondriques Jordan in the win.
Defensively, the Cougars had four interceptions including a pair from Ashton Heflin. One came off a pass initially tipped by Cougars teammate Austin Colton and the other denied Lee on a two-point conversion try.
Ny'saun Wiggins' interception allowed Evans to run out the game clock while teammate Camarion Gates finished with an interception and three pass breakups for the Cougars.
Up front, nose guard Lamondre Hand caused two fumbles while Irby Dunn had multiple tackles and two pass deflections.
CCMSAL Standings
East Coweta 3-0
Evans 2-1
Smokey Road 2-1
Arnall 1-2
Madras 1-2
Lee 0-3
Tuesday's Scores
East Coweta 42, Madras 20
Smokey Road 22, Arnall 12
Evans 26, Lee 12
Tuesday, Sep. 18
Evans at Madras
Lee at Smokey Road
East Coweta at Arnall