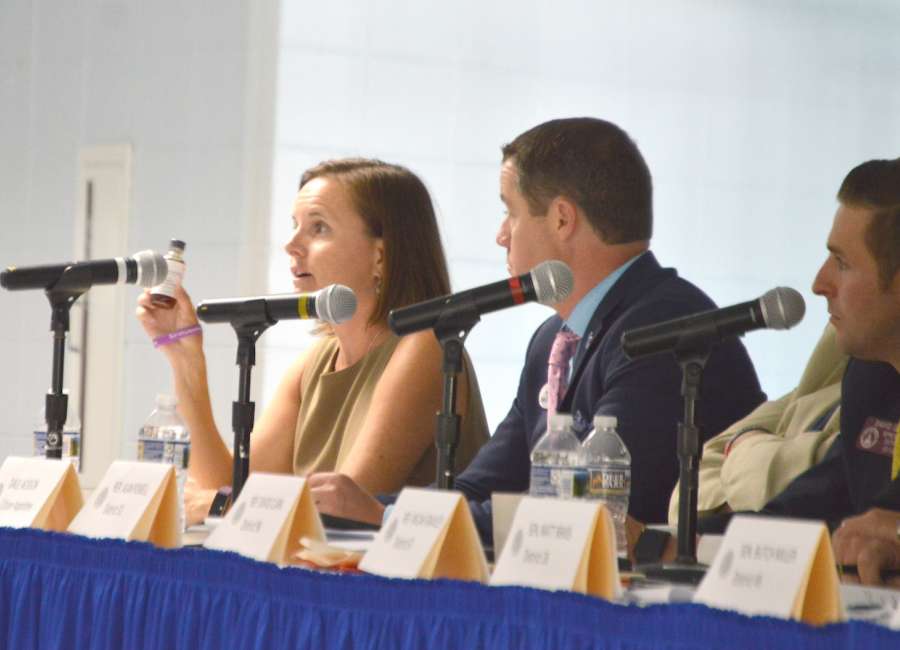 Two Georgia sheriffs urged a study commission not to allow growing of medical cannabis in Georgia, while heads of three state associations didn't take a stance on the issue but offered their thoughts.

The Joint Study Commission on Low THC Medical Oil Access held its second meeting in Carrollton at the University of West Georgia. State Sen. Matt Brass, R-Newnan, is one of the committee's co-chairs.
The meeting focused on law enforcement and regulation, and there were also several citizens who signed up to speak at the end.
Former Coweta District Attorney Pete Skandalakis, who now serves as head of the Prosecuting Attorney's Council, was among the speakers.
"Sheriffs aren't heartless," said Sheriff Gary Long of Butts County. "If it were my child, I would do what I have to do … we need to do something to bring relief to the children. I get it."
But "cultivation is not the answer," he said.
Brass asked long how he would suggest that Georgia patients obtain the cannabis oil that they are allowed to have under state law, but have no legal way to obtain.
"I can't give you that answer. I really can't," Long said.
His response was met with laughter from the crowd.
"I think all the legislators made a law that's no good," he said. "That's my stand."
Committee member Susan Driscoll, who has served as president of a medical cannabis company in Florida and has worked in four states setting up medical cannabis laws, asked Long if sheriffs had talked to their counterparts in Florida. Long said he has not.
Committee member Dale Jackson of LaGrange said he has gone to legal states but even so, it's not legal for him to buy medical oils for his son because he is an out-of-state resident.
Jackson urged law enforcement to look into it a little bit more, especially from the patients' point of view.
Driscoll gave a presentation on "vertical integration" of cannabis production, in which one company is responsible for cultivation of the marijuana, production of oils and sales through a dispensary.
"We can learn from the successes and mistakes of the 29-plus markets that have approved" cultivation of medical cannabis, she said.
"The focus should alway be on patient access, affordability and quality," she said.
In states that limit how many licenses can be issued to legal producers, there have been lawsuits from those who didn't get licenses, Driscoll said, and the state should do what it can to limit that problem.
In most states, the medical cannabis program is regulated by the department of health, though some states use other regulatory agencies.
"There are a lot of different ways that states have managed the regulations," Driscoll said. "I recommend that we create a Department of Medical Cannabis program that is regulated by the Department of Agriculture for cultivation and other appropriate regulatory agencies" for production and distribution, she said.
And it's critical that the department is staffed by qualified people with relevant experience.
"This should be logical but unfortunately in some states, like the one south of us, this has not been the case and it has hurt the patients in the process," she said.
Testing is another important aspect, she said. Texas doesn't require third party testing, "which I think is a mistake," Driscoll said.
When producers go through he process of turning plant material into oil, there is a lot of testing required during the process, and those test results should be transparent, she said.
She recommends a limited number of licenses, at least in the beginning. That helps manage the introduction of cannabis cultivation in a controlled and efficient way.
Some states only allowed nonprofit groups to get licenses. Driscoll thinks commercial entities are "nimbler, faster and better capitalized to allow patients of Georgia to have access to quality products more quickly."
There shouldn't be a requirement that cultivation, processing and sales are in the same facility. For one, that's a security risk. It can also raise zoning issues. All states require that cannabis cultivation be done indoors, which can include in greenhouses, she said.
Driscoll also urged the committee to allow for delivery to patients who aren't able to go pick up medication themselves.
Skandalakis said there is no consensus on the issue among prosecuting attorneys.  But it is a legislative issue and "we are here to support what you are trying to accomplish by way of policy," he said.
"It's a shame that the federal government can't give states more direction," Skandalakis said. "The fact of the matter is we are here because the federal government has not taken this seriously."
"There are a number of states that have gone down this path and the Prosecuting Attorney's Council will be glad to help you research what has worked and what hasn't worked," he said.
He urged the commission to keep the sale of medical cannabis separate from the production.
Skandalakis recently had the opportunity to go to Washington state and tour a facility. Both medical and recreational marijuana are legal in Washington. In Washington, each plant is tagged and tracked.
When the state goes into cultivation, there will be an increase in robberies, Skandalakis said. And there will be people who try to get around the system, but he thinks that can be reined in with strong penalties.
In Washington, the regulators have strong authority, and the manufacturers and distributor "know that they have to toe the lines. And if a license is pulled… you lose a significant amount of money."
Colorado has seen an increase in DUIs related to marijuana, Skandalakis said.
Co-Chairman Micah Gravley asked if the DUI increase would be different without the recreational component.
Skandalakis said he will look at DUI stats for states that have only medical programs.
As a prosecutor for over 33 years, Skandalakis said he knows "there will always be a black market – just like anything else." In Washington, the cost of legal marijuana is low enough that it can be profitable for people to take it out of the state and sell it on the black market.
Jasper County Sheriff Donnie Pope said he is also very concerned about the increase in impaired driving. He added that a doctor from Colorado said 27 percent of newborns were testing positive for marijuana. When their mothers were confronted "their response was – it's legal," Pope said. He also said he is concerned about expansion of medical access being the first step in recreational legislation.
He said he worries that expansion will create a "gray market," and addressed an earlier comment that most medical cannabis producers hire private security instead of off-duty law enforcement.
"The reason they don't want outside law enforcement is because they don't have control over those folks," Pope said. "We are fooling ourselves if we don't think something is going to be going out the back door."
Pope said that if cultivation is allowed, sheriffs should be able to have authority over it. He also said he wants to make sure the state gives local sheriffs departments the resources they will need to deal with any increases in crime or needed regulation.
Greg Reybold spoke on behalf of the Georgia Pharmacy Association. Severely ill patients who want to use medical cannabis are often taking other medications as well. And they are susceptible to interactions between those medications and medical cannabis, he said.
Pharmacists are used to working with patients to prevent drug interactions, identify reasons that patients shouldn't be taking potential medications and monitor patients for adverse effects.
Reybold said some states require a pharmacists to be on staff at every medical cannabis dispensary, and his organization would like to see that same requirement in Georgia.
"We think that is reasonable," he said. "It's going to put patients in the best position to improve outcomes and have good therapy results."
Jackson said he is concerned about the price of the medication for Georgia patients – which won't be covered by insurance. He's spoken to people who live in medical marijuana states. There is so much regulation that a product that cost $135 on the black market now costs $400 or more on the legal market.
"That's worse than it being illegal," Jackson said. He said he worries that requiring pharmacists on site would drive up costs even more.
Reybold said he didn't think having a pharmacist around would be cost prohibitive.
"These are patients who have serious conditions. They deserve a high level of patient care," he said.
The Georgia Association of Chiefs of Police hasn't yet taken a stance on the expansion of access in the state, said Dwayne Orrick, assistant executive director, but the organization will be meeting and discussing the issue.
"There is no consensus in my association," Orrick said. There are some concerns that expansion of medical use is the gateway to recreational marijuana legalization.
"I know that is not your intent, but that may be the intent of other people," he said. "We are supportive of the medical need."
"We want to address the need for these children, for these adults. We've seen the results," Orrick said. "Once you see that, it's hard to kind of have a hard-nosed approach."