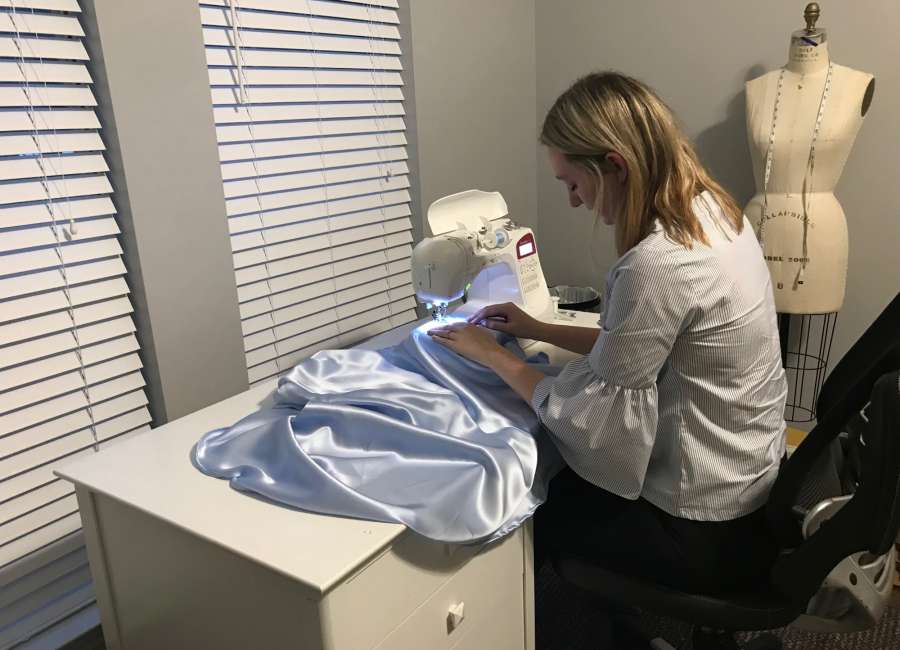 Twenty-two-year-old Christina Yother is about to become a household name in the United States – and Canada.
The Sharpsburg resident and up-and-coming fashion designer will see her dream become a reality Tuesday, as models wearing her clothing collection strut down the catwalk during Vancouver Fashion Week.
"I'm nervous and excited at the same time." Yother said. "I feel like I've been working on this for so long. I'm excited to see it all come together and the models walking down the runway. But I still have a lot to do before the show."
"Christina Yother Designs" will debut the Spring/Summer 2019 collection with 12 unique looks, fabrics and patterns.  
"I have a lot of flowy pieces with movement, like dresses, tops and pants," she explained. "There's a lot of color. The collection is feminine, but has sporty details, like a mesh bodysuit underneath a top.
"A contrast within the pieces was what I was going for," Yother added. "I like to use feminine details, like ruffles, and mix it with drawstrings and a racerback top. Something that's easy to wear and comfortable at the same time."
The idea for Yother's collection came from an unusual source, she said.
"I'm interested in yoga and have taken classes for five years. I once heard a quote that said, 'Yoga is a dance between control and surrender,'" Yother said. "That's when I decided to use drawstrings in my pieces because they would control the fabric and create 'surrender' in the drape. I sewed drawstrings in all my fabrics, from jersey to silk."
Yother said her love for fashion began at a young age.
"When I was little I'd draw and paint. I'd make clothes for my dolls out of paper towels, and old, scrap fabrics," she remembered.
When Yother was 15 years old, she inherited her grandmother's sewing machine. The then-Starrs Mill High School student taught herself how to sew and began creating her own fashion line – from clothing to handbags and shoes, she said.
Yother said she would wear some of her designs to school. She made tops for her mom, who would show off her daughter's creations in public.
The then-teen set up a booth at the annual Shakerag festival in Peachtree City and sold her designer bags and shoes, she said.
Yother would also sell her unique items in her online Etsy store.
With the help of her high school friends, who doubled as models, plus  Yother's distinctive fashions and eye for the camera, the then-senior created a portfolio – and received a scholarship into the Savannah College of Art and Design Atlanta campus.
Yother majored in fashion design. In 2017, during Yother's senior year at SCAD, she began posting her clothing and accessories, plus "behind the scene" shots on Instagram.
Those photos caught the eyes of organizers for Vancouver's Fashion Week, Yother said.
"I got an email from them in February. They said they'd love me to show my clothing at the event," she said. "I was really excited. It was so unexpected.
"At first, it didn't feel real to me," Yother added. "I did more research on the  Vancouver Fashion Show to see if it was somewhere I wanted to go and show off my brand and make sure it would target the right customers. I was surprised. They feature a lot of international designers, have a good variety of people and types of clothing and do a good job promoting fashion week,  which is important."
Yother agreed to participate in the show. For the next seven months, the SCAD student created 12 different "looks," or clothing designs, turned in her senior project and graduated from college.
The 22-year-old fashion designer boarded a plane Saturday bound for British Columbia, Canada, where she will debut the "Christina Yother Designs Spring/Summer 2018 collection" on Tuesday, Sept. 18 during Vancouver Fashion Week.
"I would love for more designers to find out about my clothes so I could collaborate with them. I hope more people like what they see and want to wear my clothes," she said.
Yother said she has her eyes set on bigger goals once fashion week is over.
She plans on opening her own shop in Sharpsburg.
"I want to sell on a national scale, but keep the main business here," she explained. "I think there is an opportunity for the fashion industry around Atlanta to really grow.
"I also want to make the fashion industry and more eco friendly," Yother added. "The more my business grows, the more I can make a difference  with that."