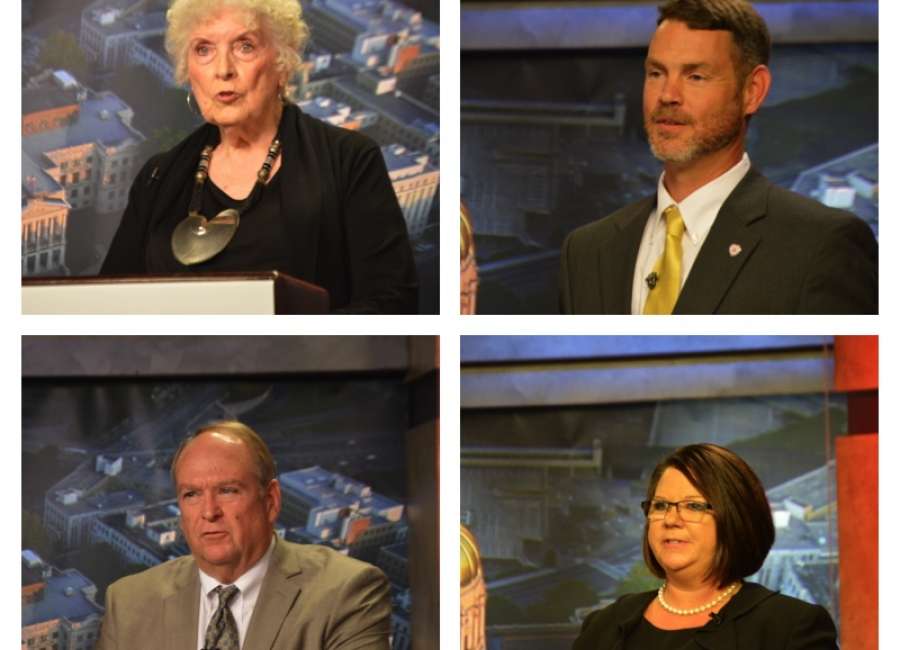 Candidates for Sharpsburg's mayor and a council post shared their vision for the town's future in a pair of forums held Tuesday at the Central Educational Center.

Polly Garlington and Blue Cole are running for the mayor's post. Longtime mayor Wendell Staley resigned earlier this year for health reasons, and passed away in July.
Celene Davenport and Tom Teagle are the candidates for the council post previously held by Garlington.
Cole said he wants to combine his skills in business and public service to create a place where residents, merchants and visitors can find happiness.
"We have a good start but there is a lot of work to do," he said.
"My career has been about helping people," Cole said.
He works with the Department of Human Services and he and his wife have also run businesses.
"I enjoy talking to people. I've been able to find innovative solutions to problems," Cole said. He said he wants to put those skills to work helping the people of Sharpsburg.
Garlington is a retired educator and holds a degree in leadership and supervision.
She said residents she's talked to "would like a decent place to eat that is not takeout." But before Sharpsburg can have that and the other things people want, "we've got to have sewer in some way, shape or form." There has been talk in the past of partnerships with Newnan, but they have never materialized. Sewer service is required "for just about everything," she said.
At one time, downtown Sharpsburg had businesses and shops. The businesses along Hwy. 54 have been there for many years.
"We need to find out what they are doing right so we can get the other part of our town doing that – we need help," Garlington said. She'd also like to bring in staff from the Georgia Municipal Association, which come to small towns and help with planning and suggestions.
The town government needs to find out what people want, Cole said. He said he put out a survey, and the top answer was a full-service restaurant. People also wanted a coffee shop and a bookstore.
He also spoke about the need for sewer. Whether or not the city can get sewer service in the next five to seven years "will determine where we go over the next 25," Cole said. "If we get it, we'll prosper and grow."
There also needs to be an environment that is conducive to business.
"The city needs to be easy to work with," Cole said.
He'd also like to see the town of Sharpsburg be more involved with East Coweta High School activities.
Cole and Garlington agreed that there needs to be various ways to get residents informed about and involved in things going on with the town.
Garlington said that no matter how grand plans might be, until the town's government has a good relationship with its residents and businesses, and people volunteering to help, "I don't think we'll ever move our town forward."
Davenport has a degree in political science, and politics has always been a passion of hers, she said. She's seen Sharpsburg go from a town with a thriving downtown to one with a downtown full of vacant buildings. She said she  looks forward to working with the property owner and the city to try and revitalize downtown. Her career experience is in banking and finance.
"I had the opportunity to lead and manage teams at a very young age," she said.
"When you're running a city, it's a business. And anybody who thinks it is not – they're wrong," she said.
"Sharpsburg is at a crossroads," Teagle said.
The area around the town is growing rapidly. Teagle said he wants to use his experience to look at projects and separate the good from the bad.
"Downtown has a lot of potential for redevelopment. It is literally rotting away," he said. "We need to come to close discussions with the Bridges family (owners of the downtown buildings) and move forward with or without them."
Without sewer, "we're stuck," Teagle said. He said he feels like with his experience, "I'm the man to drive this, and help the city council drive this."
Teagle has worked in the food industry and in various businesses.
"I have taken businesses that are run down and fixed them," he said. "I know what it takes to grab hold of a problem, size it up and set into play solutions for fixing it. And that's exactly what Sharpsburg needs."
"I absolutely agree with Tom on that – sewage is vital," Davenport said.
Both agreed that Sharpsburg residents need to be informed and involved.
People are busy with work and activities. When people do want to get involved, "you can't let them feel threatened by the process," Teagle said.
Teagle has given history lectures and is working with the Friends of Sharpsburg to reopen the library. Davenport said she would also like to see more programs and activities, and she thinks the new park is bringing in families and children. She'd like to see a larger playground area at the park.
Davenport said she'd like to build a better relationship with the county, and with fresh leadership "I look forward to building that relationship, because I think they would be willing to help."
Teagle agreed on the importance of building a relationship with the county.
"Regardless of who wins, I think you are getting a winner," Davenport said.