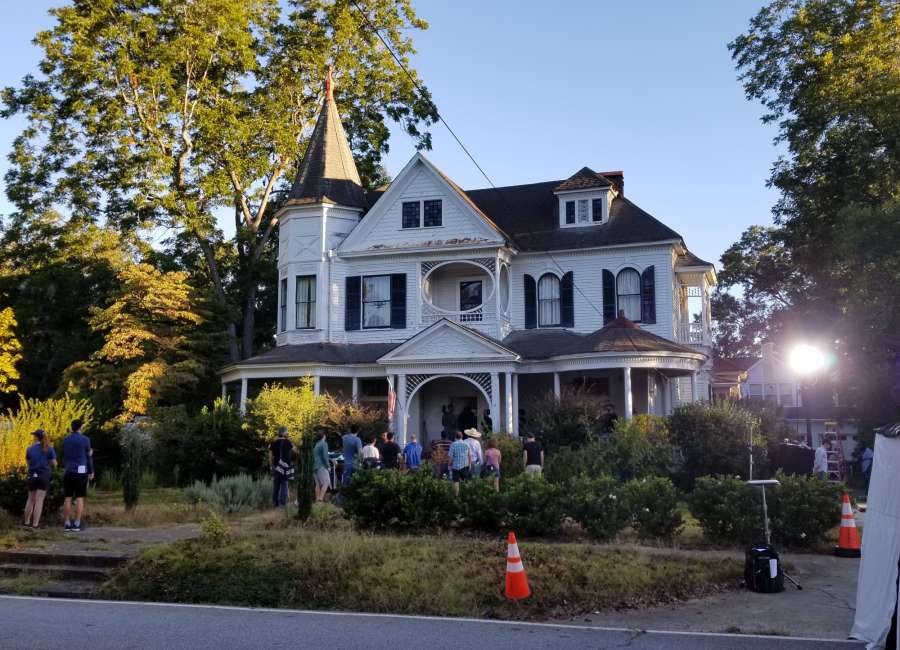 Before 8 a.m. Tuesday, cast and crew were busy at 19 Temple Ave., creating movie magic for "Sextuplets," a Netflix feature film.
Larkspur Productions LLC is the company filming the movie at the Queen Anne-style home. "The family comedy tells the story of a man who was raised by adopted parents, never having known his biological family. Now that he is having a child of his own, his search reveals he's one of six children," according to a flier left on the mailbox of neighborhood residents.
The movie will chronicle the man's search to connect with the family he never knew.
Initial preparations for the filming began last week. Principal shooting is running until Friday with filming scheduled daily from 6 a.m. to 10 p.m.
A later notice from Larkspur indicated there could be additional filming at the house on Oct. 4-5. "During filming, we'll expect to have between 85-90 people working on the set, including crew, cast, production staff and homeowners," according to the Larkspur flier.
"Sextuplets," stars Marlon Wayans, who is also a writer and producer for the project. He starred in "Marlon," "Second Generation Wayans," and "In Living Color" on television.
Wayans' film credits include "G.I. Joe: The Rise of Cobra," "White Chicks," "The Ladykillers," and "Scary Movie 2."
Also in the cast is Bresha Webb, who has appeared in "Meet the Blacks," "Ride Along 2," and "Grey's Anatomy."
The house was built in 1895 and was originally the home of Theodore Ellis Atkinson and his wife, Mary Lou Cook Atkinson. T.E. Atkinson was an educator for many years and then a merchant. His wife taught at LaGrange College and Peabody College in Nashville, Tenn.
T.E. Atkinson was president of the Newnan Board of Education, and Atkinson Elementary School is named in his honor. His brother, W.Y. Atkinson, was governor of Georgia from 1894-1898.
The house has been in the movies before, most notably in the 2009 Bill Murray-Robert Duvall film, "Get Low."