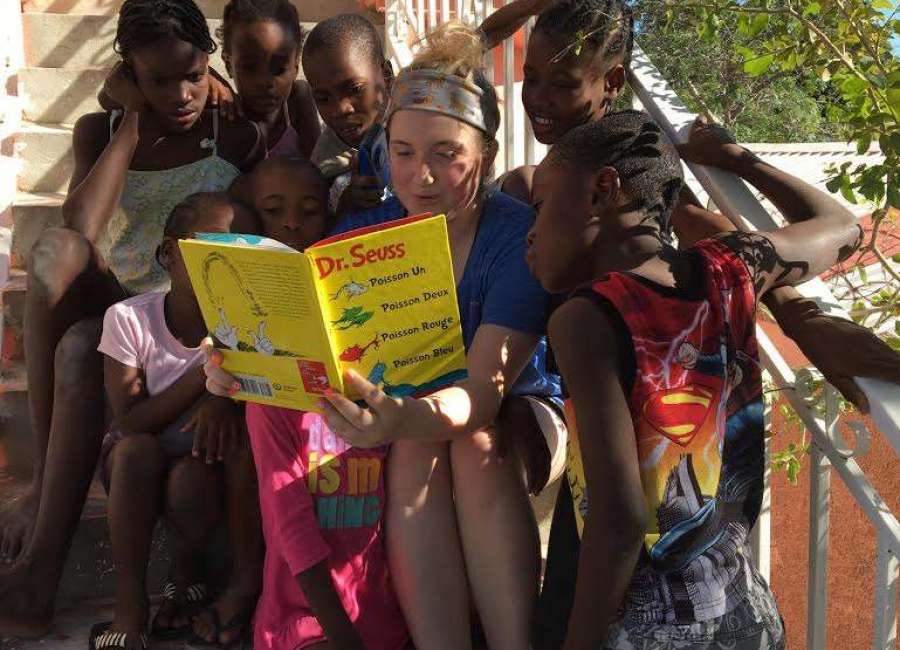 When a 7.0 magnitude earthquake rocked the island nation of Haiti Jan. 12, 2010, between 220,000 – 300,000 people lost their lives in an instant. Thousands more were hurt, including young children who suddenly became orphans.
Shelby McNeil, now 21, was familiar with helping out poverty-stricken third-world countries, especially in South America.
From a young age, McNeil, along with her parents Patrick and Julie McNeil of Rockmart, had a heart for mission work. The trio traveled the world to help those in need, especially children.
"I went on my first trip to Peru and was hooked on missionary work after that," McNeil said.
But the Newnan resident was not prepared for what she saw after her plane landed in Port-Au-Prince, Haiti, in 2015. McNeil and her parents were on a medical mission trip in Titanyen.
It was clear the country was still in crisis five years after the earthquake, McNeil remembered.
"As we were being driven to the missionary compound, we passed a dirt field that was used as a mass graveyard to bury those who died in the earthquake," she said. "There were 'tent cities' everywhere. People still didn't have homes and were selling their goods on the side of the road.
"Our translator told us Haiti still looks like the earthquake just happened," McNeil added. "The country still needs help … there's been little progress to rebuild at all."
While working on a compound in Titanyen, the family met Robenson Pierre and his wife Kelly, who lost funding for their orphanage after the earthquake.
The couple told the McNeils they were not sure where most of the children ended up, but they knew two children had passed away.
Despite their anguish, Robenson Pierre told Patrick McNeil he still felt called to open a new orphanage in the town of Cabaret, but he had no funding and no investors.
McNeil said the Pierre's story lit a spark in their family's heart.
It's a story McNeil shares in greater detail in her first book, "Go With Grace."
The book delves into the partnership with the Pierre family, and the then-newly formed nonprofit organization Grace Children's home, which is also the name of the Haitian orphanage the group eventually opened in 2016.
That spring, 12 orphans between the ages of 2 and 12 years old had a new place to call home in Cabaret.
The new orphanage was both a blessing and a challenge, McNeil wrote.
"We started in a tiny building in 2016 and had little to no money. We thought it would be impossible to keep the orphanage open," she said. "But every time we had to pay a bill, the money would suddenly show up.
"That's how we know that God's in this with us," McNeil added. "We know the orphanage and nonprofit organization will continue to move forward – and that's encouraging."
In addition to working at The Newnan Times-Herald as a customer service representative, McNeil is active in Grace Church Home organization and in the orphanage. She travels to the area at least twice a year and shares her experiences with the children in her book – the good and the bad.
"We provide everything for the children – food, clothing and education. Haitian children have to pay for their education or else they're not allowed to go to school at all. Most of our kids don't have parents or guardians who can take care of them," McNeil explained. "We have children with birth defects who were given up for adoption. We've had babies left on the orphanage doorstep. We had a 1-year-old infant brought to us who only weighed 12 pounds.
"You can't say no to these children," McNeil continued. "If you say no, you know what's going to happen. They're not going to make it."
The Pierres stay with the children full time at the orphanage, along with three staff members.
Currently, the Grace Children's Home has 17 orphans and desperately needs to expand, McNeil said.
The need to grow and develop the orphanage is one reason McNeil wrote "Go With Grace." Proceeds from the book will go the Grace Children's Home.
While some of the organization's prayers and needs have been met, others have not, she said.
"The Haitian government has given us six acres to build on in a nearby town called Archaie," McNeil said. "It's been surveyed, but we're waiting to build. It's expensive to build in Haiti and there's procedures you have to follow. First, we have to build concrete walls around the compound and that's a $40,000 project.
"We want to be self-sufficient. We want to be able to build a new orphanage and other facilities and farm on our own land," McNeil continued. "We want more of the donations to go towards the children and not just keep the orphanage afloat."
McNeil said she hopes the book opens people's hearts to Haiti and the orphans who have been given a second chance at life to hopefully exact positive change in the island nation in the future.
"I would love to get more people involved who live in the surrounding community," she said.
"I want people to build relationships with these children and love them as much as I do. I'm in it for the long haul," McNeil continued. "There's not a lot of opportunities where you can donate and see firsthand the direct impact you made on a person and watch them grow. The kids love their sponsors and they value what they're given because they know they wouldn't have those things without the help of total strangers."
McNeil said Grace Children's Home plans to begin construction on their new site in early 2019.
For more information on McNeil's book, "Go With Grace," and the Grace Children's Home orphanage and organization, visit its website at www.gracechildrenshomehaiti.org.