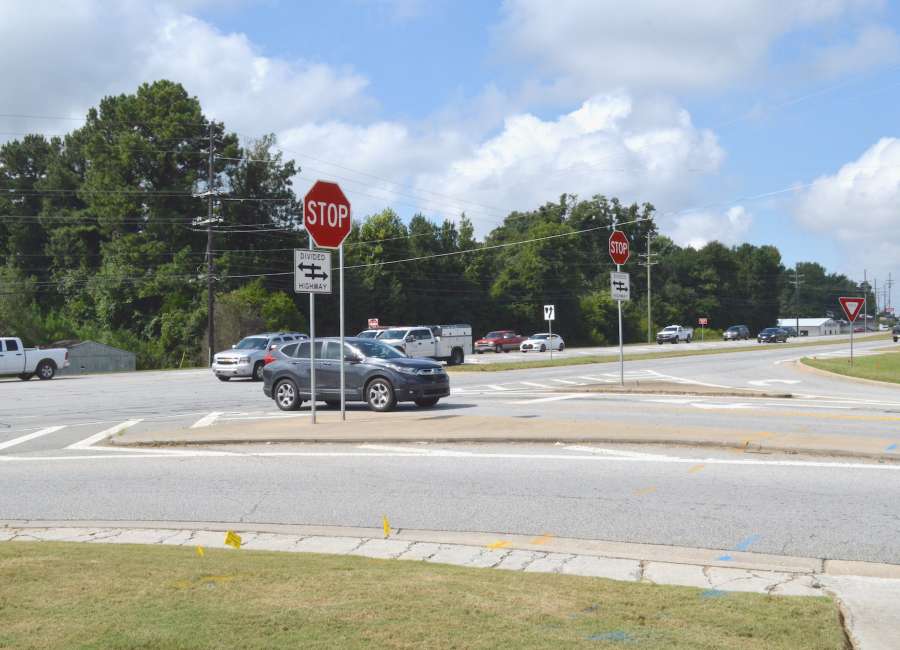 A new style of intersection improvement, which doesn't currently exist in Coweta, is coming to the intersections of Hwy. 34 and Glenda Trace and Hwy. 34 and Posey Road near Thomas Crossroads – soon.
The Georgia Department of Transportation expects to have the project under contract in three months, and constructed a month after that, according to Tom Corker, Coweta communications manager.
There will be a traffic light installed at the intersection of Hwy. 34 and Glenda Trace, at the entrance to the Publix-anchored Coweta Crossroads shopping center.
But the light won't be at a normal, fully functional intersection. Instead, the intersection will become an "RCUT" – which stands for "restricted conflict U-turn."
The intersection of Hwy. 34 and Posey Road/Highland Drive will also become an RCUT, but without a traffic light.
In an RCUT, the side streets become right turn only – motorists can't go straight across or turn left. Those needing to go in the other direction will have to travel to another intersection to make a U-turn. The light will only turn red to allow motorists on the main line to turn left, minimizing the amount of time the light is red for those on Hwy. 34.
RCUTS are found to reduce severe crashes by 67 percent, according to a release from GDOT. Crash data shows that there were 28 "angle" crashes at the Glenda Trace intersection from 2011 to 2016, and six angle crashes at the Posey/Highland intersection from 2012 to 2017, according to GDOT.
An RCUT with traffic light at Glenda Trace was announced last year to serve a proposed Lidl grocery store across from Publix. GDOT required the intersection improvement to grant Lidl access, and the developers were required to pay for the project, under a development agreement with Coweta County.
The Thomas Crossroads site was one of two that Lidl, a German grocery chain, was considering in Coweta, with the other off Newnan Crossing Boulevard, as part of a massive expansion into the U.S. market. But in October 2017, Lidl announced it was dramatically scaling back that expansion, and wouldn't be building in Coweta after all.
The new project is completely funded by GDOT.