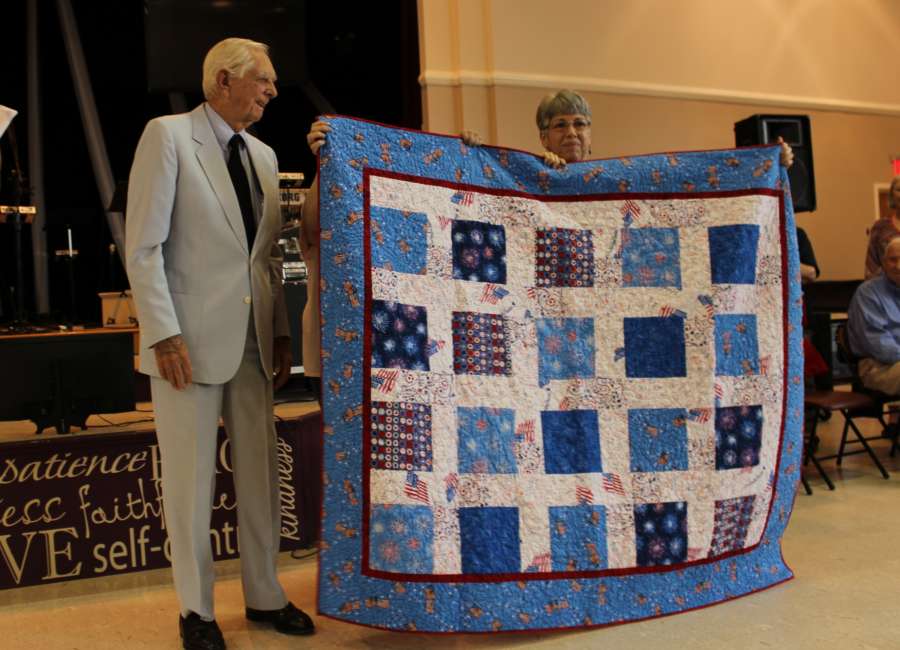 Last in a series

Local veterans – from World War II to the present – received patriotic quilts from Coweta County Quilts of Valor on Aug. 11.
The quilts were presented at the Quilts of Valor Benefit Fish Fry held at the parish hall of First United Methodist Church in downtown Newnan. More than 400 people attended the event, making this year's fish fry the largest yet, according to QOV member Kathy Wilson.
Coweta's QOV group has awarded 400 quilts since August 2014. Each quilt is made by a local quilter and presented to a veteran.
For information or to request a Quilt of Valor for a veteran email CowetaCountyQuiltsOfValor@gmail.com or call 404-790-4831. Donations to help with the project may be sent to QOVF, P.O. Box 114, Moreland, GA 30259.
Among those who received a Quilt of Valor at the Aug. 11 fish fry were:
Lt. Col. John Bermingham entered the Air Force in July 1980. His first assignment was at MacDill AFB in Tampa, followed by a year on an isolated mountain top radar site in the Republic of Korea. His next assignment was at Nellis AFB in Las Vegas. There he was assigned to the 4477th Red Eagles in the height of the Cold War. The Red Eagles was a classified national joint air combat training program that flew Russian MIG aircraft to train U.S. military pilots. In two and a half years years, Bermingham controlled more than 1,500 training combat mission. 
Following Las Vegas, Bermingham moved to Germany, where he served in both a tactical radar squadron and at the Air Force's headquarters at Ramstein AFB. There he led the effort to field a new Tactical Air Control radar system within the European theater. He also planned and established the joint and coalition architecture, which provided command and control for the humanitarian food drops over Bosnia in 1993.
He left Germany to take command of the only U.S. command and control unit on mainland Japan. At Misawa AFB he forged a close working relationship with his Japanese counterparts, developing tactics and plans to provide for the air defense of mainland Japan.
In 1993 Bermingham was assigned to Joint Interoperability Division at Ft. McPherson. For the next four years, he led a team providing simulated air and missile defense combat training exercises to command and control units across the globe.
His last final assignment was at HQ 8th Air Force, where he served as the Senior Air Defense Officer. In this role he assisted in creating new procedures to integrate the USAF Combined Operation Centers and the Army's Air and Missile Defense Center. One week after 9/11 he was requested to serve at NORAD's Continental U.S. Air Defense Center as chief of command and control, planning. For the next six months he developed and coordinated air defense coverage for numerous national events across the country. This included integrating the U.S. military into the defense planning for the 1992 Winter Olympics in Salt Lake City.
Following his retirement in 1993, Bermingham continued supporting the military by
working at Ft. McPherson as a civilian contractor, serving as an instructor for military interoperability operations and as an exercise planner for 3rd Army at Ft. McPherson. In 2010 he left Ft. McPherson to work at the Centers for Disease Control and Prevention as the planning team lead in the emergency operations division. His quilt was pieced by Linda Brown and quilted by Debbie Fowler.
Thomas Crine served four years in the Air Force, joining in October 1963. After five
weeks of basic training and 15 weeks of Tech School, he was assigned to Beal Air
Force Base in northern California.
Crine worked in base supply for two years and was later assigned to Eielson Air Force Base in Fairbanks, Alaska for 18 months. He served as assistant base engine manager and was discharged in September 1967. His quilt was pieced by Edie Scott and quilted by Penny Willingham.
Richard Kirkland served in the U. S. Army from Feb. 12, 1969 to Dec. 16, 1971 as a combat engineer in Vietnam. While in Vietnam, he served in Cuchi and Laikhe. Pam Duncan pieced his quilt, and Debbie Fowler quilted it.
Sgt. First Class Ira Bishop served in the U. S. Army from 1955-1967. He spent the
first two years in transportation. Then he served two tours in Germany – one in Baumholder and the other in Giessen – both as artillery. He also served in Qui-Nohn, Vietnam.
He served 3-5 years in administration as a liaison NCO and was discharged at the rank of E-7/Sgt. First Class. Colleen Foley and Penny Willingham respectively pieced and quilted Bishop's quilt.
Machinist Mate 1st Class Thomas Schuff served in the Merchant Marines from 1943-1945 in the Pacific. His quilt was pieced by Barbara Pitkanen and quilted by Jean Raines.
Sgt First Class Herman Tucker Jr. served Sept. 15, 1990-March 22, 2006. He was awarded the National Defense Service Medal, Army Service Ribbon, Armed Forces Reserve, Army Achievement Ribbon and Armed Forces Reserve Medal. His quilt was pieced by Colleen Foley and quilted by Penny Willingham.
Chief Petty Officer Ron Wilson served in the U. S. Navy from Nov. 1966-Nov. 1988 in Jacksonville, Fla.; Alameda, Calif.; aboard the USS Saratoga; in Operation Deep Freeze, Antarctica; and in Japan as an air traffic controller. He also served as a recruiter in St. Joseph, Mo. Wilson's quilt was pieced by Marina Lewis and quilted by Debbie Fowler.
Paul Stroud served four years in the Navy and four years in the Air Force from 1960 - 1968. He was on a destroyer in the Navy stationed in San Francisco and San Diego. His quilt was pieced by Janet Allen and quilted by Jean Raines.
Charles "Chuck" Robert Kreckman served in the U. S. Navy from 1961-1968 as active, then several years in the reserves. He was an Aviation Machinist's Mate, Second Class.
His awards include the National Defense Service Medal, the Good Conduct award and the Armed Forces Expedition Medal. He completed NTC for ADR2 training to become an Aviation Machinist Mate Second Class Rank and completed the T58-GE-88 Engine "C" Maintenance Course. 
Kreckman's quilt was pieced by Joy Green and quilted by Debbie Fowler.
Ed Talley served in the U. S. Air Force from 1964–1968 as a corpsman/medic during his whole tour of duty. He was stationed in Japan. Carol Kelley pieced his quilt, and Penny Willingham did the quilting.
Barbara Boone served four years in the Navy from 1987-1991 as one of the first
female machinist mates. She worked on ships' engine rooms to include the propulsion machinery. During her time, she served on the USS Monongahela, traveling to many parts of the world including the Mediterranean Sea, the Indian Ocean, the North Atlantic and Pacific Oceans and the Caribbean Sea. She also served during Desert Storm.
Some of her awards include the Joint Service Achievement Ribbon, Navy E Ribbon, Global War on Terrorism Expeditionary Ribbon and the Navy Sea Service Deployment Ribbon/ Her quilt was pieced by Beverly Watkins and quilted by Penny Willingham.
Specialist E4 Mike Patterson served in the U. S. Army from Sept. 11, 2002–March 9, 2011.
He served with Unit 3rd ID, as Communications and as a Tank Driver. He was a driver of a tank that took a hit by a Rocket Propelled Grenade. His driving abilities saved lives.
Patterson was awarded the Army Commendation for Valor, Joint Service Achievement Medal, Good Conduct Medal, National Defense Medal, Global War on Terrorism Medal, Korean Defense Medal, Professional Development Ribbon, Army Service Ribbon, Sharp Shooter Medal and the Combat Action Badge.
Patterson's quilt was pieced by Colleen Foley with Margaret Watson quilting.