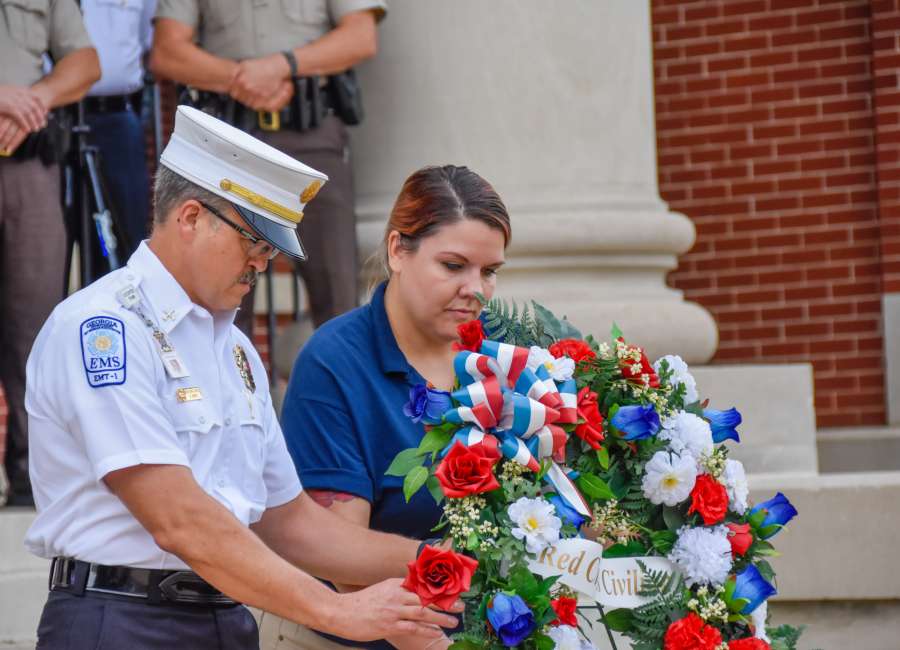 Coweta County's public safety agencies held a quiet ceremony on the West Court Square in downtown Newnan Tuesday morning to memorialize the events of 9/11.

The annual ceremony included three color guards consisting of members of the Newnan Police Department, the Newnan Fire Department and Coweta County Fire Rescue. Newnan Police Chief Douglas "Buster" Meadows spoke in honor of  those who sacrificed their lives 17 years ago.
"The lives of many families were changed by cowards," Meadows said. "America pulled together to stand tall, and give comfort to friends and strangers, because that's what we do in time of need."
Verna Funk from Boy Scout Troop 58 led the audience in the Pledge of Allegiance. The 10-minute ceremony then concluded with the presentation of five memorial wreaths.
The first wreath was a memorial to the civilians, the second to members of the New York Fire Department, the third to law enforcement officers who fought to restore order, the fourth to emergency medical service personnel, and the fifth to represent the men and women of the armed services who have fought terrorism since 2001.