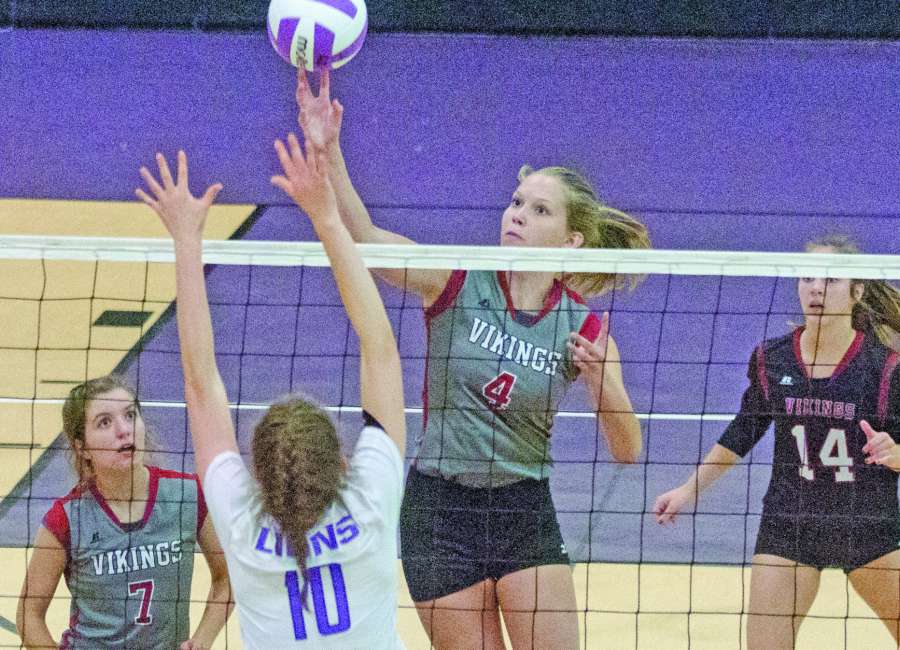 By CHRIS GOLTERMANN
CowetaScore.com
Northgate and Trinity Christian didn't manage to cross paths during last weekend's Rally High tournament in Emerson while among three programs representing Coweta County.
No matter. Their regular season schedules had already put them on a collision course during Monday's tri-match at TCS after both teams defeated Calvary Christian.
After coming up short against Heritage School on Saturday,  Northgate finally got a chance to experience a win over a county opponent by rallying back against the host Lady Lions in a 26-28, 25-23, 25-23 decision that easily would have been a worthy extension to last week's annual Coweta County Championships.
"We kind of took a beating at county, so this is good for us," said Northgate head coach Sheila Walker, who continued to try and be creative with a lineup that lacks the size of most opponents this year.
While boasting a 6-foot middle hitter in senior Kaela Busby, who was an active contributor ro Monday's victory that pushed the Lady Vikings to 19-14 overall, Northgate gave up size among its front line to Trinity, which fell to 16-4.
Busby and sophomore outside hitter Kylie Callocchio each posted four kills in the tiebreaking set to go with two more up front by talented freshman Grace Eskew, who continued to be asked to contribute offensively in her varsity debut.
"She's a libero, so she's not playing her normal position," Walker said, while having depth among defensive specialists with junior starting libero Kamryn Halpin. "We're a small team."
Sophomore Emily Justice also came up with an early block among a three-point surge that produced a 6-6 tie early in game three before Trinity pushed back ahead.
The pattern followed through nine ties and five lead changes.
Junior middle hitter Savannah Poling made her presence known immediately in game one with both Addy Taylor and Keelia Jordan.
Taylor and Jordan each finished with nine kills against Northgate while Poling added six.
Trinity also posted 11 blocks, four of which from Poling.
Consecutive kills from Jordan tied the game three at 17 apiece before giving Trinity it's final lead but while never able to get up by more than a point from there as Northgate found answers. They included two kills from Callocchio that knotted the score again at 19 and then again at 20-20.
Alaya Laleh and and Halpin were among Northgate servers that posted aces in game three.
Unforced errors finally caught up to Trinity at the finish after tying for fifth at the Rally High tournament over the weekend with a 4-1 record.
The Lady Lions had used that momentum along with a victory over Calvary to jump ahead in an extended first game.
Poling's ace provided the last of six lead changes in the opening set and Taylor powered home the winner in a seesaw set that included 10 ties.
Freshman Rachel Gregg had two of her three blocks including a double with senior sibling Jordan among a four-point surge that turned a 17-16 deficit into a 20-17 lead following an ensuing ace by Poling.
Another block by the younger Gregg sister kept Trinity's lead at two points only to have Northgate force the first of five final ties between teams as it carried beyond the 25-point mark.
An ace by Poling finally set up game-point and an eventual winning kill from Taylor to take a 1-0 lead in the match.
Coming off a two-day effort at Rally High that produced a 3-3 record among six matches including a 2-1 loss to Heritage School, Northgate completed its round-robin against county opponents over a five-day span by rallying back in games two and three against Trinity.
Needing a win in game two to stay in the match, Northgate used its service game to push ahead while leading most of the way. Eskew, Busby, Callocchio, and Halpin had at least one ace while consecutive kills by Callocchio gave the Lady Vikings a 18-15 lead.
Trinity rallied to pull even for a final time at 22-22 and took a short-lived lead off an ace by Taylor only to have Northgate take the final two points to knot the match at one game apiece.
Taylor had eight kills in Monday's opening 25-23, 25-17 victory over Calvary Christian. Stevee Kirkland had a team-high seven digs while sophomore setter Emma Long posted 14 assists.
The Lady Lions will host both Heritage and Sandy Creek on Thursday while honoring seniors Jordan Gregg and Juliana Howser.
Northgate travels to Northside-Columbus on Wednesday for non-region matches against both Northside and Veterans.