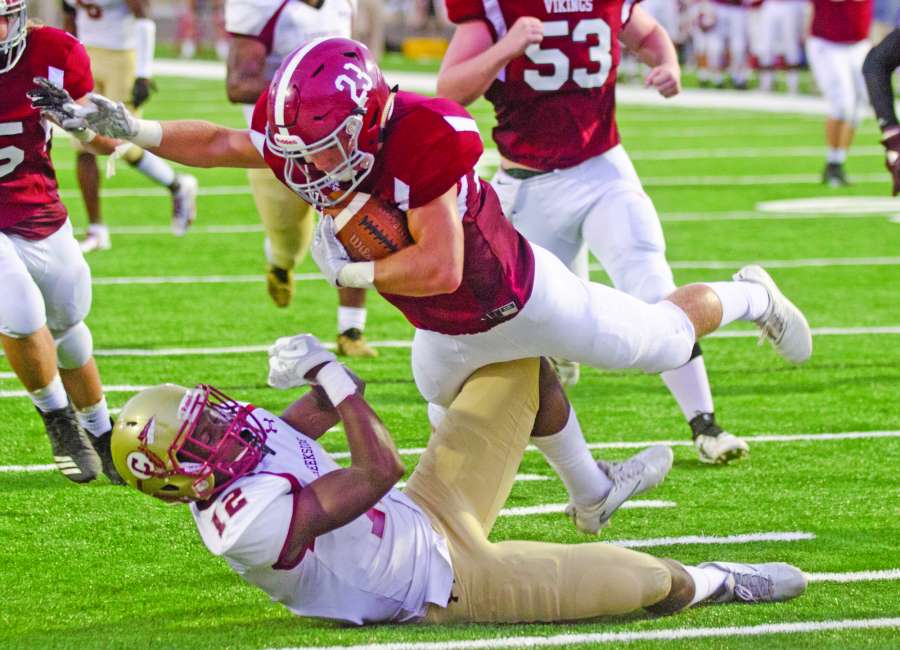 By Chris Goltermann
Cowetascore
A football team is always looking for a new wrinkles that it can add to obtain a victory.
But those same teams can equally create some wrinkles on the faces of its coaching staff on the same given Friday night.
Northgate did a bit of both in a 35-33 victory over Creekside that evened out this year's records at 2-2 overall and 1-1 in Region 5-6A.
The road getting there was bit bumpier.
A chance to christen Henry Seldon Field's handsome new artificial turf with a victory brought as much a smile to head coach Mike McDonald's face as it did a chance to breathe easier after needing a stop of a two-point conversion at the finish for the second time in three weeks in order to hold on to a win.
"We've gotten better every week and we've just got to continue to get better. We're young in some areas and inexperienced in a whole lot of areas," McDonald said before adding in jest, "They're going to be make me old before my time."
As polished as much of the first half could be for the Vikings, who jumped out to a 14-0 lead after one quarter and then immediately upped it to 21 on the latter of two touchdown passes from junior quarterback Isaac Corbitt, the final moments of the game were a battle of survival.
Leading 35-13 after driving for a score on with just over four minutes left in  the third quarter, Northgate had difficulty holding on in what became a common theme for home teams around Coweta County on Friday.
A pair of Creekside scores on drives led by quarterback Lazarus Anderson in the final seven minutes made for a closer victory than hoped. The 6-foot, 192-pound senior, who had attempted 91 passes in the Seminoles first three games, again eclipsed a season average of 30-plus while trying to bring his team back from a 22-point deficit.
The Vikings, however, managed to pull through after making a final defensive stop on a two-point conversion try with 1:01 left in the game.
In all three phases — offense, defense and special teams — Northgate received as many positive gains as it created a to-do list for practice next week in preparation for a trip to South Paulding.
While the Vikings struggling to contain Creekside (1-2, 1-1) at the finish, with the Seminoles fresh off a shutout win over New Manchester, Northgate created four turnovers including a pair of interceptions by Dillon Wade.
Sophomore Robbie Reed equally halted a chance for the Seminoles when the linebacker didn't bite on a bootleg and stepped in front of a Creekside pass that saved another potential score.
Northgate's defense, which also had Nichal Johnson involved on three sacks, also forced a turnover on downs at midfield that set up the Vikings' final score of the first quarter for a 14-0 lead.
Equally, the offense had its share of standout moments while dominating the flow of play in the first half.
Tanner Hughes scored two of his three touchdowns on consecutive possessions that produced 19-yard scores. The latter came on a perfectly executed pass play through the middle of the field from junior quarterback Isaac Corbitt to Hughes at the goal line.
Corbitt completed 7 of 14 passes for 191 yards and stayed hot in the first half with completions in four of his first six attempts.
He helped push Northgate's lead to 21-0 with 9:18 left in the half after finding senior running back Jay McKenzie on a similar route to Hughes for a 51-yard strike.  
McKenzie's catch and run, which had two Seminoles defensive backs negating each other on a collision with the Northgate receiver on the catch, came after Connor Marshall's recovery of a Creekside fumble on the first play of the second quarter.
The Vikings also proved capable of answering when needed following consecutive Creekside scores in the second half, the latter of which on Tyler Malone's 44-yard run.
It took just 1:26 over four plays for Northgate's offense to get one of the scores back. A 53-yard throw from Corbitt to Hughes set up consecutive runs from senior Cameron Cruver starting at the Creekside 16 en route to the end zone.
Cruver with a 144 yards rushing and
"We played lights out at times. Other times we couldn't," McDonald said. "That was the big thing going into [Friday]. Let's do it on all three sides of the ball. Well, we did at times, but we've got to put a full 48 [minutes] together and that's something we've got to learn. But here we are at 1-1 at the region and that's good. They're not going to get any easier."
A chance to finally open both a delayed and shortened home schedule in 2018 helped create some immediate excitement. Fresh renovations to Henry Seldon Stadium not just in new turf but signage containing Northgate's updated Viking logo brought a packed crowd led by a vocal student section decked in rock-and-roll attire that had no problem belting the lyrics to "Living On A Prayer," as if it were a Bon Jovi concert in 1987.
"The students, the crowd, they were great," McDonald said.
Other aspects on the field might have gone into McDonald's 'needs improvement' for next week's trip to South Paulding led by junior quarterback Austin Seymour.  
Creekside's biggest advantage came on kick returns. Along with Taj Dodson's 93-yard return for a score, the Seminoles nearly went the distance again on two others that needed stops by Micah Robinson and kicker Kade Loggins to potentially keep at least seven more points off the scoreboard.
"Our kick coverage wasn't very good," McDonald said of problem areas against Creekside. "It kept them in the game."
Vikings 35, Seminoles 33
Creekside 0 13 7 13 — 33
Northgate 14 14 7 0 — 35
1st Quarter
N — Tanner Hughes 19-yard run (Kade Loggins kick), 5:35
N — Tanner Hughes 19-yard pass from Isaac Corbitt (Loggins kick), 2:15
2nd Quarter
N — Jay McKenzie 51-yard pass from Corbitt (Loggins kick), 9:18
C — Lazarus Anderson 22-yard run (kick failed), 4:42
C — Tyler Malone 44-yard run (Davaris Best kick), 1:57
N — Cameron Cruver 7-yard run (Loggins kick), 0:31
3rd quarter
N —  Hughes 4-yard run (Loggins kick), 4:08
C — Taj Dodson 93-yard kickoff return, 3:47
4th quarter
C — Anderson 6-yard run (Best kick), 6:35
C — Anderson 1-yard run (conversion failed), 1:01